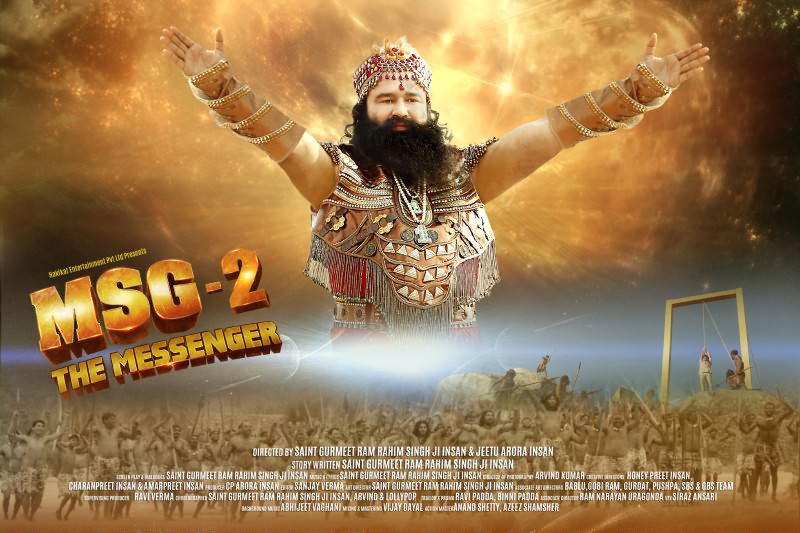 MSG-2 poster has Rocked the world  The Film MSG-2 ,
being awaited for a long time, in which direction and acting was done by Rev. Guru ji is going to be released now on Sep.
18th .The grand announcement was made by Rev. Guru ji Himself on 125th Masto- Mast Ruhani Roo-b-roo Night held for Mansa Zone on 15th of August. As details came out lacs of followers overjoyed and started dancing. The whole stadium echoed with thunderous hooting.
Before announcing the release date of the film, Rev. Guru ji announced His first poster of MSG-2 Himself. All were exhilarated with joy. Happiness was uncontrollable. Approximately quarter 1 million people, present in the stadium thanked Rev.
Guru ji by standing on one leg in happiness. This was a grand scene . Such a magnificent poster in which Rev. Guru ji is having a new hair style and even after looking at it time and again, the contentment is too far. All were asking this to show it again and again.
The attractive look of Rev. Guru ji is so gorgeous ,whosoever looks at this poster, gets mesmerized by it. As the luck would have been we had a chance to look at. Everyone was praising that beautiful hair style , and become fan of it. After getting such a magnetic poster and knowing the release date of film,
all the followers were overjoyed expressing their happiness and were grateful to Rev. Guru ji. Really it was wonderful. Their bursting enthusiasm was at its peak and telling their love with MSG-2. With all this, Rev.
Guru ji gave the folling information about MSG -2:
There are six songs in the movie. One out of these has been sung by Amarpreet Kaur Ji Insan, the respectable daughter of Rev. Guru ji.
In it, there is also a little love story linked with the lives of tribal people.
This film has been shooted mostly in Bhan Garh Fort , which is the most haunted fort in Asia.
The whole film has been produced in 40 days.
All the stunts have performed by Guru ji Himself.
One song in it ," Party Dhoom Dham Sey " is well liked and about one and half lac people acted in this song for three days.
DIRECTIONS
Nobody will download and post or upload the trailer on You Tube or Whatsapp, facebook etc.
If anybody is recording the movie with his camera in the theatre, tell the details, you have to stop him and tell the info on the Mobile no. 085699 17777.
Who so ever will show the movie to the maximum number of people will be awarded a Trophy in the holy month of January.
Nobody should watch the film without a valid ticket.Regarding MSG -2 Rev. Guru ji further explained that this film will be for approx. 2 Hr. and 10 min. carrying healthy entertainment and a good message. This will be better than MSG-1. Guru ji told that this is based on a real story in which there is a story of tribal people of Rajasthan.
MSG 3 WILL BE A BIG FILM
Rev. Guru ji told that the MSG-3 will be a big movie. In it, it will be shown, how the Earth came in existence and at that time there used to be people of 700–800 feet etc. Confronting science, this film will tell that Vedas are great science.
———————
Channels on which the Promo of MSG-2 the messenger is running. The list is :-
NBN LokMat
Tej
Delhi Aaj Tak
MH1
MH1 News
9x Tashan
Zoom
E-24
Follow us on Facebook, Twitter, Google+, LinkedIn and Instagram, YouTube to get more updates related to sachi shiksha Spiritual Magazine, articles.