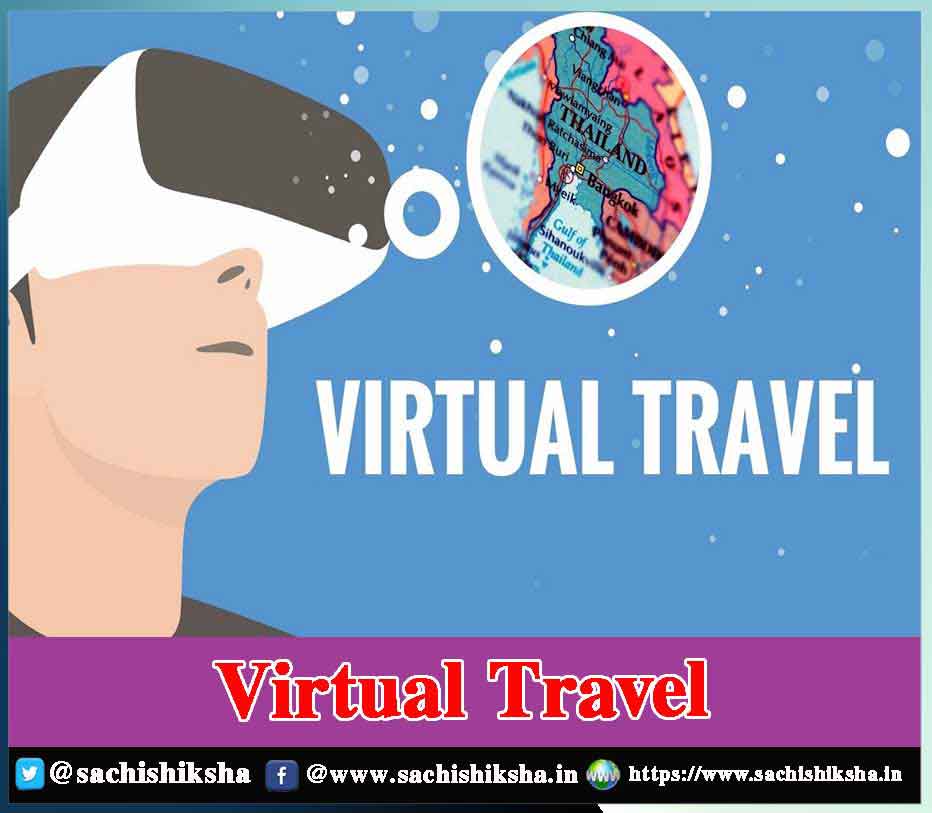 Virtual Travel
Going into quarantine can have many issues and complications beyond having enough food and supplies. Countries across the world have closed their borders to further prevent the spread of Covid-19, this necessary though unprecedented move has brought global tourism to a standstill.
With no indications of any ease or relaxations in travelling, tourism industry is the worst hit. Countries such as Australia have imposed complete travel ban for 6 months.
Moreover being confined in your homes you are in for a lot of boredom, Netflix and a lot more of browsing on internet. But thanks to virtual reality (VR) technology and 360 degree view, virtual tours are trending. Actually it is something which can give you more than a glimpse into culture, heritage and nature.
These guided tours can take you pretty much anywhere from distant lands covering mountain sides to the depths of the ocean, from the historic museums to the national parks and even beyond. Being cost effective and safe, virtual tours are blessings in disguise. Sitting in your couch and experiencing the wonders of the world is totally surreal.
We always have that bucket list of places waiting to be explored such as that city whose streets are famous for their wall graffiti or that deep cavern which sparkles in the night or that diving experience into the deep blue waters swarming with shoals of fish.  Now this dream can be fulfilled to some extent through YouTube and some dedicated sites and apps.
The cherry blossom festival of Japan has begun from April in most parts of the country and now is your chance to witness the same or the rich Sushi making experience which you can even try at your homes. With no pestering tourists it will be a sight to behold.
Hiking the Great Wall of China has never been so easy with a virtual hike instead of exerting physical effort. Educational material is also provided to enhance your experience.
Northern lights- natural fireworks show can be seen from Alaska, Sweden and Iceland, without trudging through snow and that too from your own homes. It is really a vision to behold, when green lights dance in the night sky with a twinge of red.
Google Earth is offering virtual tours of world heritage sites: to tick off, Taj Mahal; Yes, Machu Picchu? Yes, Christ the Redeemer? Yes. Just by clicking on a particular site on the map, you can get a bird's eye view. Imagine gazing at the Sphinx in Egypt without the scorching sun burning down your neck.
The tomb of Tutankhamen along with the other tombs in the valley of kings is waiting to be explored. Google Earth is also responsible for organising tours in to the wilderness covering about 31 national parks and sanctuaries.
In addition, Google is also offering tours of famed Museums with the likes of Van Gogh, Louvre and Smithsonian to name a few. It is a great chance, to appreciate the Mona Lisa up close without being thronged by a steady line of fellow visitors.
Discovery took things on higher level by providing a virtual tour of the Mt. Everest, tallest mountain from a helicopter. One cannot even begin to imagine that what training and skill is required to conquer Everest. Snow-capped mountains shimmering in the sunlight is a blissful sight.
Offering a rare chance to virtually roam around the Savannahs and spotting wildebeest, giraffes, zebras or perhaps a herd of lions ready for the kill, Kruger National Park provides a hands down experience. Without really booking a flight you get to spend a thrilling evening.
There is something calming about the aquatic life and you could probably spend hours gazing at these amazing creatures. Under water is perhaps the only place where one can actually forget that he is a human. Some aquariums are providing live feeds or pre-recorded streams of turtles, penguins, dolphins and sharks. You actually get to swim with these animals.
Disney world is bringing the magic and innocence right at your doorstep, from the street views to virtual rollercoaster rides. Just get ready to scream as loud as possible at the next hairpin turn of the ride.   You have chance a visit your destination— Eiffel Tower, the Palace of Versailles or Buckingham Palace.
The most astonishing one is viewing the Earth from the pace as an astronaut. The blue-green planet has never looked so breathtaking.
The list is endless. With the advent of technology in addition to dreaming about such exotic locations, actually witnessing them has never been so easier and that too without burning a huge hole in your pocket.
Even if it can't be compared to a real life experience but VR technology is still allowing us to get a little closer to the world's greatest wonders. At the very least these platforms can help the traveller in you to plan that next holiday as soon as the lockdown lifts.
 Vinita Raj.
Follow us on Facebook, Twitter, LinkedIn Instagram, and YouTube to get more updates related to Sachi Shiksha – The Famous Spiritual Magazine in India. you Reading any Also Read Our Hindi and Punjabi Editions.