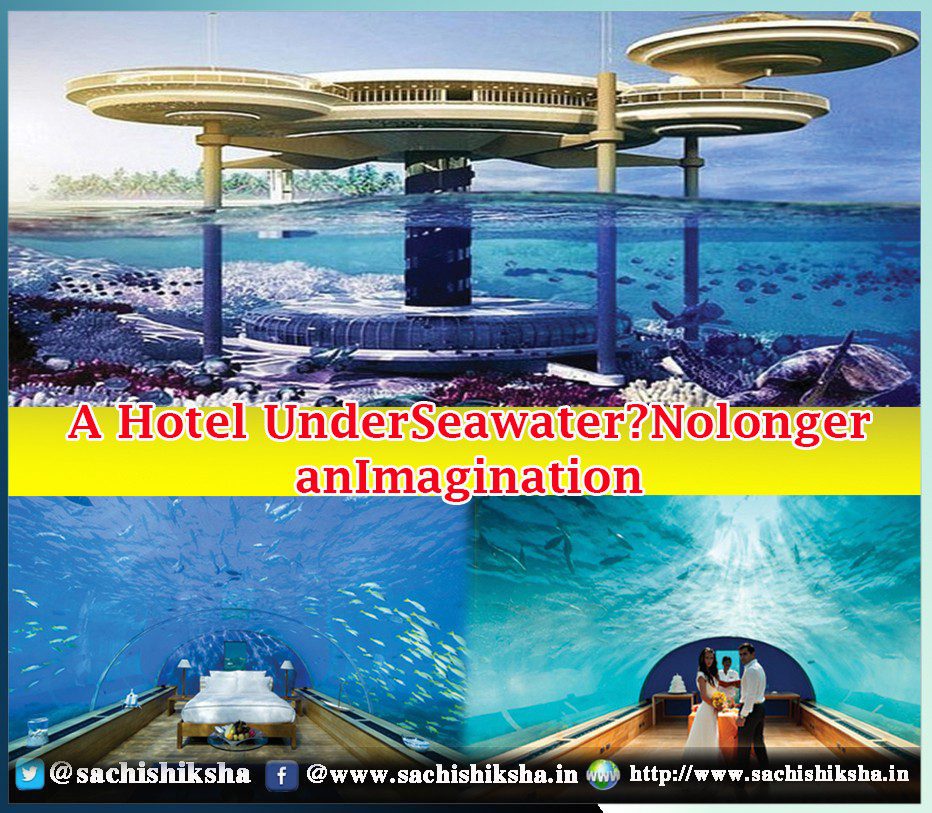 A Hotel Under Seawater – No Longer an Imagination
Whenever we talk of luxury hotels, our imaginations take free flights. One such an imaginative desire is living in a hotel which is below the levels of water. Believe it or not, this figment of imagination is going to be a stark reality before long. An unique hotel is coming up beneath the sea.
From the hotel, one can see the colourful fishes swimming in the water. Besides, you can also have a glimpse of an assortment of aquatic and marine creatures playing in their natural watery habitat. It really sounds like a dream of sleeping inside the sea and amongst a variety of marine creatures and fishes swimming all around you.
But it is going to be a stark reality.
A Poland-based company Deep Ocean Technology is poised to create a hotel named as Water Discus. This is an oceanic feat, indeed. This hotel, an oceanic technological marvel, will have 22 rooms. The hotel will have lift and stair cases. As we now have submarines that can go upto 500 meters inside the oceans, it is not impossible to create a hotel inside the sea water.
It is easier to make a hotel inside ocean than create a submarine. This is due to the reason that a hotel cannot be built below 15 meters of sea water. This is due to the fact that the water acts as filter for the sun rays. Below 15 meters in sea, all colours vanish except blue. Hence, it is necessary to have the rooms of the hotel built above this limit to enable the guests see marine creatures and fishes.
According to a spokesman of the Water Discus Hotel, this unique project would come up, below 10 meters in sea water.
This particular depth would allow the people to have a glimpse of the beauties of underwater sea. The greatest challenge to Water Discus would be to control the din and bustle happening within the premises of the hotel. Due to the disturbances caused by din and bustle, the fishes and aquatic creatures may run way from the hotel's site.
In other words, the very purpose of creating this hotel—to enable people see underwater life—would thus be foiled. However, the hotel management claims that it has found a solution to this problem.
The management would keep pump house, toilets and all equipments related to air-conditioning just at the centre of the hotel's structure. It is a critical question as there are laws regulating activities underwater.
Every country has its own sets of law regarding their oceans. This particular hotel may be defined as vast submarine, a massive ship or a very big platform for extraction of oil from the sea.
Another major problem is to select a particular site for this hotel. As per the international oceanic law, an hotel can only be established within 15 nautical miles of that country where it is going to be set up. For this, the hotel management has to take prior permission from the respective governments.
At the same time, strict observance of international laws has to be adhered to. However, there is no plan to establish this hotel within the oceanic limits of a particular country. So far, the European nations particularly France and England are not showing much interest in this project. These countries feel that the hotel may be a great thing but it best suits for water surfing.
It has been found that the South-East regions of USA would ideally suit it due to the existence of warm water seas there. It is an interesting fact to know that Jules Undersea Lodge in Florida had been making people live in its hotel located below 31 feet since 1986. Prior to this, similar experiments had been carried out in Puerto Rico since the 1970's. However, the technology of this particular hotel is different from those operated in Puerto Rico.
In Puerto Rico hotels, the guests could go inside the hotel only with the help of scuba diving. In Tanzania, there is a hotel in Pemba Island where the rooms are situated under water. This hotel is known as The Manta Resort.
Water Discus or Jules Undersea Lodge are not located at the bank of the sea but a floating structure located under the sea and have anchors to stop it from being flown away the waves of the sea. The guests enter in their rooms through the stair case. Really, it is no more a figment of imagination to live in a hotel located under the waters of the seas.
Follow us on Facebook, Twitter, LinkedIn and Instagram, YouTube to get more updates related to Sachi Shiksha – The Famous Spiritual Magazine in India.