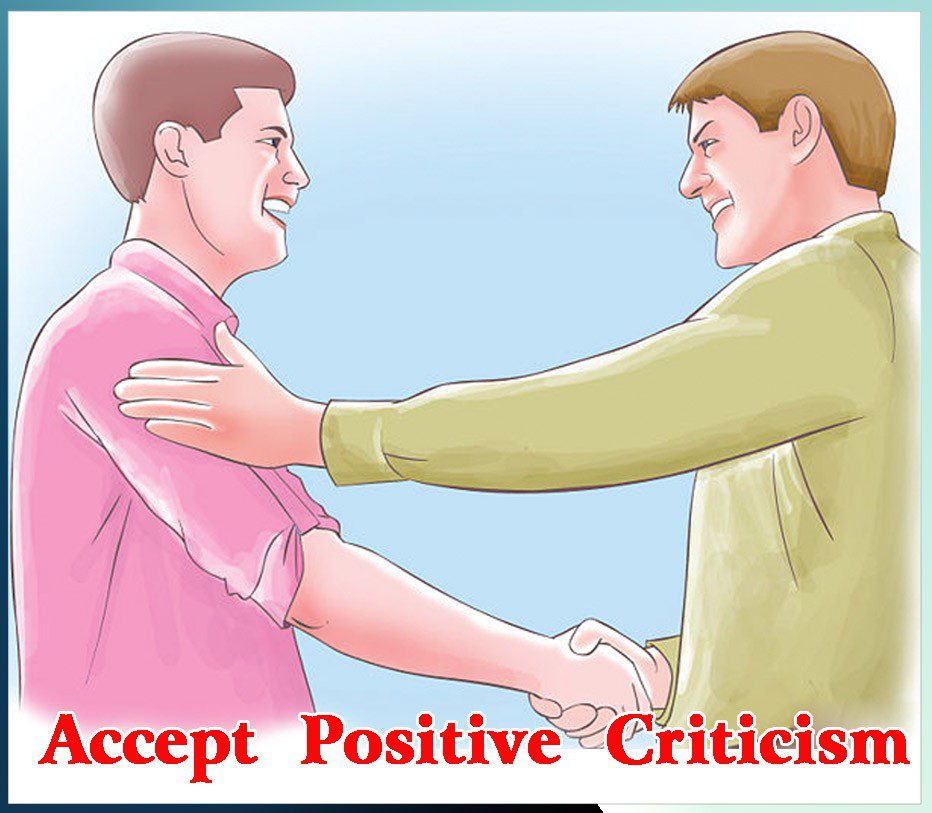 Accept Positive Criticism
Criticism is the expression of disapproval of someone or something on the basis of perceived faults, defects or mistakes.
It may be an attitude having an objection, expressing dissent, stating a dislike, wanting to dissociate from something or rejecting something. The motivation and effects can be rational or irrational or arbitrary.
These can be healthy or unhealthy. Criticism can also be denoted as censure, condemnation, denunciation, disparagement, opprobrium, fault finding, captiousness, belligerence, pugnacity etc. The word 'criticism' has been derived from; French-critique, English-critic, Latin-criticus and Greek- kritos; which means' judge, critic or decider'.
Types of Criticism:
The varieties of critical reviews change with persons, time, situations and thoughts. Generally, criticism is indirect form of self boasting, because when a person criticizes or traces faults in another person, it merely conveys one's own needs to be critical. The knowledge about different types has been gained from free encyclopedia (Wikipedia). People can either apply criticism in a positive way to improve or in a negative way that can decrease our mental value to cause stress, breach of peace or hostility.
Constructive Criticism:
It not only intends to point out your mistakes but also show you where and how improvements can be made. It is easier to accept, even if it still hurts to some extent, but you can use this criticism to your advantage. A man who refuses to admit his mistakes can never be successful.
Destructive Criticism:
It is bad and hurtful censure which leads to anger, stress and aggression. It has negative effects on your self esteem and confidence. Criticism of both these types is challenging your ideas, character and ability. If you know a person who is critical of everything, try to take their comments seriously, as this is a part of their trait.
They make damaging remarks to hurt. Criticism is indecent behavior adopted by certain professionals to blackmail the nice persons. The Factual criticism ensures the consistency, authenticity and predictability of behavior of any kind. The objection is raised about idea, argument, action or situation. Aesthetic criticism is concerned with evaluation of beauty and ugliness, tastefulness and tastelessness, style and fashion.
During Logical criticism the objection is made about an area, arrangement, action or situation on the ground that it does not make rational sense. Such an objection may involve without being reasonable and being negative. The Positive criticism draws attention to good aspect of something which is being overlooked or disregarded.
It may also be a type of self justification or defense. Negative criticism explains an objection to something with the purpose of showing that it is wrong, false, mistaken, objectionable or disrespectable. It tends to interpret an attack against a person.
Practical criticism is made on the basis of practical experience of critic and thus very effective. Theoretical criticism is concerned with the meaning of ideas of fullness of theory or correspondence to reality of its purpose and the limitations of the view point of others.
Moral criticism is concerned with right and wrong values, ethics or norms which people uphold, what is good or bad people do, or the right and wrong conditions which people face.
It ranges from the justification or moral rules.
This debate can be performed formally by lawyers, judges, religious entities and politicians or informally by common citizens. Self criticism or auto-critique, refers to the ability to realize the pros and cons of one's own belief, thoughts, behaviors or results for others opinions.
It might occur in private or group discussion. It can be final self attack up to suicide. Thus it is too hard for oneself. Everyone should believe in interpretation rather than finding faults in self or others.
Religious and Spiritual Criticism:
It may require a great deal of respectful sensitivity to approach spiritual issue in a good way. The people are concerned to do what religions say is right to do. It is generally very difficult because the people's spiritual beliefs are very personal and attached to divine matters. It deals with judging actions and ideas whether God or the spiritual guides will regard them good or bad for human beings. According to religious concepts, criticism of every kind is inhuman. Everyone should aim at proper evaluation.
How to Resolve problems of criticism?:
According to Benjamin Franklin, 'any fool can criticize, condemn and complain and most fools do'. You will be damned if you do or if you do not. To err is human. It is human nature to make mistake many a times. Try to understand and analyze the cause of challenge and perform what you feel in your heart to be right for you may be criticized any way.
Therefore, no matter what kind of criticism is amid us. Generally speaking, there may be some truth in criticism even when it is given out of spite or bitterness. We should analyze and find something we can learn from it.
1. Examine your weakness, whether it is time management, intelligence, skilled thinking, providing information or any other solution. Do not worry about defensive concepts and carefully listen to constructive criticism.
2. Strong character, self control and forgiving can provide relief of better understanding.
3. A healthy personality is not rigid and continues grow along with the development of mind.
It changes and adjusts with changing with circumstances. There is no fright and compromise on the principles.
4. Do not respond in anger, during different situations, as this will create adverse feelings in critic and yourself.
5. Try to keep calmness and treat other persons with regards and understanding.
6. Show that you have a strong personality but do not use it a reason to offer counter criticism. Your challenge may start un-wanted arguments. Loss of self control is potentially damaging.
7. Adjust yourself to the changing conditions intelligently, as and when required to do so, without being satisfied about your achievement. You have to systematize and regulate your thoughts with time.
8. Learn positively in one way that we can improve our inter-personal relationship with others. Use criticism wisely and as a learning experience.
9. Be assertive and empathic
10. Always prepare to negotiate using appropriate verbal language and non-verbal technique.
11. Criticism, if any, should be through soft and healthy deliberation. It should not be offensive with a view to mend the issue one is trying to improve.
Suitable Quotes on Criticism:
• Tom Murka—Get out of your comfort zone. Do not be ruled by inertia. Do not just do what you are best at, keep learning and improving yourself and learning new skills. Read books and encourage others to give you constructive criticism.
• 'Who do you spend time with, criticizer or encourager? Surround yourself with those who believe in you. Your life is too important for anything else.
• Frank A. Clark—Criticism, like rain should be gentles enough to nourish a man's growth without destroying the roots.
• Emmer Fox—when we judge or criticize another person, it says nothing about that person; it merely says something about our own needs to be critical. Criticism is an indirect form of self boasting.
• Aristotle—Criticism is something we can avoid easily by saying nothing, doing nothing and being nothing.
• Neil Galman—when people tell you something is wrong or does not work for them, they are almost always right. When they tell you exactly what they think is wrong or how to fix it, they are almost always wrong.
• Gary Chapman—People tend to criticize their spouse, most loudly in the area where they themselves have the deepest emotional needs.
• 'Criticism is the disapproval of people, not for having faults different from your own.'
• 'Before you go and criticize the younger generation, just remember who raised them.'
• Abraham Lincoln—He has the right to criticize, who has a heart to help.
Avoid Evils of Criticism:
According to religious concepts, criticism of every kind is inhuman. Everyone should aim at proper evaluation. It is with an open mind and positive outlook to sharpen the intellect and broaden the vision. It makes the things and thoughts more beautiful.
Anyway, be courageous, 'I am, what I am' and criticism does not shake me, however pungent it may be. I shall improve myself if something positive is said.
I shall not be afraid of any verbal attack coming from any quarter. More so, I shall be free from any ill will. Those who indulge in acts of criticism with foul motives invite disaster for themselves in the long run. Those who do well to others enjoy the benevolence of Almighty God. We should concentrate on virtuous concepts.
Everyone can entreat, "I shall control my tongue when silence is required; my speech shall be soft and sweet; I shall be clean and righteous in thoughts and deeds; my spirit shall progress with love, compassion, tolerance, forgiveness, cooperation, sacrifice, selfless service and sincere faith in Divine Lord; I shall brighten the lamp of peace instead of cursing the darkness around and never blame or criticize others.
Dr. TRILOKI NATH CHUGH INSAN, Co-ordinator, Shah Satnam Ji Educational Institutions, Dera Sacha Sauda, SIRSA (Haryana, India).
Follow us on Facebook, Twitter, Google+, LinkedIn and Instagram, YouTube to get more updates related to sachi shiksha Spiritual Magazine, articles.