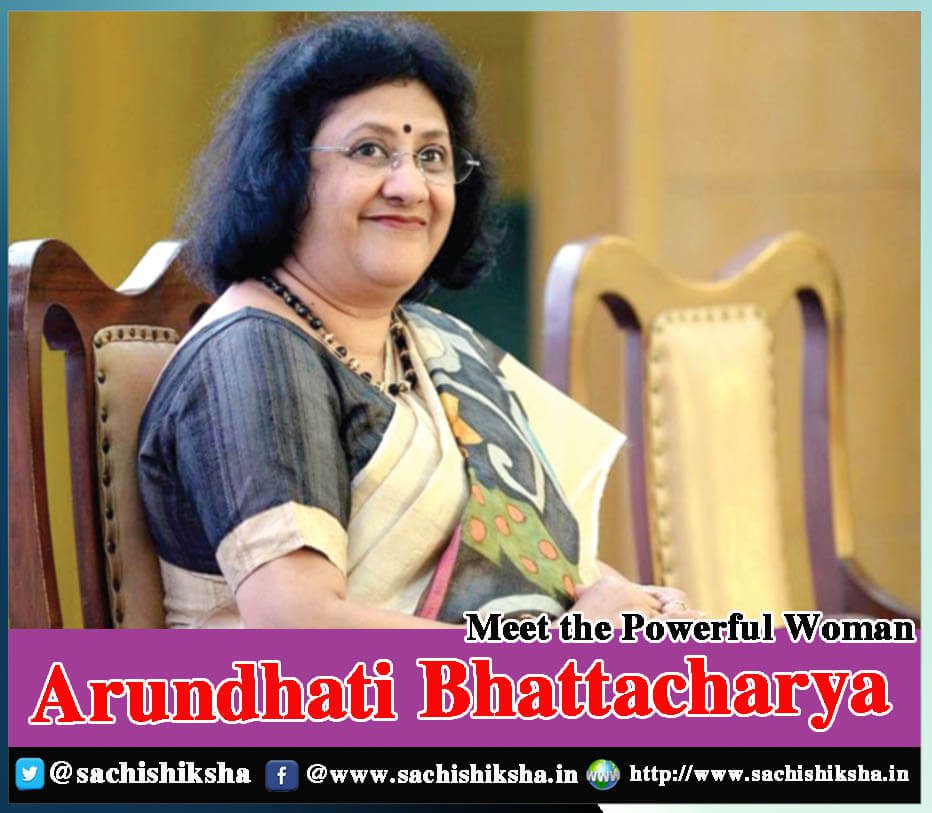 Out of the list of 50 most powerful women of the world, three are Indian. But the most important is that according to the report released by Fortune, Arundhati Bhattacharya is No.2. In the list of 2016, 19 countries have been included.
According to the Fortune Arundhati's status became higher during the three year tenure of as the Chairperson of the Biggest Bank of India. Her name was also being considered for the Governor of Reserve Bank of India.
She made up her status during the struggle of the Banks with NPA. In May she played the main role of merger with six other groups of SBI, with the result that now State Bank of India will become Asia's biggest Bank. Her tenure as Chairperson is ending in the next month. But Centre Govt. is willing to give one more year's extension.
Born in Kolkata
She spent her childhood in Bhilai of Chhattisgarh, where her father was working in Steel Plant as an Engineer. But she completed her schooling from Bokaro, Jharkhand where her mother was a homeopath consultant. Arundhati is the first and only woman, which has come in the list of first 500 women and represents any Indian Company.
Very surprisingly, she did not want to be a banker, rather she wanted to be a correspondent or a Museum Expert. In 2006, Arundhati had made up her mind to leave State Bank of India group.
Actually her posting as General Manager was done and posted at Lucknow where in spite of many efforts she could not find a good school for his son. Out of 11 roles in banking, she always believed to work out of comfort zone.
At an early age of 22 years joining as Probationary Officer and joining State Bank of India, Arundhati is Non-MBA. Senior officers always are in search of good junior employees. Whenever opportunity arises, they hand over their responsibilities to the juniors. Juniors have to prove themselves, which is a challenge.
She is of the view that the life of a lady itself is a challenge where she has to prove herself time and again.
Arundhati Bhattacharya
made news when she became the first chairperson of SBI, the largest commercial lender in the country, but that is not what makes her different in an industry which is basically male bastion till now, but her vision for future of the banking. She does not rest on past laurels but creates the way to win and create more and more laurels for the future.
The first ever lady boss of 208 year old lender is post graduate in English from Kolkata. As she says that her teachers always wanted her to do something that would utilize her talent and creativity. Hence Banking was not on her radar. But in 1977 when she came to know that all her friends are applying for Probationary Officer in SBI, she also applied and made to the final list.
After that there was no looking back as she became the top most boss of the most prestigious Bank of India.
Taking SBI to New Heights
It was not the end of the road for Arundhati, rather it was the start. She made tremendous efforts in two years of her tenure with merger proposals of SBI with other associate banks and thus taking this group to top 50 International Banks.
What are the things that make her different?
Digital Revolution" One thing that is the best n the present boss is her vision for the future. She understood that digital banking is the future of the bank and thus launched a number of digital products such as SBIiNTOUCH, SBI BUDDY etc.
Controlling of NPA. SBI is a leader of the consortium that has filed the case of Vijay Malya for defaulting on the loan. She has already made it clear that anybody takes a loan from the Bank, he or she has to pay back it at any cost.
Control cost but rationally: She has made it clear that expenses should be reduced but not at the cost of gaining the business for the bank. She has stressed that unnecessary expenses should be avoided.
A role model for aspiring women: Having featured in top 10 of the Forbes List of Most Powerful woman in the financial Sector , and in the top 25 of the most powerful woman of the world, she is a perfect model to look forward to for the current generation of aspiring young women
Introduced several schemes for the benefit of women employees such as two year sabbatical for study, flexi timing and especially transfer nearest place of their family. She has made it a point that though SBI has more than 10 women at GM level, the Banking Industry as a whole does not boast of the same.
Reducing the "famous" "red tapism" This is the most difficult task she must have achieved in the history of the bank. She has made it easier for her managers and DGMs to take decisions based on their best judgments. Work gets moving very easily these days even for the public sector in the country
The present Chairperson of SBI has a vision and she has the guts to put that in practice. This is what makes her different from others. Being a Woman, it is no mean to occupy that safe corner of SBI, Mumbai, but she has gone way beyond that towards a better SBI, towards a better banking experience for the generations to come.
Truly speaking she is not only a role model for the women but for the leaders as a whole. Never had we thought of having a soft and the tough lady who will be shining as a star in the sky and a leading personality in the male dominated industry.
Think of the time when the ladies used to count the currency for the management of the house, to a limit where this lady has brought the status of women to a place, where the currency waits for her order to move. – Vinita
Follow us on Facebook, Twitter, LinkedIn and Instagram, YouTube to get more updates related to Sachi Shiksha – The Famous Spiritual Magazine in India.