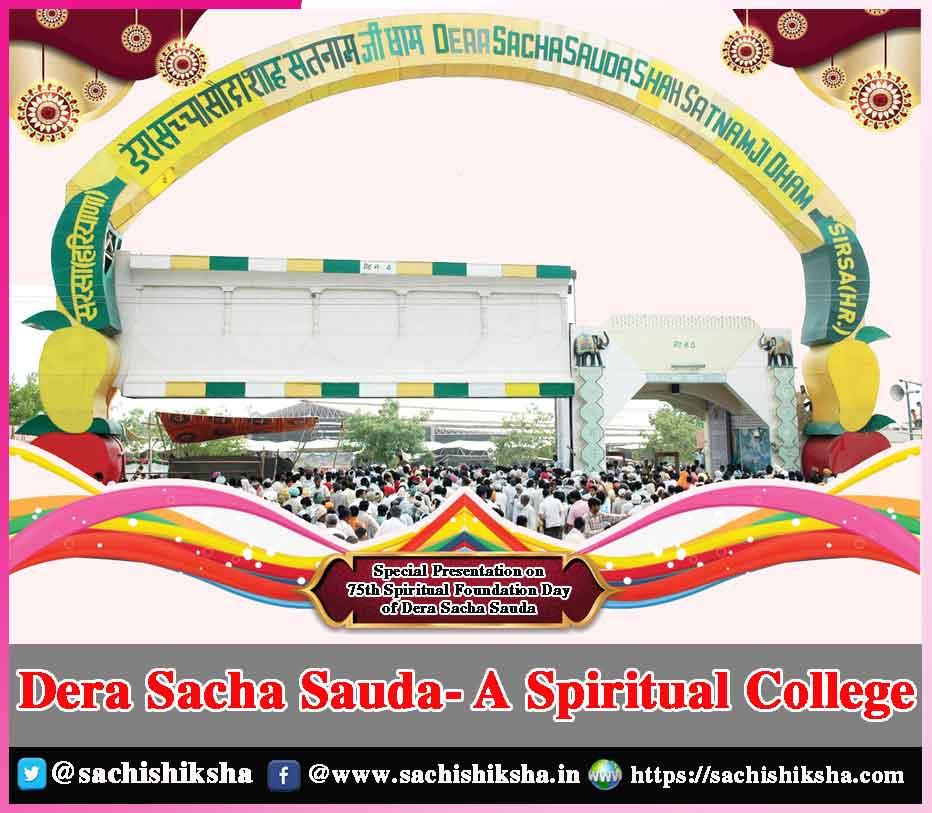 Special Presentation on 75th Spiritual Foundation Day of Dera Sacha Sauda
 Dera Sacha Sauda- A Spiritual College
 The Lord, Allah incarnated as Spiritual Guide in order to eradicate the cycle of births & deaths and warned the world that the Ram, the Supreme Master who is the dispenser of of liberation, is sitting inside the temple of your heart.
Revered Beparwah Shah Mastana Ji Maharaj has established Dera Sacha Sauda – 'the College  of Spirituality for the sole purpose of the recitation  & teaching of the God`s Words, Ram, the Supreme Master. The Revered Beparwah Ji has stated thus: ''The inner Ram should bless Us that We recite the holy Name of Ram-the Supreme Master; follow the holy teachings of the Supreme Master; never have an eye at other's goods; realize afresh happiness everyday & may the Lord bless Us."
This holy sermon of True Spiritual Guide Sai Shah Mastana Ji Maharaj is the common aim for all and this remains the sole objective of all spiritual great men. There is no question of any caste, creed, religion, nor is there any question of rich-poor, small-big and high-low. It is often said in the society: 'Hindu, Muslims, Sikhs and Christians are brothers. There is no doubt. All the countrymen are 'one' i.e. brothers.
Through the establishment of Dera Sacha Sauda, Revered Beparwah Shah Mastana Ji Maharaj has  provided a visible proof to the whole world that equal  respect is extended to  everyone irrespective of caste, colour, creed or religion. In Dera Sacha Sauda, everyone sits together and worships according to their respective religions. Whether one calls Ram or Allah, Rahim or Waheguru, God, there is no restriction. Only universal preaching based on all the religions of the world, spiritual education is imparted here. That's why this Sacha Sauda is a 'Confluence of all Religions', a spiritual college."
What is 'Sacha Sauda'?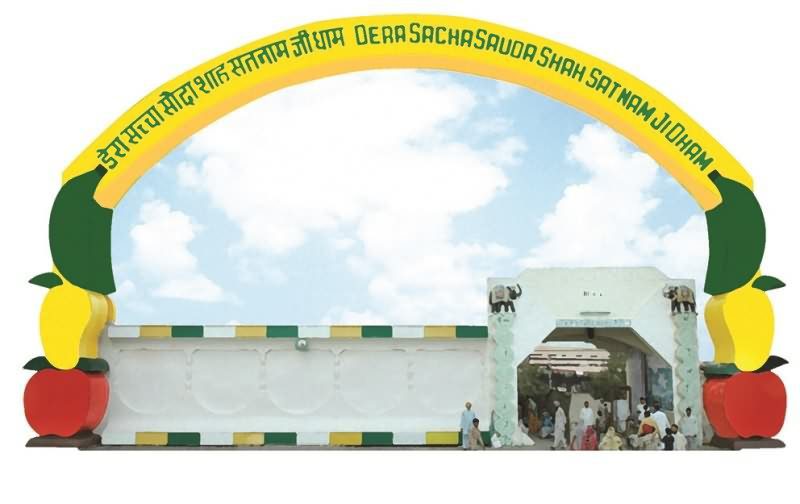 Truth ( Sach) is Om, Hari, Allah, Waheguru, God or whatever you call, there are many names, but that Supreme Father is one and that which is one truth and deal  or business means meditation or recitation of the holy name of the Supreme Master without any hypocrisy or superstition. There is no question of donations or offerings in cash or kind.  Dera Sacha Sauda is a spiritual college, where practical and real lessons of  selfless love and Ram-naam or the God`s Words are taught.
  With this holy objective and following the holy orders of His Spiritual Guide Hazoor Baba Sawan Singh Ji Maharaj, Revered Beparwah Shah Mastana Ji Maharaj established a cottage named Dera Sacha Sauda on April 29, 1948 on Begu Road (Shah Satnam Ji Marg) at a distance of 02 kilometer from Sirsa  city. This same cottage has today become a spiritual college by virtue of His holy words. Here is the real way to connect with selfless love and Ram-Naam is taught free of cost.
The Whole World Will Salute:
In those days, there was a terrible drought in the whole area.  Incidents of theft were also common. As a part of His philanthropic activities, the Revered Sai Ji used to fill pitchers of drinking water and keep them under the shade of trees outside the gate; because this was the only way for people to come and go; so that the passers-by can quench their thirst by drinking cold water. In those days the roads were unpaved and people used to cover most of the journey on foot. But people would steal water pots kept outside Dera Sacha Sauda.
Oe day, Buta Ram Ji, the owner of the land adjacent to the Dera (Spiritual Abode ), told the Revered Baba Ji that the Revered Baba Ji! Thieves live here who steal even water pots. Construct Your Dera somewhere else. At  this, the Revered Sai Ji stated laughingly, 'Dear Son! What was the water kept for? The water was kept only for the people to drink. Now it is their choice whether to drink water here or to take  the pitcher home & drink it at home. The Revered Sai Ji also stated, 'Buta Ram! Remember this thing. There is nothing to lose in Sacha Sauda; it is an everlasting treasure.
You say that We should leave this place and construct Dera somewhere else. Remember this thing! Everyone in this world, the king or the beggar will salute this spiritual place. Actually, the whole world will salute this Spiritual Abode. Earlier also people insisted that they would not allow the Spiritual Abode to be built, would not allow to raise the holy slogan Dhan Dhan Satguru Tera Hi Asra, but the inner Jinda Ram Sawan Shahi Mauj got the Dera  constructed ultimately.
As of now, the shop of Sacha Sauda has been constructed, the provision of Ram Naam ( the God`s Words) will be placed into it, then the shop will run ( Spiritual Congregation will be conducted), and finally the world will come to know. Right now it is like drizzle,  when there will be torrential rain, people will know. Right now Sawan Shahi Power is working. When Mastani Power starts working, it will make everyone intoxicated, and the whole universe will come to know & acknowledge the same.
Sacha Sauda Will Last Forever:
It is a matter of the year 1958. One day some devotee volunteers of Sirsa city came to Dera Sacha Sauda to have vision of the Revered Sai Ji. Meanwhile, one of those volunteers, Khema Ram Ji suddenly said such a thing hearing which all the other people were also stunned. It may be that he had such a doubt in his mind and he was trying to ask this question to clear his doubt.
That volunteer said,  The Revered Sai Ji! What kind of workings will operate here after You?  The Revered Sai Ji looked at him and asked in surprise, 'Khema! We did not understand your point. ' He requested, The Revered Sai Ji! After Your merging with the Eternal Light, there should not be a place of worship where people come, bow their heads, make offerings and return with promises & wishes.
On hearing this, Master of both the worlds, stated in an enthusiastic voice, 'Khema! How long have you been with Us! You've got Us as a common man only! The Sacha Sauda that has been made, it was not made by any man. It has been made by the holy order of God Himself Sawan Shah Sai Ji. The Sacha Sauda will last forever. We have not spent even a hair out of the unending spiritual treasure that Revered Sawan Shah Ji has blessed to Us, that Sawan Shahi treasure is lying buried as it was.
The Power that will come after Us, We have distributed  currency notes, gold, silver, clothes, blankets among the people, if that Power wants, that Power can also distribute diamonds and jewels. We got the houses built, got them demolished, got them built again and if that Power desires, that Power can also  bring down ready made houses. There will be so much gathering in Dera Sacha Sauda that the Spiritual Master will grace the devotees with His vision by riding an elephant, even then it will be difficult for the devotees to have vision of the Spiritual Master.
The number of spiritual followers will be so much that Sirsa and  the village Nejia will become one. If you throw a plate from above, it should not fall down. From Sirsa till here only spiritual followers will be seen everywhere.  Self-evident truth requires no justification. This truth can be seen with one's own eyes at  Incarnation Day Grand Celebrations.
According to the holy teachings Revered Beparwah Shah Mastana Ji Maharaj, don't eat meat, eggs, etc; don`t consume alcohol & all other forms of intoxicants; for males- consider the other females as your own mother, sister and daughter as per age , for females- consider the other males as  your  own father, brother and son as per age. Don`t leave your home; don't change your dress or religion. While living in the family, perform your human duties honestly towards your family and the society.
Serve the parents and the aged; make the children well mannered; Help the needy and  along with extending service to humanity, also recite the God`s Worlds.  In this way, live a happy life in the world by following the teachings of  the Spiritual Master. This is the holy teaching of Dera Sacha Sauda. It was started by Revered Beparwah Ji in Sacha Sauda and Dera Sacha Sauda is still standing on this foundation.
Universal Popularity of Dera Sacha By Virtue of Human Welfare Works:
Today, on 29th April, the spiritual followers are celebrating the 75th anniversary of the Spiritual Foundation Day of Dera Sacha Sauda. The spiritual followers of Dera Sacha Sauda celebrate this holy day in the form of equality of all religions by rendering human welfare works. Under the holy guidance of Revered Present Spiritual Master Saint Dr. Gurmeet Ram Rahim Singh Ji Insan, Dera Sacha Sauda is a vast ocean of spirituality. Today, 156 welfare works initiated by the Revered Guru Ji are being carried out with great enthusiasm by the followers of Dera Sacha Sauda  across the globe.
While the name of Dera Sacha Sauda has been recorded thrice in the Guinness Book of Records for blood donation and tree plantation, dozens more records in the health and public service sectors have also recorded in the Asia Book of Records and the India Book of Records. All this has happened and is happening because of the holy teachings and inspiration of the Revered Beparwah Shah Mastana Ji Maharaj and Param Pita Shah Satnam Singh Ji Maharaj. This great philanthropic wave of reform in the society will continue  to flow under the holy guidance of Saint Dr MSG.
Sacha Sauda is the Model of the Eternal Abode:
Revered Supreme Father Shah Satnam Singh Ji Maharaj and Beparwah Shah Mastana Ji Maharaj had stated that there great human welfare & spiritual activities in times to come; Dera Sacha Sauda will become a paradigm of the Eternal Abode. Dera Sacha Sauda will progress in a multiplied manner and the devotees of Ram-the Supreme Master will also increase manifold.
Param Pita Shah Satnam Ji Dham is truly an example of Sachkhand ( the Eternal Abode) and if we talk about the spiritual  followers, today there are more than six and a half crore followers in the whole world under the holy guidance of Revered Present Spiritual Master Saint Dr. Gurmeet Ram Rahim Singh Ji Insan.
Millions of  Felicitations on the occasion of 75th Spiritual Foundation Day!