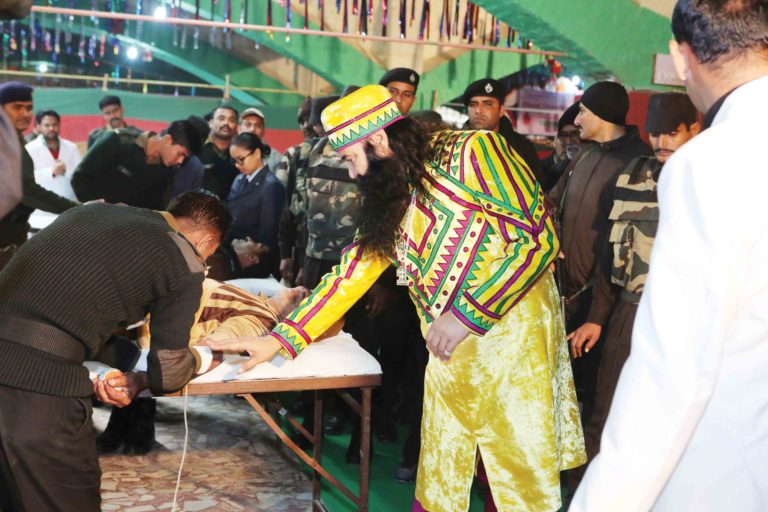 Dera Sacha Sauda collects 3717 units of blood, checks up 1335 patients free of cost On the Incarnation Day of Parampita Shah Satnam Ji Maharaj on January 24, a blood donation camp, 70th charity camp, free legal aid camp,
cyber law and internet awareness, career counseling and free legal advice (Annadata Bachao) camp was organized by the Dera Sacha Sauda at Sachkhand Hall, Shah Satnam Ji Dham, Sirsa.
All the camps were inaugurated by Revered Guru Saint Dr. Gurmeet Ram Rahim Singh Ji Insan by cutting the ribbon. From New Delhi, besides the armed forces, teams from Rajasthan, Punjab, Maharashtra, Uttarakhand, Uttar Pradesh were present for the blood donation programme.
Altogether there were 9 blood bank teams from different places As many as 3717 units of blood was collected from the people participating in the blood donation camp. In the public charity health camp, health care specialists checked 1335 patients and distribute free medicines. In this camp patients suffering from heart problem, sugar, cancer, dental problems, women's problems, childless couples were checked-up and given medical advice. Patients were also given free medicines after the check-up.
Specialists were especially invited for the creation of awareness about cancer. Advice was given to the people about the prevention of the disease.
In the`Free legal Aid' camp senior speakers from the Supreme Court, High Courts, session courts gave information about law and people's rights. In the Career Counseling camp the volunteers connected with the information technology wing gave vital information about career.
At the Cyber Law and Internet Security camp tips were given for the safety of the internet and social sites. In the 'Annadata Bachao Camp', farmers were given important informations about farming.
The teams reaching for blood collection were from:
Indian Army's Armed Forces Transfusion Centre (AFTC, New Delhi)

Lifeline and Sainath Blood Bank, Nagpur

Shri Raghunath Hospital Blood Bank, Ludhiana, IMA Blood Bank, Dehradoon,

Lokmanya Blood Bank, Gondia, Maharashtra

Jivan Jyoti Blood Bank, Bikaner and Pitampura Blood Bank, Delhi P L Sharma Civil Hospital Blood Bank, Meerut
Follow us on Facebook, Twitter, Google+, LinkedIn and Instagram, YouTube to get more updates related to sachi shiksha Spiritual Magazine, articles.