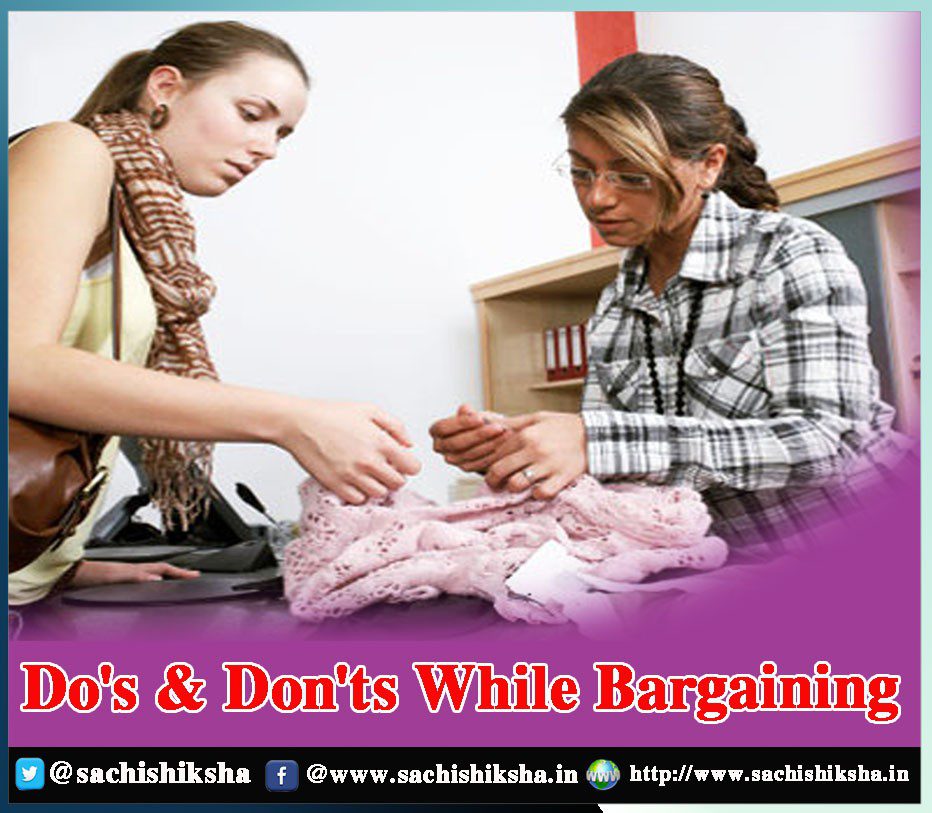 Do's & Don'ts While Bargaining Both shopping and bargaining have a good relation like sister & brother. Shopping is mostly for women and if women do not do bargaining, the fun of shopping will be incomplete for them, but sometimes bargaining can be expensive or sometimes goods which you purchase may be wrong in the bargaining. Do's & Don'ts While Bargaining
For this, it is very necessary for you to remain conscious. While shopping, most people do bargain, but everyone is not able to do good bargaining. It is also a game in itself. Like everyone is not skilled at playing games, it is the same with bargaining.
Tips to be kept in mind while bargaining
Before buying any product in the market, you can compare both the quality and the rate and the market value of the item may also be known. Some shops are such that there are fixed prices. If your item is available there, first take the idea of rate from there, then go to other stores.

Before going for shopping, decide what you want to buy, decide its budget so that time is not wasted in the market. Then focus on the bargain and decide if the item you need is available for you at the right rate then buy it.

Do not ask rates at all once in a row by choosing many things. From this the shopkeeper may think that you are openly shopping and he can tell more of his rates. Don't show any special preference. He will feel that you like the above thing and will not reduce the rate of that item.

If you like a particular item, keep in mind how much to buy. Yes, be prepared for a little bit so that you can spend a bit more on it because unique items are not always available. Do not lose this opportunity.

While bargaining, think of yourself as a shopkeeper for a little while. Do not request too much for reducing rates.

Talk to the salesman in a pleasant voice. Make a smile on the face. By doing so, salesmen will help you at the time of bargaining.

Always know the rate of what you like from the shopkeeper and know what rate you give him. When you are completely satisfied with the object, only then accept it.

Whenever you go for shopping, take extra time so that you can check rates and things in the market. Rapid shopping is sometimes proven to be wrong and costs more, so shopping should be done comfortably.

Sometimes it seems that the shopkeeper is sticking to his stance. At that time do not talk to him in anger. Rather talk with a soft attitude.

Do not use round figure while bargaining. Speak up slightly like a rupee 2 rupees or 33 rupees. This will make the shopkeeper feel that you have already searched the market.

Advertise the things you liked during bargaining again so that the shopkeeper can get some time to finalize the rate. – Neetu Gupta
Follow us on Facebook, Twitter, LinkedIn and Instagram, YouTube to get more updates related to Sachi Shiksha – The Famous Spiritual Magazine in India.