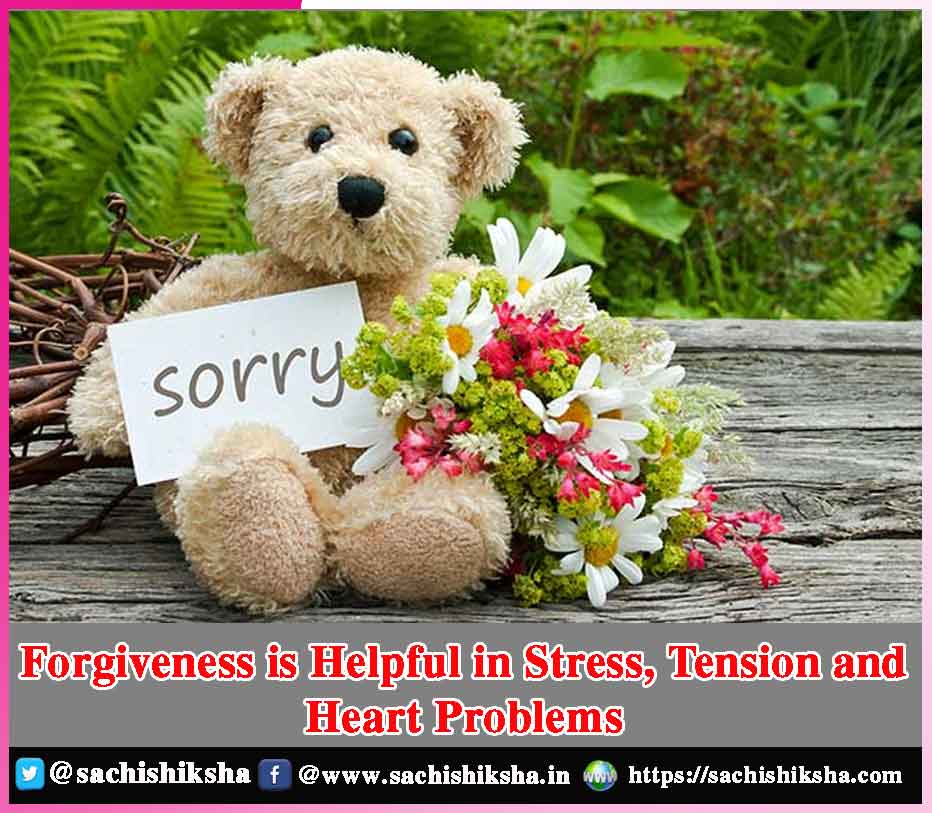 Forgiveness is Helpful in Stress, Tension and Heart Problems
Study: Arrogance ends by saying words of repentance, i.e .forgiveness, whereas by accepting those words with pleasure, good manners are formed. These qualities make a great personality.
Introduction: Forgiveness is of utmost importance in human life. If a person commits a mistake and immediately apologizes for it, the anger of the person in front goes away to a great extent. Apologizing is considered a virtue in a good personality. At the same time, forgiving a person also counted as the style of good conduct.
If a person commits a mistake but does not apologize for it and a person does not forgive the person in front of him even after apologizing, a sense of ego develops in the personality of such people. Both types of people can never be free from the sense of crime. Not apologizing for your mistake and not forgiving the other person after apologizing means that such people prefer toxic thoughts in their own life.
Also Read:
It is the nature of man to make mistakes and knowingly or unknowingly, these mistakes happen sometimes, but making a mistake is not as bad as not accepting it or apologizing for it after committing a mistake. Although it is a big thing to accept the mistake done in life and go ahead and apologize for it, but it is really divine to forgive the other person for the mistake done by the man.
Ornament of the Brave:
Many people know the art of apologizing very well in life, while some people find it equally difficult to apologize. Actually apologizing or forgiving someone is not a simple thing, but after doing this the person gets a lot of relief. In our country, forgiveness has been called the ornament of heroes. Due to which the ego in a person's life goes away and he lives life with a healthy mind.
To forgive is a higher and nobler state than to ask for forgiveness. This is also true, Ego is destroyed by asking and 'Giving' is 'Joy of Giving'.  -Mahavir Swami
Apologizing is the job of the brave, it suits the brave.  -Ramdhari Singh Dinkar, An Eminent Poet.
A weak person can never forgive, forgiveness is the quality of a strong person. -Mahatma Gandhi
A Noble Deed:
Psychologists from all over the world do different types of research on the word 'forgiveness' and present their views. According to the psychologists, apologizing imparts different meaning according to time and situation. It has been revealed in the study that forgiveness is such a word that erases the bitterness in human relationships and revives the sweetness. It has the power to heal the deepest wounds, knowingly or unknowingly born out of the bitterness of your words. In such a situation, apologizing can be called a noble deed. It requires courage of higher degree. The person who does this noble deed increases his self-respect again.
Apologize at the Right Time:
According to a research of Harvard University, people who are unhappy about something often expect an apology. They feel that an apology will bring back their respect and trust. The process of apologizing to them looks like justice. But when one expects forgiveness, attention is never paid to the fact that a heartfelt apology builds a relationship.
On the other hand, an apology sought for show spoils the relationship in the long run. This is why in order to live a good and happy life, after making a mistake, it is pertinent to apologize to the partner in the right way and at the right time. Psychologist Siddy Frantz believes that apologizing should take some time, as there may be greed behind apologizing too soon.
Best Effort to reconnect:
Famous Professor of Psychology Dr. Ravindra Puri says that many times a person realizes his mistake after a while, in such a situation he wants to apologize but his mind prevents him from doing so. Apologizing is the best effort to reconnect relationships. This reduces stress, mental health also increases. The scientists believe that the chances of improvement in blood pressure and heartbeat of a person increases who apologizes.
Psychologist Ingle says that instead of conditional words like 'I'm sorry or whatever happened, it was wrong', it is appropriate to apologize directly for your mistake. The apologizing words sanctify our life and character on a spiritual level. It is not devoid of mental and physical benefits. The report of a study done on forgiveness says that apologizing for mistakes is beneficial for our mental and physical health.
Do not Apologize in Haste:
Never show haste while apologizing. First, by concentrating your mind and thoughts, make a definite opinion on this subject and choose the limit of time so that the person in front also has no doubt about accepting your point.
Grant a Chance to the Relationship Again:
Give a chance to the relationship again after apologizing to the dispute that arose after any misunderstanding or dispute on the subject. Because it takes some time to rekindle relationships after a breakup.
Don't Ignore the Victim:
When you have made up your mind to apologize, it is important not to ignore the other person's words. During this, the aggrieved person wants to clarify his point of view, so it is your duty to consider every aspect of his statement. Listening to him and his convenience should also be discussed.
There Should be a Sense of Sympathy in Words:
Psychologists believe that there should be no twist in your words, but apologize in clear and straight words. For example, forgive me or I apologize to you. Avoid using conditional words.