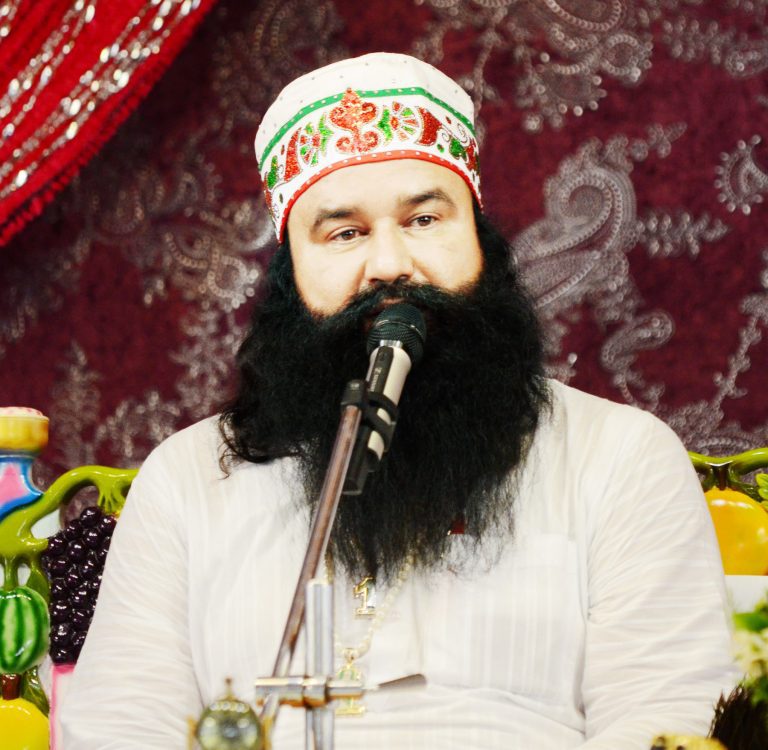 The heat bowed before the devotion. 29 may 2016
Sirsa- The name of God is a mine of happiness. If you take the name of God and recite the name of God then you will be a party to the God's happiness.
The above words were opined by Revered Guru Saint Dr Gurmeet Ram Rahim Singh Ji Insan at the discourse on 29 May 2016, Sunday at the Shah Satnam Ji Dham. Despite the scorching heat, the devotees participated in the spiritual discourse.
The Mercury was, no doubt touching 42 degrees but the devotees could be seen in the ashram all around. The devotion got the better of heat.
Sachkhand hall was jam packed with the devotees who wanted to get initiated into God's word and many camps were also organized, there. Everybody could be seen drenched in sweat. Such a similar state could be seen in the spiritual discourse Pandal. Despite hundreds of fans, there was heat and humidity but the followers of God  were dancing in the heat as if it was a season of utter happiness.
The moment Revered Guru Ji sat on the stage, the devotees felt that a wave of cool air refreshed them. The sacred glimpse of Revered Guru Ji and the words full of blessings, everybody was found to be satisfied.
During the spiritual discourse, Revered Guru Ji initiated 19,810 people into God's words. The revered Guru Ji, on this occasion, under the ' Ashiana'  campaign, presented 21 families with the keys of houses constructed by the spiritual followers.
Under the 'Sathi' campaign, three handicapped people were given tri-cycles. Two needy people were given a cheque for two lacs of rupees.
During the discourse, 9 marriage were solemnized with simplicity. On this occasion, two devotee warriors were married where one of them married a widow and the other married a girl from the economically week background.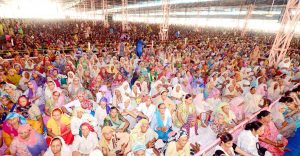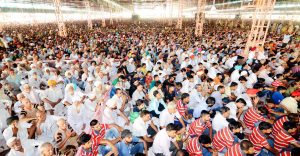 The revered Guru Ji presented the two couples with acheque for Rs 25,000 each to them.

Benefitting the devotees with His sacred words, the Revered Guru Ji opined that, in the summer season, the manner in which the bodies become heated, face a lot of heat. Foe many centuries, the soul faces the heat of birth and death and also the burden of heat of accumulated deeds.
The soul is distraught with and yearns. If we get cold water, the air of fans, the deep shadow of the trees then even the hot wind gives a feeling of coolness.
There are many ways to get relief from this heat. To get relief from the heat of many-many births, there is only one way and that is the name of God, waheguru and Allah.
Follow us on Facebook, Twitter, Google+, LinkedIn and Instagram, YouTube to get more updates related to sachi shiksha Spiritual Magazine, articles.