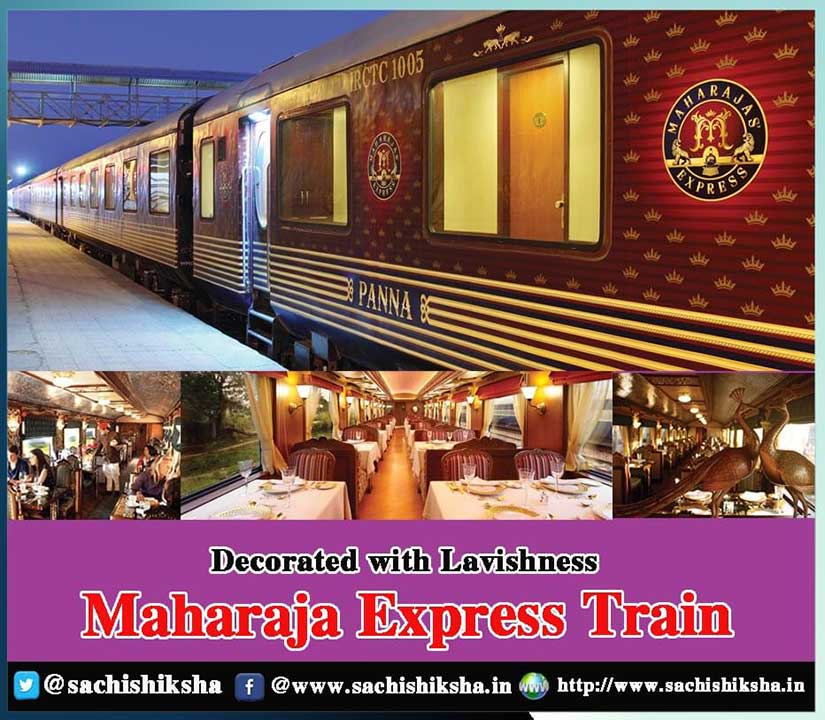 Maharaja Express Train Decorated with Lavishness
Most Luxurious trains of the world
"Eastern and Oriental Express" is on the top amongst the most luxurious trains. This train starts from Singapore and completes its journey through Malaysia and Thailand.

South Africa's "Blue Train" is 2nd in the list. Due to its best facilities available to the passengers, it is also called "5 Star Hotel on Wheels". This train runs 8 times in a month from Pretoria to Cape Town.

Africa's "Rovose Rail" with its royal facilities comes on number 3. Rovose Rail has largest tourist train network of Africa.

In Indian Railway's Maharaja Express from Delhi to Mumbai you will feel like; royal king. It ranks 4th in the best luxurious trains of the world.

In the list of luxurious trains "Orient Express" which runs from Europe to Turkey ranks 5th. In this train in addition to luxury, piano players are also there for recreation.

In Indian culture, and heritage, there has been a long history of empires, royal families, Nizams and Nawabs and Chakrawarti kings. Though after independence, the dynasties have been abolished, but the stories of their lavishes is still in alive in the memories of people.
If you happen to see all these in one train what will you say? Yes we are talking about the train decorated with the sumptuousness "MAHARAJA EXPRESS".
If you ever get an opportunity to travel by this train you will never forget the experience of this journey for the whole of your life. Think when a king travels with you in this train, how will you feel? You would have seen so many trains, but Maharaja Train is one of the most beautiful and royal trains.
If you are fond of travelling with fervor and have no worries of the money, you can enjoy travelling in this train and can save the memories of this journey for the whole life.
In Maharaja Train you can have five kinds of packages.
These journeys are "Heritage of India ", "Treasurers of India", "Gems of India" "Indian Panorama" "Indian Splendour". The halt of the trains on the stations will be according to the package.
The passengers enjoy the halt, roam here and there and come back and board the train at a decided time. Thus the passengers complete their journey by SWAAR on this mobile hotel.
During the months of October to April, this train mainly starts from Delhi or Mumbai covering Agra, Fatehpur Sikri, Gwalior, Ranthambore, Varanasi, Lucknow, Jaipur, Bikaner Khujraho & Udaipur stations.
This train runs on five routes of North and West and Central India. Maharaja Express was started in March 2010 with the joint collaboration of Indian Railway Catering and Tourism Corporation (IRCTC) and Cox & Kings India Ltd.
This train is one of the luxurious trains of the country. The fare of one day in this train is from 40,000 to 1,25,000. In this train there are 14 cabins for sleeping. In every cabin phone, LCD TV, DVD Player, Internet Electronic Lockers are available. There is a bathroom in every cabin.
Amongst them there are 5 deluxe, 6 junior suits and one Majestic Presidential Suit. There are 23 coaches in this train. In this train only 88 passengers can travel. In this train there are two restaurants. "Mayur Mahal" and "Rang Mahal". In each restaurant 42 people can dine together.
Keeping in view the facility of the passengers and the place, its interior has also been done beautifully. In 2011, Maharaja Express Train was included in the list of 25 most luxurious trains of the world. The passengers remain for one week on the train during the whole trip. So a lodge has also been prepared in the train.
Here arrangements have been made for easy chair and indoor games. There is one boutique and some gift items are also available. You can shop here to gift someone special to you and to make this journey memorable. – Harish Shekhavat
Follow us on Facebook, Twitter, LinkedIn and Instagram, YouTube to get more updates related to Sachi Shiksha – The Famous Spiritual Magazine in India.