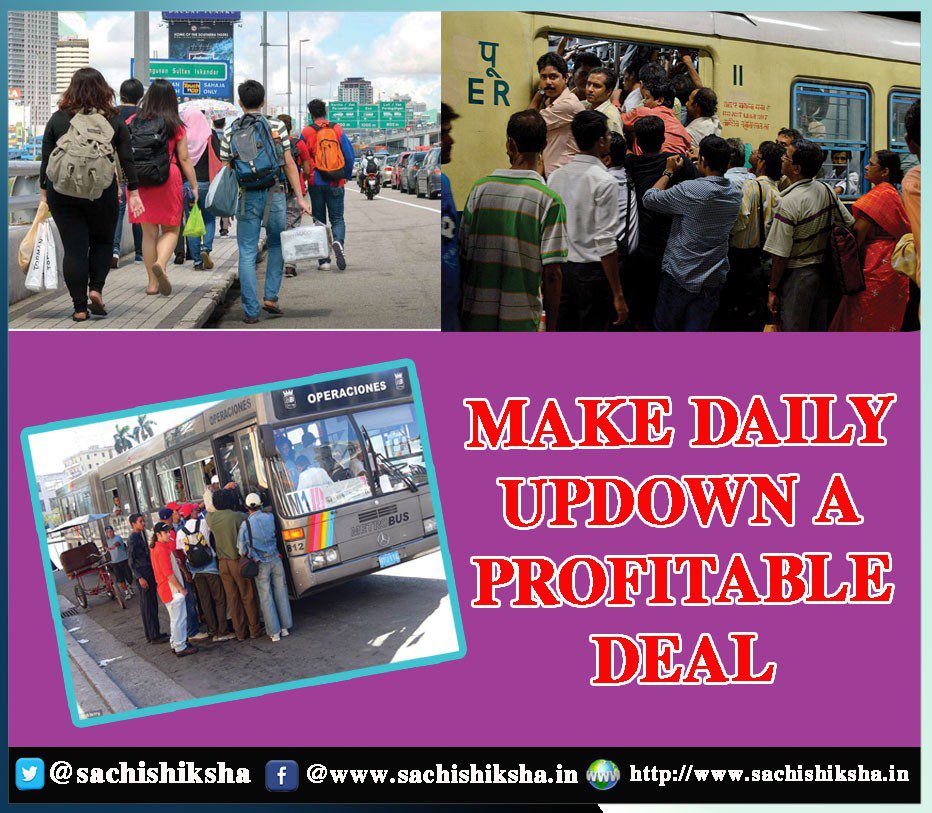 Make Daily Updown a Profitable Deal
There was a time you can say four to five decades back; schools, college and workplace used to be at a smaller distance.
But in present scenario for studies, service and business or for other reasons we have to do updown from our residence.
In Metros even people do updown from other states also like, Haryana, UP, Rajasthan to Delhi.
Updown from Pune to Mumbai is today's need.
In foreign countries where the trains run at highest speed, there also from one state to another people do updown.
If you make this updown process a little interesting, it will not become a burden on you. Moreover there is need to take safety measures and alertness. With this journey will become a profitable deal for you which will give energy, alertness and add so many good experiences to your life.
For example a lady has to do updown, as her husband's office and the school of the children is very near to her residence, so she cannot think of shifting near to her workplace. So the ladies today prefer to do updown, by travelling one to two hours, one side.
In our country for updown to Delhi, special trains are run from Agra, Mathura, Aligarh, Rewari, and Tonk etc. If you ever happen to be in this train for journey, you will be surprised by feeling yourself to be in another world.
Young boys singing, ladies doing kirtan, cards being played. The trains from suburbs to Mumbai have given so many good actors, playback singers. Because the local train compartment is their music studio and art studio.
If you are also doing updown, keep these important things in mind:
Always keep a purse with you, not so big and also not too small. Keep money in the purse and also keep some extra money separately, that you may need at the time of urgency.

Because you are travelling, you must keep a make up kit, which may be small and only the items you need may be kept. One cream, lipstic, face powder, bindi packet, one small mirror and one comb.

The first thing on reaching the office, you must go to wash room and rearrange yourself. With this you will look fresh and moreover the dust from the face and hair will be removed.

Keep some eatables, water bottle, one handkerchief, napkin, newspaper, pen and a small diary in your purse.

During travelling, don't keep your hair loose. Tie them properly and put either dupatta, sari or a scarf, to be saved from unnecessary dust.

Do not put foundation on the face while going for office. Instead you can put moisturizer and when reach office, wash the face a little bit and clean it with the small towel. Your face will glow.

Try as far as possible, during updowns, to wear comfortable dresses, because while boarding the train or bus it will be easy for you and you will face no problem.

During upddown do not wear deep neck dresses and also wear the dupatta and sari properly pinned up.

If you do not get seat in the bus or train, always stand in the last. Never stand in the front. With this you can stand easily and when available you can take the seat also.

During updown never wear costly jewellery. There may be chances of these being lost. Moreover you will feel insecure by wearing the costly ornaments. If need be, wear artificial jewellery.

During the travel preferably use georgette, shiffon, marble and cotton dresses.

Do not consider updown as a burden, and not make it bore. Every day should be thrilled and enjoyed.

You can also hear walkman during the journey. With this you will enjoy the journey and will look fresh and smart at workplace.

You can also keep daily newspaper or a magazine of your choice with you while travelling. This will make you knowledgeable and you will not feel bore.

It is not always necessary to sit on window seat and see out the nature. If there is any other lady sitting with you, you can talk with her. With this light conversation you will feel happy and can exchange important information.

Behave properly and in limits while updown.

Do not share unwanted information with the fellow passenger. For example, when you come and when return, where you reside. If not necessary, do not exchange the mobile or landline phone numbers.

If you are habitual eater, take popcorn, peanut, salad or chips from your home and avoid fast food or oily dishes from outside.

During the time of travel plan your whole day. It will be better if you keep a small diary and if need, you can note down also.

If you do not get time for puja etc. in the morning due to busy schedule, you can devote this updown time to God. You can meditate, chant the mantras slowly. And thus can make your journey and even whole day peaceful and energetic.

You can make introduction with the daily updown passengers, this will give you a sense of emotional security also.

If any of your fellow passengers try to hit his head to your shoulder and misbehave, do not get panic, ask him to sit properly. If he improves well, otherwise you can take others into confidence and shout at him without any fear.

If a senior citizen or a patient is standing beside you, offer him the seat politely.

If you feel a person staring at you with a wrong intention, do not be afraid. Maintain your confidence and start talking to your known fellow passengers. This will create fear in his mind and he will forget to repeat it again thinking that you are not alone. If the matter is not solved, do not hesitate to take help from the fellow passengers.

If you want to move ahead, it is for emotional security that you make group of your own society means Sindhi Group, South Indian Group or Bengali Group, but remember this should be for a good cause and not creating caste prejudice.

This will help you to solve your problems. Sometimes it is seen that marriage alliances are fixed by the parents in the local train or metros.

If you are preparing for any competitive exams, two hours of updown are safe for your preparation. This is your time only and you can use it according to your plans.
USHA SHARMA (Retired. Daily passenger from Aligarh to Delhi)
Follow us on Facebook, Twitter, Google+, LinkedIn and Instagram, YouTube to get more updates related to sachi shiksha Spiritual Magazine, articles.