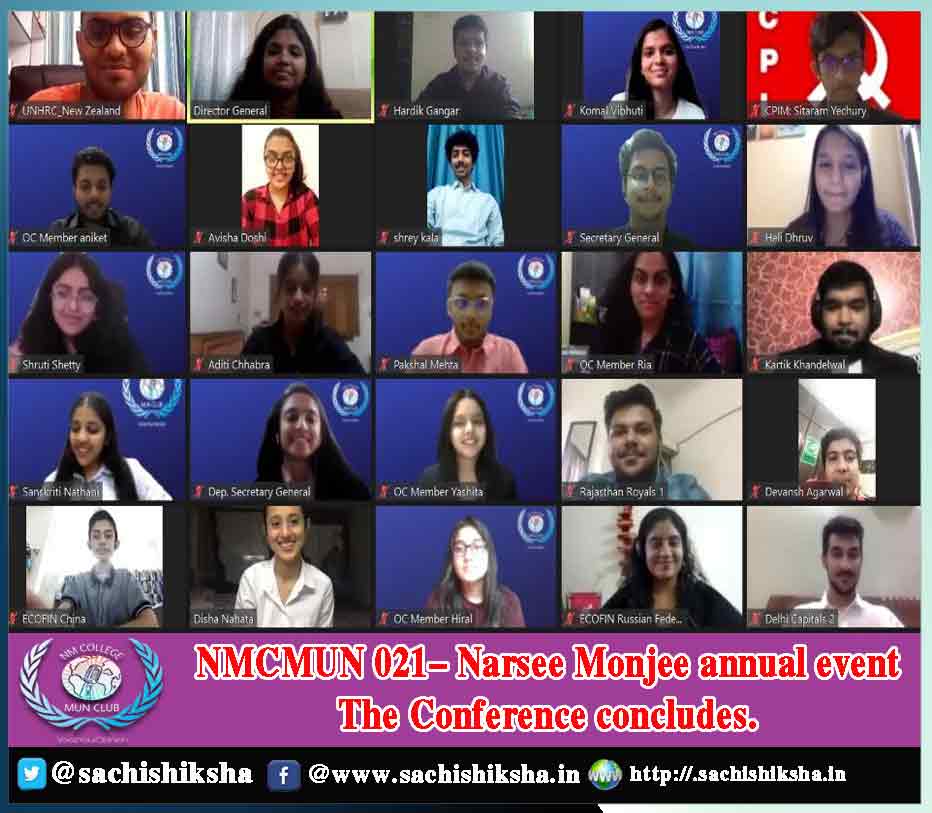 NMCMUN 021– Narsee Monjee annual event The Conference concludes.
NMC MUN club conducted a National level conference from- 30th April to 2nd May 2021.
NMCMUN 2021 – The Annual Conference of Narsee Monjee College from April 30
It was a platform that provided opportunities to voice opinions and conduct quality debates and deliberations on global issues. This year we had 4 captivating committees, interesting agendas, a stellar executive board and revolutionary resolutions said – Secretary General, Aaradhya Agarwal.
No. of delegates: 102
Committees and agendas:
United Nations Human Rights Council (UNHRC)- Freedom of speech and expression across various countries with special emphasis on police brutality.
Economic and Financial Committee (ECOFIN)- Combating money laundering and financing of terrorism
All India Political Parties Meet (AIPPM)- Review of Farmer's Bill 2020
Indian Premier League (IPL): Live auction 2021
The conference was declared open by the Secretary General of NMCMUN 2021, Aradhya Agarwal. And it was brought to an end with an empowering speech by the Principal, Mr. Parag Ajagaonkar. The ceremony stayed true to its values and edified the students and the participating delegates, she added.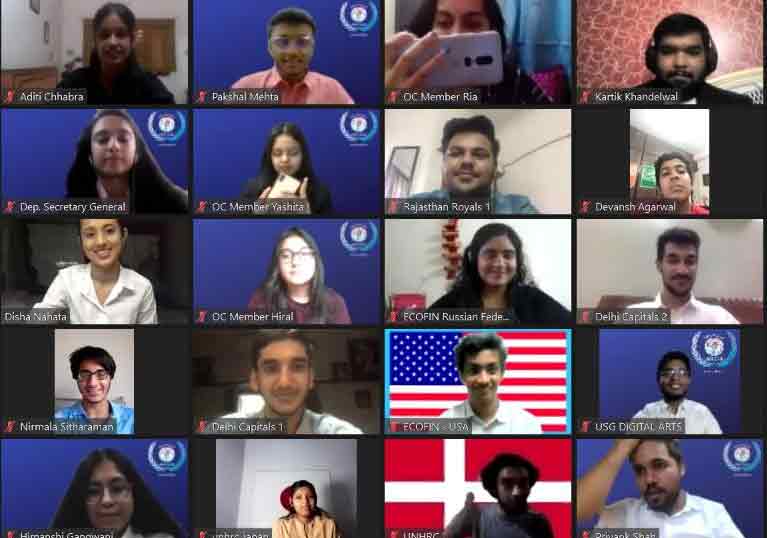 On Day 2 and Day 3 delegates got a platform to not only voice their ideas and debates, but also a platform to put their inner leaders at the wheel and steer their way through the storm. They challenged themselves and their peers to arrive at harmonious resolutions and contribute their little to Global Peace. Team NMCMUN made sure that delegates truly have a memorable experience and do not miss out on the fun elements as well so we introduced a snapchat filter which they could use to voice their opinion on different topics during the breaks.
The members of the core team have put in their best efforts to ensure the success of NMCMUN 2021.
Committee Reports:
ECOFIN:
Terrorism and money laundering are like that cancer which nobody asked for but which no country can avoid. It eats up the economy from the inside, and destroys lives and property in its wake. So to combat this issue today the delegates of various countries came together and expressed their views in hope to reach a consensus. The committee came up with a comprehensive, intuitive and practical working paper encompassing several points like AI, financial intelligence units, government approach, global approach, training programs, working of NPO and several other points covered.
UNHRC:
The council provided a multilateral forum to address the violation of freedom of speech and expression happening in the world around us. The committee addressed a very agenda of global significance this year: "freedom of speech and expression across various countries with special emphasis on police brutality."The solutions were pretty much on the practical side rather than theoretical solutions to combat against the violations which are caused by not exercising this fundamental right.
IPL:
The IPL Auction started with a fierce bidding war for the first player under the hammer, Nicolas Pooran. In the Second session, the Galactico's of world cricket went under the hammer. Team owners fiercely bid for the likes of Virat Kohli, AB De Villiers & MS Dhoni.  Day 2 of the auction saw a slew of shrewd buys from team owners who deftly dealt with stringent purse strings.
After the auctions, all the team owners faced the scrutiny of the media. All the team owners gave logical & insightful answers to the media query. Finally, the Sun Risers Hyderabad emerged as the most complete & balanced teams