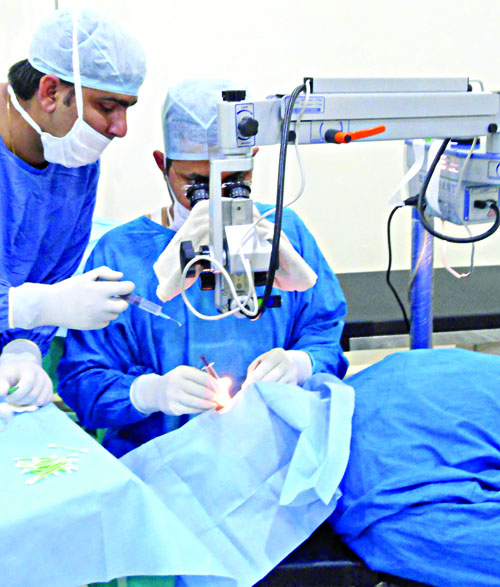 Vision for the blind-23rd mega free eye camp
Saint Gurmeet Ram Rahim Singh Ji Insan pioneered Mega Eye Camps in Haryana, way back in 1992. Today this unique endeavour of free care has touched thousands of lives.
While eye camps are generally being replaced by hospital based surgeries as far as possible, Dera Sacha Sauda's 23rd Mega Eye camp took things to another level by its successful execution of 1161 free intraocular lens implant surgeries. Since 1992 nearly 2400 patients of cataract have been successfully operated in this wonderful vista of humanitarian service.
"The OT's have been equipped with dehumidifies, uv sterilizers and flash autoclaves" said Dr. Puneet, the CMO of the SMG Hospital.
Dr. Dinesh Talwar, a former professor from RP Centre, AIIMS and a senior vitreoretina Surgeon was accompanied by microbiologist Dr. Shveta and a PhD Dr. Sanjukta Sen Gupta who ensured that the OT's were totally free from the risk of infection. Daily tests of the OT air and floors were done to rule out contamination of the operation theaters and the whole effort successfully ended where none of the patients developed anything remotely suggestive of infection.
Also Read:
The most expensive and high quality inputs in surgery, made this camp comparable with the best hospitals in the world, observed Dr. Tanuj Dada, who gave meticulous pre-operative and post-operative care to patients.
Dr. Tanuj Dada is internationally renowned authority of glaucoma and one of his remarkable contributions lies in proving the similarity of diabetes and glaucoma at the molecular level.
Beyond, the technical Jargon and operative refinements, due the poor patients who had come not only from Punjab, Haryana and Rajasthan but had also come from far flung of states like Himachal Pradesh, Uttrakhand, Madhya Pradesh, Bihar and Nepal.
Said Gurdeep Singh from Ludhiana (Punjab), "I am touched by selfless service done by the volunteers. I do not have words enough to thank Guruji."
Dr. Surender Nain (Civil Surgeon, Sirsa) said the beauty of this camp that Dera Sacha Sauda has provided all kind of modern facilities to the patients and the care is absolutely magnificent.
The specialists eye surgeons who attended Dr. V.P.Gupta, Dr. Pradeep Sharma, Dr. Yusuf Rijhvi (Rohil Khand Medical college, Bareli), Dr. S.D.Tayal from Rama Medical college Ghaziabad, Dr. Piyush Aggarwal, Dr. Avnish Insan, Dr. V.K.Dada, Dr. Tanuj Dada, Dr. Monika Insan, Dr. Amrita Mishra, Dr. Pratibha Srivastva, Dr. Suvikram Jyoti and some other eye specialists across India rendered their services in this mega camp.
Till 2013, 23,749 patients have been operated successfully in 22 free eye camps. Each year on Dec 13 till 15th, a mega free eye camp is organized in the memory of Revered SaintShah Satnam Singh Ji Maharaj. STB
Follow us on Facebook, Twitter, LinkedIn and Instagram, YouTube to get more updates related to Sachi Shiksha – The Famous Spiritual Magazine in India.