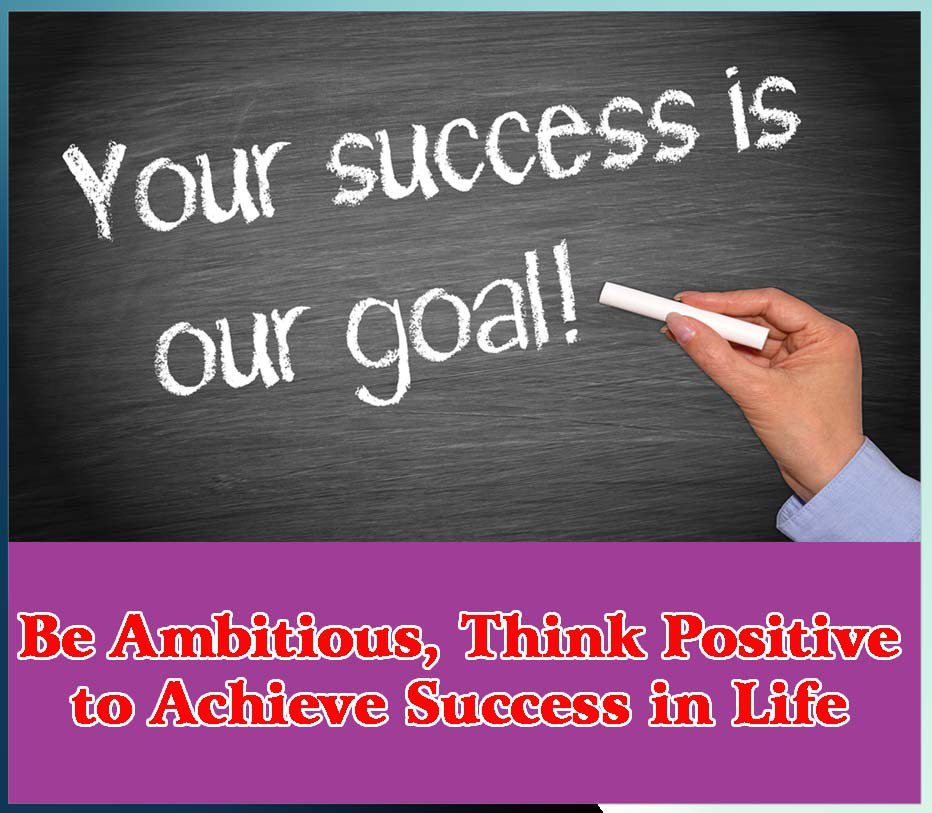 It is very important to be ambitious and putting forth efforts for success in life. However, it is not too good to be over ambitious, and not good to be less. Everyone knows that excess of everything is very bad. If you are more ambitious but do not get success, then people are disappointed. If less ambition does not seem to be more.
Many people work harder and they do not get as much success. Why so? Have you ever tried to know what are the qualities required to make a person successful? Who makes him successful and what make his special identity in the crowd? If you do not know those principles then try to find them and you also climb the stairs of success.
The ambitious person can achieve success in this way. Whenever there is an opportunity to prove it worthy, do not waste it because such opportunities do not get repeated. Before you can achieve success, you will have to define what success means to you. While it may take years to realize what you want to do in your life, identifying your current passions, interests, and values will help you set goals and give your life a sense of meaning.
Make a list of your goals, and what you might do to achieve them. Be sure to address both short-term and long-term goals; try to think beyond financial and career goals. Education gives you the knowledge, skills, and credibility to achieve your maximum potential.
In terms of financial success, statistics have shown that the more education you have, the more money you are likely to make. Consider which subjects you enjoyed studying in school, and why. This can help give you an idea of what you may be best at or more interested in. In order to achieve your dreams and be the person you want to be, you will have to start paying attention to your actions.
Ask yourself, "Is what I am doing going to do in life will lead me for the right path. If you find yourself constantly bored, daydreaming about the future or past or counting down the minutes until the day ends; it is probably because you feel disconnected from what you are doing. Consider changing careers or majors to a field that you care about, but remember such a move could have unexpected consequences.
Does the job you are considering pay enough to support yourself? Is it something you might get bored with eventually? Do you really want to commit to that job? Make a commitment and stay with it. Planning is not sufficient; trying hard to keep your word is also important. Learning how to manage your money will help ensure your financial stability over time, regardless of your income.
Your first priority should be spending money on basic necessities like food, shelter, and clothing. Don't spend money on luxuries like expensive clothes, cars, or vacations until you have first satisfied your basic necessities. Be honest with yourself and differentiate between your basic needs and your luxuries.
Manage your time. Putting off important tasks until the last minute can cause you unnecessary stress, and increase the likelihood of errors and negligence. Manage your time so that you have enough time to complete tasks effectively. Regardless of how old you are, where you live, or what your career goals are, more than likely your ultimate goals in life are to be happy and successful.
The key to being successful is more than just having money and making your mark. It is identifying your passions, living purposefully, and enjoying the present moment. This will show you how to achieve both external and internal success, as well as putting yourself in the right environment. Do not be scared that something does not go wrong. Such people cannot do anything, then where will success come from. Try to do something using your creative potential.
Try to do something out of your limited range so that you can get promotions. Learn how to deal with your work, learn something new and do it. If you leave home for work, leave the personal problems at home only. If you work with that burden, you will not feel inclined to work and your results will be lagged behind. Do not take your problems again and again to the senior employee.
This will have an adverse effect on your personality. After some time, they will feel that a person is not able to fulfill his obligation. More and less speaking both are not right. The more speaking the speaker is considered talkative or flattery and sometimes speaking more than anything goes wrong, which can leave a bad impact on others. The speaker, who speaks less, is considered arrogant or incompetent, so always think before you speak.
– Neelam Khurana