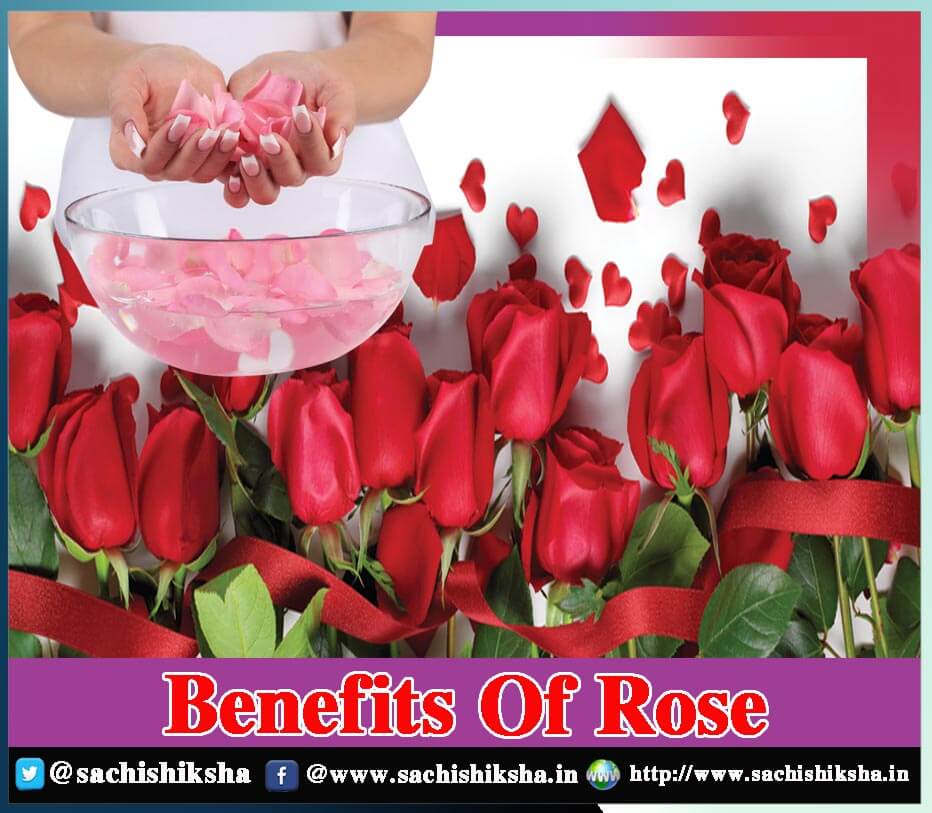 Benefits Of Rose Rose is an extremely beautiful and aromatic plant. It is loved & liked due to its properties. At almost every event, such as marriage, birthday party, or any other event is organized, the decoration of the flowers seems very attractive, but if this decoration is done with flowers of rose, then what to say! Rose flower leaves are so soft and aromatic that everyone wants to keep it with him.
In such a situation, where there is a sophisticated feeling, it also beautifies the beauty. Due to the beauty of the rose, the rose is called the 'king of flowers'. 'Rose' plants are planted all over India. The native rose is reddish. It is mainly found in red, pink and white colors. However, more and more varieties of roses have been developed.
Rose is also known for its medicinal properties. This flower is full of vitamin C. At the same time, rose flower's juice also cleanses the blood. Rose 'sherbet' (sweet beverage) gives coolness to our mind. Rose not only has antiseptic and antifungal properties, it is also full of laxative properties. Due to being laxative, it fixes metabolism and removes toxins from the stomach. Due to metabolism being intensified, calorie loses faster in the body and helps to control body weight.
Advantages of Rose Flowers
Eating rose petals makes the gums stronger; mouth smell is removed and also gets rid from pyria.

Gulkand' which is the juice of rose gives coolness to the body. It protects the body from dehydration and keeps it fresh. It also relaxes the stomach. 'Gulkand' is a soft tonic giving force, which removes fatigue, idleness, muscular pain and irritation problems.

By eating 'Gulkand' every day the bones become stronger. By eating a rose every day, T.B. patient gets relief very quickly.

If there is sleeplessness or stress, then keep a rose flower with you during sleeping, the problem of insomnia will be solved.
Healthy Tips
If there is pain in the ear, then put some drops of rose leaves, you will definitely get relief from pain.

Applying lemon juice mixed with rosemary on the itches gives immediate relief.

Take one cup of rose water, one quarter cup of orange juice and a cup of lime water twice a day, to get rid of diseases such as irritation, burning sensation & chest burning.

After eating a meal, it is good to take 'Gulakand' for good digestion.

Mixing camphor and rose water in white sandal powder and applying it on the forehead, you will get relief from headache.

To get rid of mouth ulcers, eat 'Gulkand' in the morning.

Regular consumption of 'Gulkand' reduces the weakness caused by TB disease.

Mix 12 grams of rose water and add it with one gram of real salt and put four or five drops inside the nose. By doing this, the pain of migraine gets cured.
Rose as Beauty Care
Everyone knows the quality of the roses. It can be seen in almost every home. Our mind has refreshing effect after seeing the flower of rose or smelling its delicate fragrance. Known as the King of Flowers, the properties of many herbs are hidden in the flower of rose, which are very useful. It has been very beneficial for the skin, along with blood vessels of our body. Its usefulness increases with Rose Water, rose flowers and oil.
Care of the Eyes
By putting two drops of rose water in the eyes, the eyes get new shine, and they look healthy. If you work constantly on the computer, then rose water can prove very befeficial. – Aarti Rani
Follow us on Facebook, Twitter, LinkedIn and Instagram, YouTube to get more updates related to Sachi Shiksha – The Famous Spiritual Magazine in India.