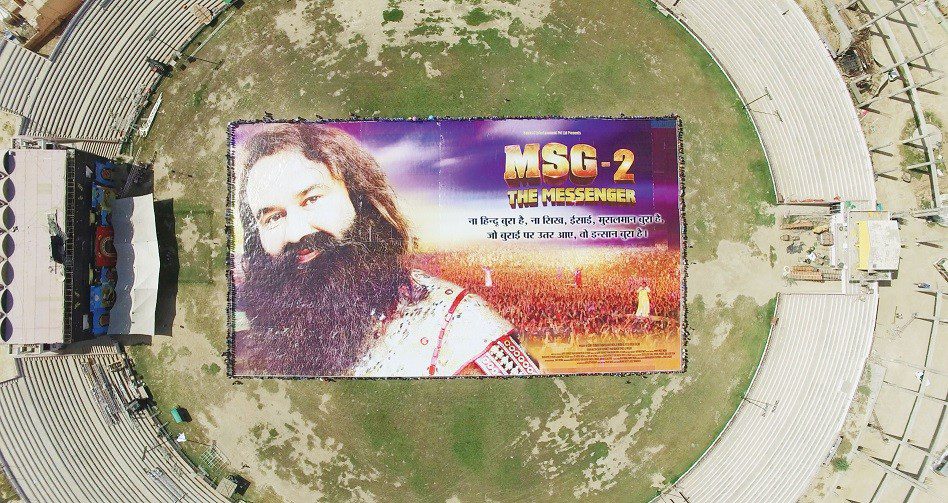 Bollywood Hails as The Messenger Sails Movies have been an inspiration for youth, but how many movies from the past decade brought a social message within?
Since Bollywood is all about commercial cinema so, it is hard to imagine a filmmaker spending money for a social message.
A commercial movie is supposed to entertain its viewers with three hours of entertainment, some singing, dancing, action and comedy.
But wait, it seems Saint Gurmeet Ram Rahim Singh Ji Insan, has found a way to mix a great pot-pourri of entertainment while weaving a social message into the fabric of storytelling.
While everyone is consumed in their vested interests, Saint Gurmeet Ram Rahim Singh Ji Insan takes us to a parallel world of selfless love, compassion and empathy, where humanity is a religion. It seems like a battle between godliness and evil forces has begun and the battleground is big screen.
You can watch a Guru fighting like a one-man-army against all the anti-soual forces, on your screens as well as in real life.
After MSG The Messenger's Box Office success, the sequel, MSG-2 The Messenger is being welcomed by fans and movie buffs alike. Whether it is a poster, teaser, trailer or a song, everything that relates to MSG2, created quite a buzz on social media.
Within minutes of release, these managed to garner millions of views and impressions over Twitter, Facebook and YouTube. Fans stormed the social media, sharing YouTube links and expressing their happiness on Facebook and Twitter.
Fans clad in colorful MSG t-shirts, with MSG stickers glued on their cars and bikes, can be seen everywhere, lauding the excellence of the movie. In some cities, promotional rallies were also organized by fans.
MSG-2 depicts some real life incidents that transformed the lives of tribal folks living in Udaipur (Rajasthan), and efforts made by Dera Sacha Sauda to rehabilitate them. The movie is basically a success story of joint community efforts, that can inspire the youth who wish to do something for their nation.
This film will provide a right direction not only for youth but also work for the unity and integrity of the country and the welfare of the entire humanity.
While portraying the lives of tribal folks, the movie carries a profound message that when an uncivilized being can live a noble life, why civilized people of elite society indulge in filthy acts of drinking and obscenity? The movie is intended to evoke selflessness, patriotism and sacrifice among the youth for the country.
The movie has generated a craze that even owners of cinema houses admit they have never seen before for any movie.
Highlights:
The Movie is a great inspirational tale for everybody, but mixed with action, drama, emotions and entertainment.
The Movie carries a profound message that every human being is a child of the one true God. Even an uncivilized being also deserves to be educated and connected to mainstream society.
The Movie shows that a True Guru is an armour & fortress to guard you against all temptations & unfavourable forces of the world.
A dialogue from the trailer is rounding all over the twitter,
"Na Hindu bura hai, Na Sikh-Isai-Musalman bura hai.. Burai pe jo utar aaye woh Insan bura hai…" (Neither a Hindu or Muslim nor a Sikh or chrestien is bad, He, who bends upon evils, is actually bad.)
In the times of hatred, intolerance and violence, MSG 2 – The Messenger is expected to bring a message of peace and harmony.
The movie gives us a glimpse of that Messenger of whom, our holy scriptures talk about.
The movie is a great mix of gripping storyline, heart-throbbing action, superb background elements, and amazing musical compositions.
This film has been shot mostly in Bhan Garh Fort, which is considered to be the most haunted fort in Asia. The eye-catching designed cars, dresses and sets are the center of attraction in the movie. When we look at the sets designed by Guruji, it seems He imports these marvels from the heavens.
Music of the movies spells bound every body Adorable Guruji is not just a superhero in the film and real life, but has also written, directed and composed the songs in the film. There are six songs in the movie.
One is sung by Amarpreet Kaur Ji Insan, the respectable daughter of Guruji. All the songs are ruling top of the charts.
Excerpts from the TV interview:
To answer all the questions of Doubting Thomases, Guruji spared some time from His extremely busy schedule for an interview with IBN7. This prime time show was entitled as 'Bahubali MSG'.
The fans brought quite a storm on twitter, and #BahubaliMSG kept on trending for 11 hours continuously. According to the sources in IBN7, BahubaliMSG has become the most tweeted Prime Time Show in Indian Television history, registering 3.5 lac tweets within just 3 hours. BahubaliMSG concluded with a high TRP, Guruji answered every question effortlessly, unveiled many facts about the making of MSG2.
Here are some excerpts of that much talked about interview:
We learned various skills of film-making while making inspirational documentaries on humanitarian services being rendered by Dera Sacha Sauda, said Guruji.
When asked about His expertise in almost everything, Guruji credited God's grace and power of meditation for His dynamic, versatile and multi-talented personality.
When asked about His favorite cricketer, Guruji praised Sachin Tendulkar, Sunil Gavaskar and Kapil Dev for their wonderful contribution to Indian cricket. He also informed that the concept of T-20 cricket was first introduced by Dera Sacha Sauda in 1997 with a name 'True Trophy'
He informed that the income of the movie would be used to make a skin-bank for acid attack victims.
Marvelous Splendid Glorious MSG-2 creating several Records
MSG 2 -The Messenger, breaking Bollywood, has been called the most philanthropic Indian film ever made. MSG 2-The Messenger is being welcomed by all age groups and ethnicities worldwide. Indeed, MSG-2 has generated such a craze in th fans, that everything that belongs to this movie is making some unique records.
The trailer of MSG-2, that was launched on 28th August, managed to garner a million of views within a few hours. Within 20 hours of its release, the trailer registered 40 lakh-plus views, putting blockbusters like Krrish, Baahubali and Bajarangi Bhaijaan into shame. The trailers of Bajarangi Bhaijaan and Baahubali were seen by 25 lakh in the same span of time.
MSG-2 has also made two records in poster-making.
On 22nd August, a large mosaic of greeting cards, were made by MSG fans. The fans created a 56X76 ft (4256 sq ft) gigantic greeting card mosaic in tricolour, with 19,412 greeting cards. The record of the world's largest greeting-card mosaic was earlier held by the School of Muscat Ministry of Education, for making a 2,146.32 sq ft mosaic on May 13.
Likewise, MSG-2 has bagged the record of largest movie poster, breaking the record of Bollywood epic Baahubali. On 9th September, the MSG fans created a mammoth movie poster that covered an area of 64,258.47 sq ft. Earlier the record for world's largest movie poster was held by Baahubali fans for making a poster of 51,598.3 sq ft.
3 Records in a Day:
On 30th August, more than 3 lakh fans of MSG, witnessed a historical event in Shah Satnam Ji Ashram , Barnava (UP). The fans gathered in Ashram for a routine monthly meeting of volunteers of Dera Sacha Sauda . No one had expected that a routine meeting would make 3
world records in a row:
3 lakh fans saluted Revered Guruji in a sync, for His thankworthy endeavors to reform this society. A dazzling MSG rakhi (a handband) was tied on every fan's wrist, adding a dazzel to the scene.
3 lakh fans danced to the tunes of 'Party DhoomDham Se' in a sync. The scene was so beautiful that it seemed like all the angels of heaven have plunged into the earth to celebrate selfless love of God.
Guruji clicked a selfie with 3 lakh fans, while they all were waving their hands in the air to show their zeal for MSG 2-The Messenger.
Follow us on Facebook, Twitter, Google+, LinkedIn and Instagram, YouTube to get more updates related to sachi shiksha Spiritual Magazine, articles.