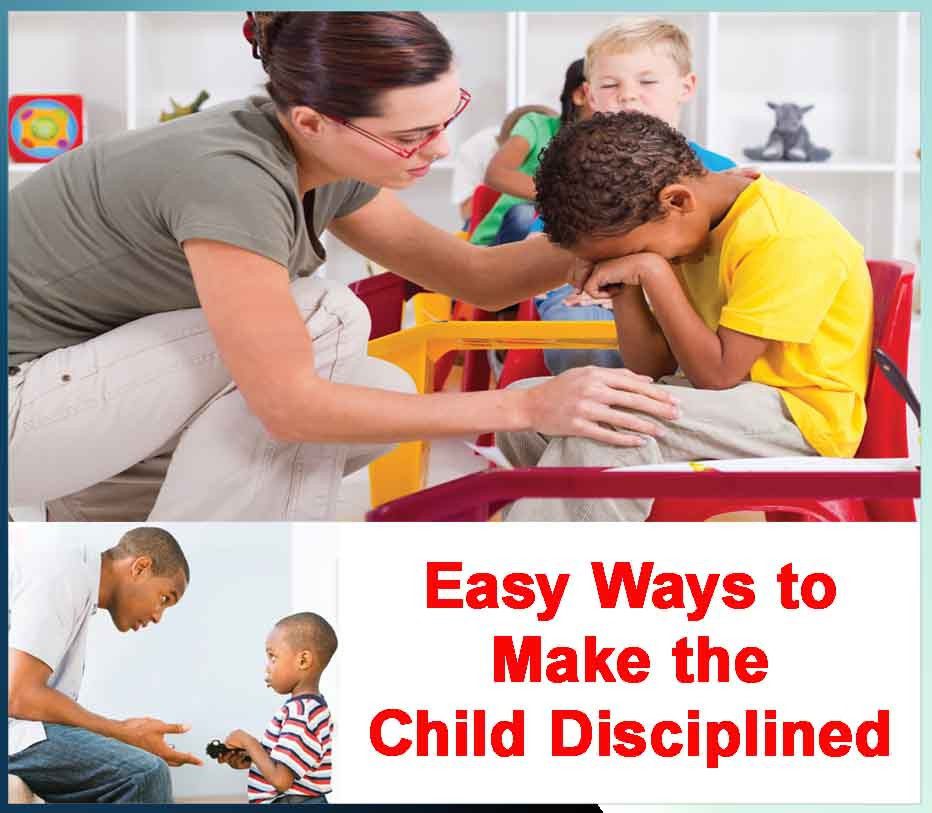 Easy Ways to Make the Child Disciplined
Upbringing of the kid is a great responsibility and for a nuclear family, it is really a great challenge. In joint families, the responsibility of inculcating family values is shared by the grandparents and other family members also.
But in nuclear families it becomes a bit difficult and if both the parents are working, various types of problems are faced by them. The experts are suggesting some tips to discipline your child.
They are:
Rules Maintained in Home:
If you want to make your child disciplined, then first you should observe the discipline yourself. For this, you have to make certain rules. Make four to five rules according to the activity of the child. Tell the child about these rules and decide the punishment for breaking them. Review the rules every week and if the child has properly followed the rules then reward him accordingly for this. With this, their confidence will increase and they will follow the rules honestly in future also.
Keep On Encouraging:
Encourage the children for small activities. The researches reveal that with encouragement, positivity comes in children's behavior and they gain self confidence. This should be the practice that your child wants to hear some words of praise from you and instead you keep on counting the mistakes. You should plan some activities and games. This will encourage them to do something new. Notice their work and activity daily and tell them about such activities.
Notice Their Way of Talking:
The children follow very fast whatever they see and hear. You have to take special care of this. Do not speak angrily or in loud voice in front of them. Do not use harsh words. If you are upset about something, tell them with love and affection. Keep your tone soft and tell them in a way of teaching. Also notice your own way of talking in the house and in the neighborhood. If you want to warn the child, do not shout. Teach him with all seriousness.
It is Very Necessary to Decide the Limits:
It is very necessary to define the limits for children from the beginning itself. If they misbehave and you do not say anything, gradually this will become their habit. In the beginning itself, teach the children what they have to do and what not? If he or she misbehaves, immediately remind them. You should convince the child that he or she will follow whatever you tell him. For example, if you say that you can play out, but will not go out of this ground then the child should follow this.
If You Want to Change the Behaviour:
If you want to bring some change in the behavior of children according to their age, make a calendar for this. If you want that the kid should brush his teeth on his own then tie a calendar in the bathroom. Number of times he remembered and brushed his teeth himself, should be entered in that calendar. After every ten days check the calendar. If he gets full marks reward him. Take him for outing or give a treat.
Sometimes Ignore Also:
It is not necessary that every time you try to improve the behavior of the children by using harsh words. If you feel that the child has misbehaved or have broken the discipline, do not immediately react. Give him some time to improve himself. For example if the child complainsyou tell him frankly that his undue behavior will not get any attention. After that ignore him till he does not stop complaining. With this, he himself will realize that he should not behave like this for getting attention.
Time Out Zone:
To make the child disciplined Time Out is a good option. Plan a time out zone in your house itself. You can also keep a Time Out Chair for this. Whenever a child commits a mistake, send him in the Time Out Zone. You can decide the time limit according to the age of the child. For example, if the kid is 3 years oldthen send him for 3 minutes in time out zone. During this period nobody should talk to him.
Don't Allow to Say 'Let It Be' For This Time:
Do not neglect their mistakes always and leave the habit of ignoring mistakes i.e. let it be this time. Do not give them the chance, that they do not realize their mistake during the time of punishment. In the time out zone, do not allow the child to play with his or her favourite doll, toys or video games. Everytime do not ignore thinking that he likes it. If you do not like something and the child is insisting, do not accept. If you approve his behavior every time then he will behave in such a manner which may not be acceptable to others.
Effective Tips for Gentleness:
Review:
It is very necessary to tell the kids that how you are feeling on their behavior. This is necessary because he will learn the difference between being offensive and defensive. Do not tell him that you are wrong. Instead you can say that you have done wrong. There is a huge difference in between these two sentences.
Become A Role Model:
Present yourself to your children as a role model. They will follow you (as you are). For example if you misbehave with the servant, he or she will observe this and repeat the same behavior with others.
Praise Them:
If the kids behave politely and help someone, praise them with open mind. For example, if any of his friends gets injured and your child has brought medicine and bandage for him, this comes in the category of gentleness by him.
Gift Books:
Gift your child the books which have the stories of kindness and help. They love the animals and by reading those stories kindness comes in their behavior and they get away from violence.
Check the Films and Serials:
Every now and then check what kind of films and serials they are watching. Ensure that they are not watching films and serials full of violence. Never allow them to see crime related programme, murder history and you should also not watch these type of programme intheir presence.
Don't Make a Sketch:
Sometimes to threaten the children, we make a picture and sketch of a particular person in front of them. It takes them away from gentleness.
Give Examples:
Give them examples of the persons who have got success with politeness and kindness without following any offensive method.  SANYAM SIDHWANI
Follow us on Facebook, Twitter, Google+, LinkedIn and Instagram, YouTube to get more updates related to sachi shiksha Spiritual Magazine, articles.