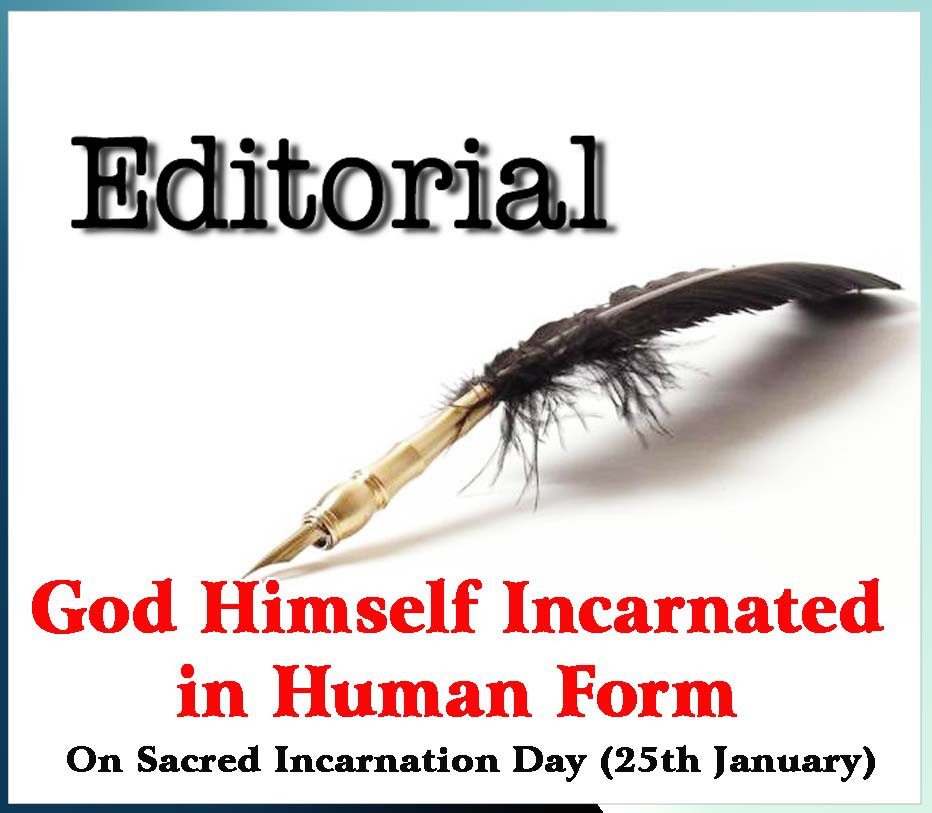 God Himself Incarnated in Human Form
Editorial On Sacred Incarnation Day (25th January)
God Himself Revered Param Pita Shah Satnam Ji,
the Benefactor, came to the earth in the form of a man to take the separated souls along with Him to the Eternal Abode. The sole aim of His incarnation was the salvation of the souls.
The secret of this reality was told by Beparvah Mastana Ji Himself in clear terms "Do not assume Him to be a man, He was talking about the Revered Param Pita Ji).
He is the same 'Satnam' on whose support, the whole universe is standing.
The whole world lived with chanting 'Satnam, Satnam' but nobody has seen Satnam, tell Us if anybody has seen Him! Whoever has seen Him even from behind, whoever utters Satnam, from his mouth, will be emancipated by His grace and he will not be suffer kicks and knocks in the hell.
" The one who is beyond the universe and on whose support, the whole of universe is in place, who is taking care of His creatures in both the worlds and due to whom, every difficulty has been removed, whose one glimpse gives eternal peace to the yearning and desperate souls; On getting whose matchless spiritual and social guidance, everybody feels blessed and bows in respect.
Revered Param Pita Shah Satnam Ji is that great divine personality. The Revered Param Pita Ji took birth on 25th January 1919 at the house of the landlord Sardar Variam Singh ji of Sri Jalalana Sahib, and Revered mother AasKaur Ji.
For the sole purpose of social welfare and the emancipation of souls, He handed over His everything to His Spiritual Master Shah Mastana Ji Maharaj.
The Revered Beparvah Ji generated the sacred form of God-Almighty in Him and gave Him the sacred name Param Pita Shah Satnam Ji from Sardar Harbans Singh Ji and conferred on Him the highest spiritual blessing and conveyed to the world that 'Satnam' is the name of God Almight and on His gestures, the whole of universe, all the directions and God Himself, are busy in their own works.
The whole world salutes Him for the Revered Param Pita has spent every moment of His life after leaving all the comforts of the world behind for the emancipation of the souls.
By virtue of His great grace, today, Dera Sacha Sauda is progressing and inching towards new heights by leaps and bounds in the able guidance of present Spiritual Master Rev.
Saint Dr. MSG and the name of Shah Satnam Ji is reverberating in every corner of the world. Congratulations on Sacred Incarnation Day! Congratulations.!
Follow us on Facebook, Twitter, Google+, LinkedIn and Instagram, YouTube to get more updates related to sachi shiksha Spiritual Magazine, articles.