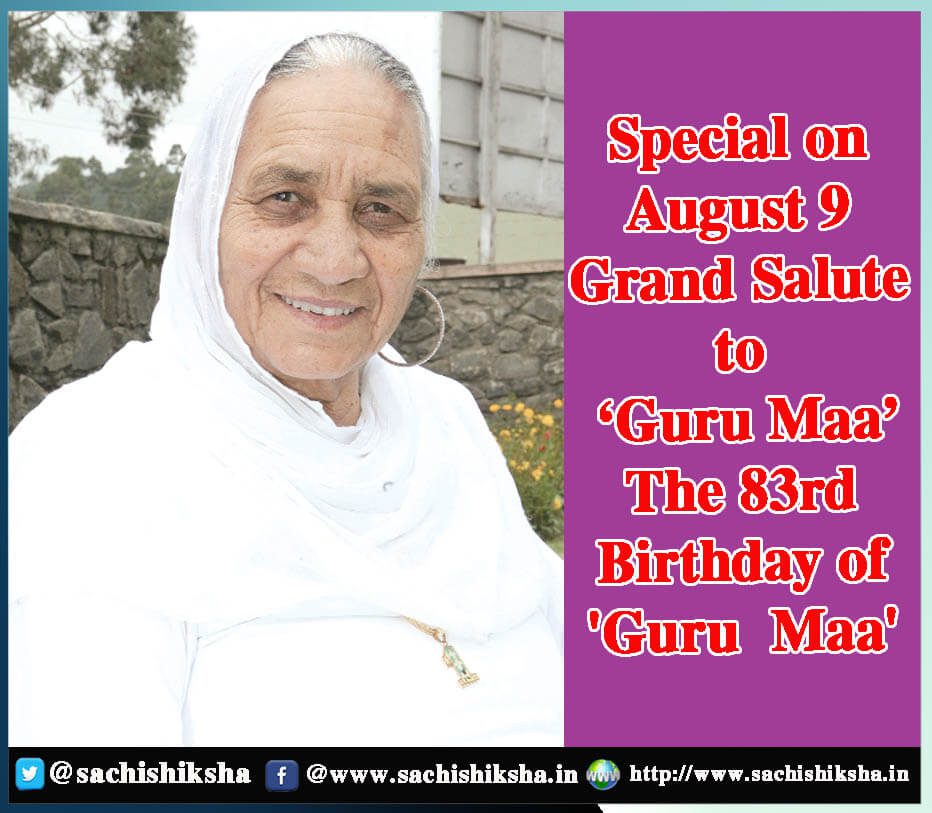 Special on August 9 Grand Salute to 'Guru Maa' The 83rd Birthday of 'Guru Maa'. Nobody can be equated with mother in this world. The 'Mother' is often called another face of God.
Our saints and sages, while talking about the greatness of the mother, have said that God wanted to make His presence feel in every home so He created the mother.
She is the one who gives birth to great personalities, God like saints and sages. She is the greatest of all living beings. All the heads bow in her presence because the God-like saints and sages extend honour to her by talking birth from her sacred pelvis.
One such great 'Guru Maa' (Mother Guide) is Revered Mata Nasaeeb Kaur Ji Insan who gave birth to Most Revered Saint Dr. Gurmeet Ram Rahim Singh Ji Insan on August 15, 1967. Lacs of salutes to such a great Mother.
Lacs of heads bow before her as a mark of respect. The spiritual followers celebrate with great pomp her holy birthday on August 9 as`Guru Maa Divas'. This time the 83rd birthday of Revered Mata Naseeb Kaur Ji Insan is being celebrated. Everyone awaits eagerly this great moment of holy `Guru Maa Divas'.
Life History
The holy birth of Revered Mata Naseeb Kaur Ji Insan took place on August 9, 1934 at the house of her Revered father Sardar Gurditt Singh Ji and mother Jasmel Kaur Ji at village Kikkar Khera, tehsil Abohar district Fazilka (Punjab).
Revered Mata ji's marriage took place with Revered Bapu Nambardar Magghar Singh Ji, of Shri Gursarmodia. Revered Mata ji is a benevolent, kind hearted and helpful lady. Her devotion to God makes her a great personality. Despite belonging to a great family, Revered Mata Ji never hurt anybody by her words or deeds.
Her pleasing nature and down to earth approach makes her such a loveable personality. She does all the small and big household duties herself. She is very responsive and clearly understands her duties and responsibilities. Even today when you see her indulging in her daily activities with a great sense of responsibility, you are filled with even more respect for her.
The fact that Revered Mata Ji knows each and every work and takes interest in them shows how far-sighted she is. It is a result of her vast knowledge and great experience that in each and every work from small household works to farming and other things, she is consulted by one & all.
People do not take any major decision without consulting Revered Mata Ji. Everyone still follows the noble path shown by her. Revered Mata Ji is also excellent in cooking. Everyone wanted to eat special food items cooked by her.
Any relative who visited the house, the butter and ghee prepared by Revered Mata Ji was a great dish for him. Revered Mata Ji's desi ghee was famous and everyone used to talk about it. People of nearby villages and neighbours used to call Revered Mata Ji as `Nambardarni' with utmost respect.
They always took advice from her. Revered Mata Ji always gave good advice to everyone. She also used to give necessary household items to the needy and the poor. This custom still continues despite the advancing age of Revered Mata Ji. Revered Mata Ji had all the comforts of the world, but she suffered the pain of remaining childless for 18 years.
It is so because it was after 18 years when the Revered Guru Ji incarnated in her house as her Child. There was abundant happiness all around when the Revered Guru Ji was born. The relatives & villagers celebrated this great day of August 15, 1967 and thanked the Lord for His blessings.
The entire universe filled with spiritual delight & exultation as a result. Revered Mata Ji gave birth to a great Child. People were just crazy to see Him. The entire world just wants to have a glimpse of the Revered Guru ji. The beloved Son of Revered Mata Ji, Revered Saint Dr. MSG Insan has also become the most successful film star today.
There is no field where He has not left His indelible mark. He is trying to take humanity to a great height. The entire world today is appreciating His untiring efforts. All the corners of this universe are resounding with the matchless humanitarian works carried out by the volunteers of the Dera Sacha Sauda in the able guidance of Revered Saint Dr.MSG. By the grace of Rev. Saint Dr. MSG, abundant pleasure is visiting every home. Everyone is indebted to the favour done on the humanity by the Revered Mata Ji.
One feels blessed just by having a glimpse of Rev. Mata Ji. Her sweet talks are very comforting and give solace and relief to everyone. Her love & affection is unique. She is such a great personality. She is the great Mother. Congratulations to everyone on the 83rd birthday of Revered Mata Ji! Congratulations once again! Millions of greetings to the 'Guru Maa' (Mother Guide)!
Follow us on Facebook, Twitter, LinkedIn and Instagram, YouTube to get more updates related to Sachi Shiksha – The Famous Spiritual Magazine in India.