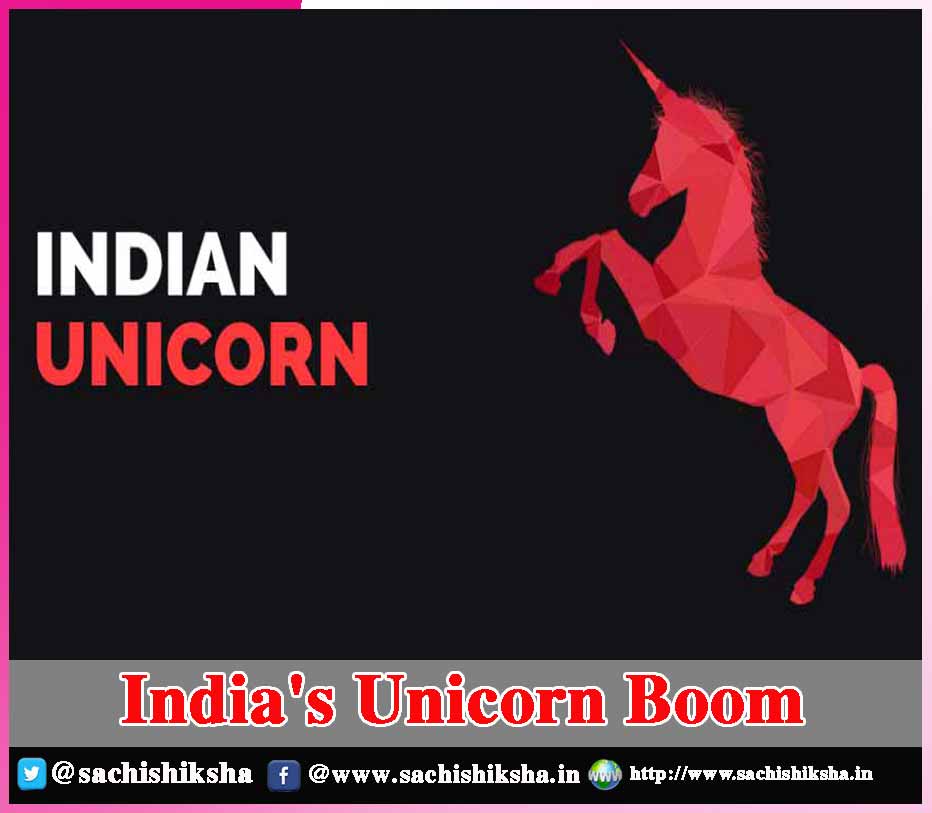 India's Unicorn Boom
India has the second largest number of unicorns and is only behind the United States. It is now home to 71 unicorns. The world's biggest investors including SoftBank, Tiger Global and Falcon Edge are pouring money into Indian start-ups, churning out unicorns at a record speed and valuations.
A unicorn is a start-up with a valuation of at least $1 billion. The term was first coined by Aileen Lee, founder of Cowboy Ventures when she referred to the 39 start-ups that had a valuation of over $1 billion as unicorns. The term initially was used to lay emphasis on the rarity of such start-ups.
Some of the successful Indian unicorns comprise Lenskart, Cred, Meesho, PharmEasy, Licious, Grofers etc. The growth of Unicorns in India has been phenomenal in the past two years. From 17 Unicorns in 2018, it went up to 38 in 2020 and became 71 in 2021. Many of these unicorns, which have cumulatively raised more than 9 billion dollars till date, have also seen a surge in valuations.
Also Read:
The few pointers that are commonly seen across all unicorns are:
Disruptive Innovation: Mostly, all unicorns have brought a disruption in the field they belong to. Uber, for example, changed the way people commuted.
Firsts: It is seen that unicorns are mostly the starters in their industry. They change the way people do things and gradually create a necessity for themselves.
High on Tech: Another common trend across unicorns is that their business model runs on tech. Uber got their model accepted by crafting a friendly app.
Consumer Focused: Their goal, often, is to simplify and make things easy for consumers and be a part of their day-to-day life.
Affordability: Keeping things affordable is another key highlight of these startups. Spotify, for example, made listening to music easier to the world.
Privately Owned: Most of the unicorns are privately owned which gets their valuation bigger when an established company invests in it.
Mostly Software Based: A recent report suggests that 87% of the unicorns' products are software, 7% are hardware and the rest 6% are other products and services.
Entrepreneurship today is 'survival driven' self-employment, formed out of necessity, as well as opportunity motivated, largely because poverty and lack of formal employment opportunities rear their ugly head in striving economies.
There are several reasons for its sudden success, such as:
Covid Pandemic:
The pandemic accelerated adoption of digital services by consumers helping start-ups and new-age ventures that typically builds tech-focused businesses delivering an array of offerings to customers.
Boost in Online Services:
Many Indians, who had traditionally been subscribers of brick-and-mortar businesses, moved online and explored a host of services ranging from food delivery and edu-tech to e-grocery.
Work From Home Culture:
This added significant numbers to start-ups' user base and expedited their business expansion plans and attracting investors.
But this transition has come with the inherent challenges to the start-up culture in the country. Some of the most prominent of them are as follows:
Financial Scarcity: Availability of finance is critical for the startups and is always a problem to get sufficient amounts.
Lack of Infrastructure: There is a lack of support mechanisms that play a significant role in the lifecycle of start-ups, which includes incubators, science and technology parks etc.
Regulatory Bottlenecks: Starting and exiting a business requires a number of permissions from government agencies. Although, there is a perceptible change it is still a challenge.
Low Success Rate: Several start-ups fail due to shifting away the focus on the fundamentals of business grows.
Lack of an Innovate Business Model: To be successful, a start-up must be innovative. Unfortunately, Indian start-ups are less innovative than start-ups elsewhere.
Non-competitive Indian Markets: Too many start-ups serving few consumers are saturating the Indian market.  Most start-ups serve the fraction of Indians who live in urban India.
Digital Divide: The majority of Indians who live in rural areas and small towns remain untouched by most start-ups.
The government has initiated several steps to assist in start-ups. While through the Mudra Scheme, start-ups get loans from the banks to set up, grow and stabilize their businesses. Under the Self-Employment and Talent Utilization Fund, the government has allotted Rs 1,000 crore in order to create opportunities for self-employment and new jobs mainly in technology-driven domains.
The Fund of Funds for Start-ups is a Rs 10,000 corpus fund established in line with the start-up India action plan under SIDBI for extending support to start-ups. Besides, several taxes sops such as exemption on capital gains tax, removal of angel tax, tax exemption for 3 years and tax exemption in investment above the fair market value.
Through proper branding and strategy, they should make sure that this value proposition reaches the end-user. What brings start-ups closer to success is the execution and customer acquisition strategy, where all the action occurs. Notably, technology (rather deep-technology) has played a key role in the making of pioneer business models.
Venture capitalists are actively looking for investment opportunities in early-stage start-ups. They possess the selection ability to effectively screen start-ups having a higher potential to succeed. It primarily looks for a mindset alignment with promoters and companies where they, as investors, can add value by leveraging their industry experience, expertise, network and reputation.
The current economic scenario in India is in expansion mode.  Indian start-ups are now spread across the length and breadth of country. 'Unicorn' has come a long way from just being a mythological creature to a regular feature in business and finance discussions.
Innovation and economic growth depend on being able to produce excellent individuals with the right skills and attitudes to be entrepreneurial in their professional lives. The Indian government's policies like Make in India, Digital India, Atmanirbhar Bharat etc show the enthusiasm to arrest this talent.
As of 09 February, 2022, India is home to 88 unicorns with a total valuation of $295.99 Billion. The years 2019 to 2021 saw the birth of the maximum number of Indian unicorns. Covid-19 has caused a great amount of socio-economic suffering globally, but it is during this time when resilient Indian entrepreneurs worked effortlessly to not only contribute to the economy but also towards the pandemic relief efforts. Ten unicorns were born in 2020.