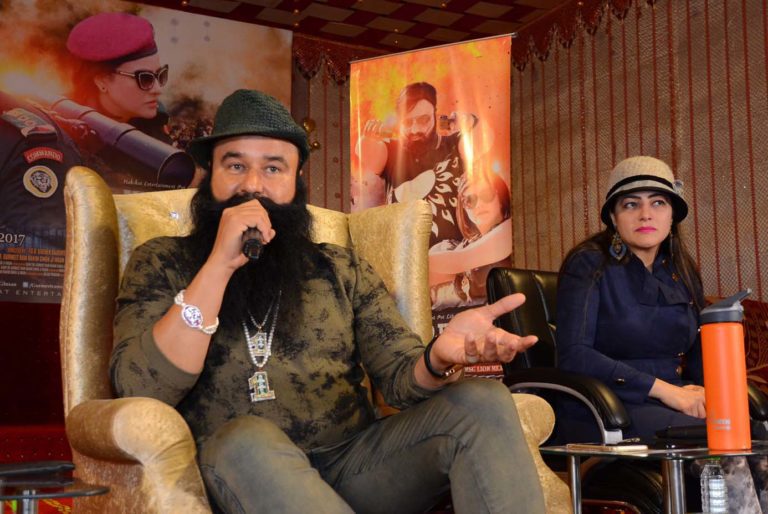 Largest Online Film Promotion Creates History
A new history of online promotion of any film has been created. The largest online promotion through video conferencing of Dr. MSG's film, 'Hind Ka Napak Ko Jawab' was done in 37 cities of 6 different states simultaneously on January 30 and in 21 cities of another 6 states on January 31.
Similarly in 6 cities of two states the film's promotion was done on February 4. Lakhs of film lovers in different cities of the country witnessed this momentous occasion. Slogans of 'Sher-e-Hind could be heard at all these places.
Dr MSG and His daughter Honeypreet Ji Insan promoted the film in Mahi Cinema Hall of Sirsa. During the promotion, Revered Guru Ji answered various questions of the media through video conference. Asked what will be the impact of the film on the public, MSG told the media that now only a trailer of the film has been released and yet terrorists are being intenred in Pakistan. I have been told that terrorist Hafiz Muhammad Saeed has been interred in Pakistan. When just the trailer can create such an impact, one can as well imagine what will be the impact later on? This is just the beginning.
Answering a question on the impact of the film on Napak, Revered Guru Ji said the film has given such a fitting reply to Napak that that no one else could have ever done. The film will create a feeling of patriotism in the people of the country, He said. Will the film help in strengthening relationship between India and Pakistan? Revered Guru Ji said that India tried its level best to improve relations with Pakistan. He invited the Pakistan Prime Minister to India and went to Pakistan with the purpose of strengthening relations. But when Pakistan did not respond in equal measure and did not accept the hands of friendship, it became necessary to conduct a surgical strike in Pakistan. Still Pakistan has not mended its evil ways. Only time will tell what kind of relations will the two countries have in future. But the film will certainly instill a feeling of patriotism among the countrymen.
It has been shown in the film that the countrymen will not be afraid, but will become fearless to face the terror from across the border.
'MSG Lion Heart' on the Top in the Berlin Film Festival:
Delivering a message of country's security, the film, 'MSG The Lion Heart' has topped competition among 15 films in the Berlin Film Festival organized in Europe.
If Sons can join the Army why not Daughters? :
Honeypreet Ji Insan To a question asked by the journalists, Hon'able Royal Daughter Honeypreet Ji Insan said, 'There was little difference in the direction of the two films-'MSG The Warrior Lion Heart' and 'Hind Ka Napak Ko Jawab' (MSG, Lion Heart 2) because the new film was based on the topic of surgical strike and it was comfortable because Papa Ji kept guiding me continuously.
I studied the subject very closely before the start of the film's direction. It is Papa Ji's thinking that the girls are no less than the boys. No wonder there is a lady officer in the Army playing a crucial role. This sets an example for the public to realize that the women are no less than men in any field. Papa ji feels that if boys can join the army so can the girls. The daughters can also shed every drop of their blood for the safety and security of the country.'
Online Promotion of the Film was done in these cities (January 30) Haryana:
Fatehabad, Hisar, Faridabad, Gurgaon, Sonepat, Jind, Kaithal, Kurukshetra, Ambala City, Karnal, Panipat, Sirsa, Panchkula.
Punjab: Sangrur, Shri Muktasar Sahib, Ludhiana, Malout, Barnala, Bhatinda, Fazilka, Jalalabad, Moga, Kotkapura, Ferozpur, Abohar. Chandigarh Rajasthan: Shri Ganganagar, Hanumangarh, Kota,
Jaipur Uttar Pradesh: Saharanpur, Muzaffarnagar, Shamli, Meerut Uttarakhand: Dehradun Online Promotion took place in these cities on January 31 Haryana: Dabwali, Ratia, Barwala, Bhiwani, Jakhal and Cheeka Punjab:
Patiala, Mansa, Dhuri, Bagapurana, Rajpura, Faridkot,Jagraon and Talwandi Bhai Rajasthan: Sri Ganganagar and Jaipur Delhi:
Rajouri Garden Uttarakhand : Bajpur These Cities had Online Promotion on Feb 4 Haryana: Ambala Cantt., Jagadhari, Rewari, Tohana Rajasthan: Jaipur, Chittorgarh
 Dr. MSG on Instagram, Snap Chat and Facebook
After Twitter, Revered Saint Dr. Gurmeet Ram Rahim Singh Ji Insan has also opened account on social sites-Instagram, Snap Chat and Facebook.
On January 28, during the 'Jazba-E-Sewadar Ru-B-Ru Night organized at the 'Teravas' at Shah Satnam Ji Dham, Sirsa Revered Guru Ji created Instagram and Snap Chat account.
The three accounts are as under:
Instagram- https://www.instagram.com/saintdrmsginsan
SnapChat: https://www.snapchat.com/add/drmsginsan
Facebook: https://www.facebook.com/SaintDrMSG7 
Follow us on Facebook, Twitter, Google+, LinkedIn and Instagram, YouTube to get more updates related to sachi shiksha Spiritual Magazine, articles.