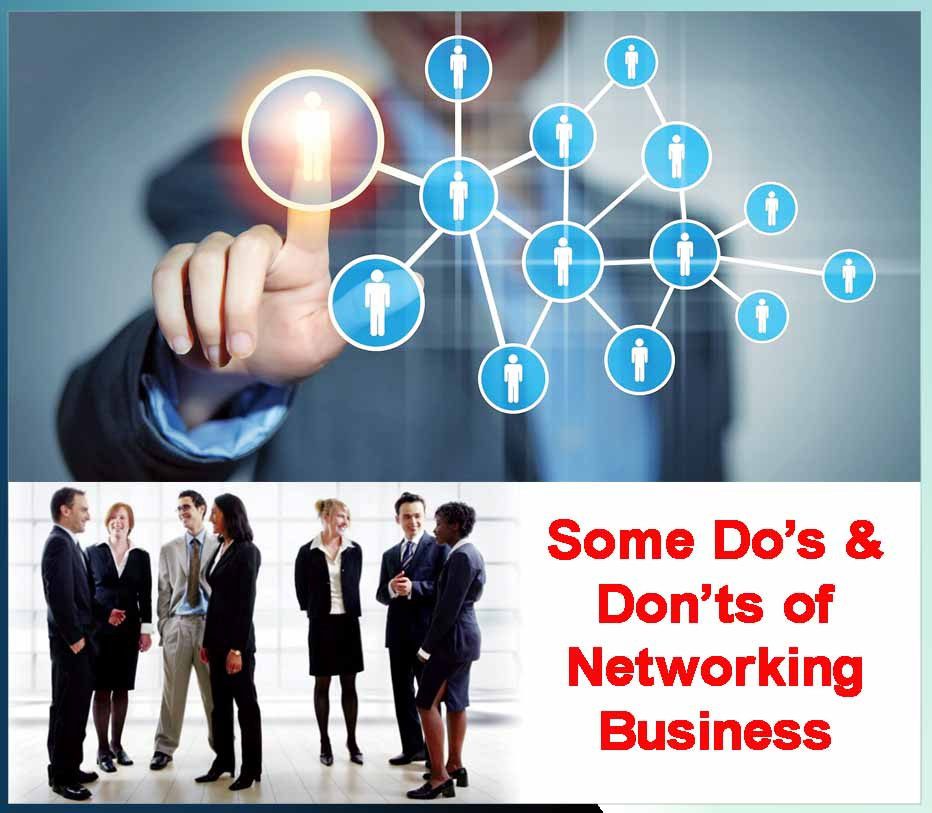 Networking undoubtedly is very necessary but it is not an easy thing. Some Do's & Don'ts of Networking Business everyone have the courage to go for networking events to widen his or her sphere of influence.
Such persons keep feeling that what will they do there? To whom will they talk? They are suspicious about its success and allow many questions to rise in their minds.
It is, however, not wrong to have such thoughts. But to give undue care to this and do continuous thinking in a negative way is not right. The persons taking networking in a very simple way also do not get memorable success in these events. Actually there are some points in getting more returns out of these networking events. There are some tips which you must try while organizing these events. On the other hand there are certain things which you must also avoid. After understanding both, you can get a good return out of networking events.
Also Read:
Some people are hesitant but on the other hand some are natural in networking. But both the personalities sometimes commit some mistakes in networking which does not allow them to reap full profit out of this. Does not matter you are new or senior in networking, you must concentrate on the necessary Dos and Donts of this art. This will enable you to make a good circle around you which will be beneficial for your networking. It is not necessary that you must be smart enough in networking from the beginning itself. It can be developed gradually with the passage of time.
DOs
Better Presentation: In networking business, you are the representative of your own business. Go fully prepared so that you have all the information to share. Present your business module in the best possible way. Your presentation should be energetic enough and then only people will be attracted towards you or your business plan.
Good Lister:
In networking business, others have also come to maintain the contacts. In this you have to listen to other also patiently. Many things can develop when you are a good listener which will prove to be beneficial for you. Do not interrupt somebody while speaking.
Take Membership:
As so many people of one field gather at one place, so the alternatives of membership by different groups are presented. You can take membership of these groups according to your need and liking.
Contact Materials:
The main purpose in attending the events is to make contacts and prosper them. So it is very necessary to have your business cards in abundance. Give these cards only to those persons with whom you want to enhance the business. However if demanded do not deny to give the card to others. Becoming senior in the networking, it is always not necessary that you have always been gaining profit out of it. You can also have problems and you must concentrate on those problems.
DON'Ts Focus On One Thing:
The fact that you have come in the networking events to expand your contacts to explore your business does not entitles you to ignore others directly. While standing in a group if an unwanted person comes, you should still discuss formal matters with that person.
Time Share:
There will so many people present at a networking event and this will prove to be very beneficial for you. In that situation you should not spend more time with one person only. If you do so, you lessen the possibility of meeting others for networking but also the person before you can make a negative thinking about you.
Only Business:
It is right that the sole purpose of attending the networking event is to expand your business but do not keep on telling about your product and business only. Also do not compel the people to join your business. People will be reluctant and hesitant to talk and discuss with you afterwards.
Business Card:
Carrying the business card in your pocket while attending the networking event is very necessary. But it is not necessary to distribute this to all the participants. Do not distribute the cards to everyone. With the expansion of the discussion, if you feel necessary you can offer your business card to someone.
Giving the card to every participant at the networking events weaken your part. If you pay attentions to the above DOS and DONTS, you will certainly be smart enough to go for networking business. – SAANWARI