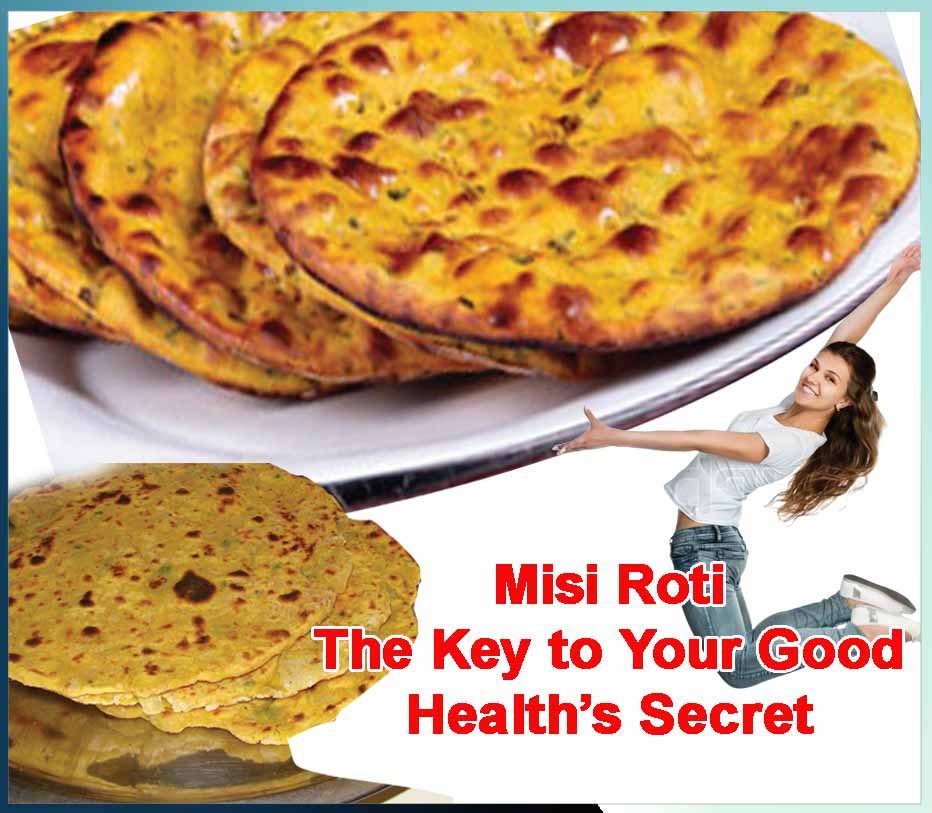 Misi Roti The Key to Your Good Health's Secret
In adopting the Western culture, we are going away from our own ethos, culture and food habits.
This is the reason that we see around us the patients of diabetes, blood pressure, obesity and heart problems.
We are running after white flour and rice with oily foods. Now the physical labor is not in practice. Previously ladies used to do all household work with their own hands. Preparing flour at home and washing clothes with hands. Gents used to go office or their workplace on cycles. There was natural yoga and pranayam.
Also Read:
Fresh air and clean as well as pure water were the natural medicines.
The breakfast, lunch, dinner and all the snacks were prepared at home.
To overcome from these diseases, we have to return to thick grams. For centuries together, this thick gram flour is considered to be very useful for the health. The fibres and minerals are found in abundance in it.
This keeps the body safe from malnutrition and the stomach diseases. This also is the reason that the thick gram flours which was used to be the food of the economically weaker section has now become the food of the rich section of people.
Let us now start our journey to Punjab:
a rich and prosperous state of India. You will be filled with fresh air and healthy atmosphere of the villages of Punjab. Punjabis are fond of Paranthas, butter and Sarson ka Saag (green leafy vegetable prepared at low flame for long).
Oh how we can forget that missi roti (Indian Chapati of 7 to 9 flours) with curd, mango pickle in the breakfast? This missi roti trend has now entered in the lives of the metro also. The journey of the missi roti from the villages of Punjab has now captured the attraction of the malls restaurants, highway dhabas from Kashmir to Kanya Kumari and from Kachch to Itanagar. Enriched with nutrition you can add it as a menu of your daily diet.
Missi roti (mixed flour roti) has minerals, vitamins, protein and anti oxidants in abundance which enables you to fight the diseases. Chromium is found in abundance in addition to fibres which is beneficial for patients of diabetes. In addition to this, it is beneficial for controlling blood pressure, and cholesterol. You also get rid of ulcers.
You should take the flour of Bazra, Jawar, Barley, Gram (Chickpea flour) and Soybean flour separately and at the time of need, you mix it in the wheat flour and prepare the nutritious and tasty missi roti.
Barley:
Barley flour chapatti is beneficial for diabetic patients. Barley is a cereal which contains natural alcohol. This is diuretic also and is beneficial for the patients of hypertension. It gives soothing effect to the brain. This is a good source of oxidants and magnesium. The fiber contained in this helps easy digestion of the meal. Barley has got lactic acid, salicylic acid, phosphorous acid, potassium and calcium. A little quantity of carotene is also found in it. This builds the chemical components of nitric oxide and hydrogen sulphite with the help of which blood nerves get benefitted.
Maize:
It is considered to be the best fighter with cholesterol. Maize flour is full of vitamin B and fibre. Dietary fiber and anti oxidants are found in abundance. This balances the blood sugar level. The folic acids found in this are useful in pregnancy. This also contains anti HIV contents. Maize flour has got cerotynide vitamin A. The carbohydrate found in this immediately provides energy and more to that it helps to maintain the brain and nervous system. The anti oxidants found in maize are helpful to fight with free radicals of cancer. The contents and nutrients found in this are especially useful for liver and breast cancer.
Jowar:
This is not only a cereal but a medicine also. Jawar chapatti and roti is gluten and allergy free. This consist fiber, potassium, phosphorus and iron. Jowar is also considered to be the best source of anti oxidants and vitamin B complex. This does not have alkaline. So it is easily digestible. For those suffering from heart ailments, diabetes and obesity, jowar flour is a god's gift. Jowar is also beneficial for the patients suffering from piles and it has the potential to heal the wounds. The calcium found in it is beneficial for bones and teeth.
This is an instant energy provider. So it is essential to mix jowar atta for the Missi Roti. Now you must have realized that why to go for costly things for the health when we have got the treasure of human body in our missi roti? More to that in winter if you take this roti, it relishes also. Kids also like this with butter, curd and soup.
It should be taken preferably in day time. Because with missi roti you take butter, oily and spicy items which should be digested in the day time with more movement of your body. Missi roti with sarson ka saag and butter with pickle is served in the restaurants. It is becoming the like of the youngsters. The roti which was considered to be the food of the weaker and poor sections has reached across seven seas.
In England there are Punjabi restaurants and hotels called Sher-e- Punjab which provides this dish as a meal. On the highways in India also you can see that there are motels having a huge bath tank for the drivers to take bath. After bathing and after washing the clothes, they will sit in the sun and on the khat.
A thin bench is kept in between the khat:
this is the dining table. You must have witnessed this scene while travelling and passing through the remote areas and on the highways.
When you pass through these hotels, I am sure you must also be getting a passion to get down and seeing with greedy eyes to have this and taste it. Though the housewives today are not smart enough in the household jobs and will try to go for instant dishes.
This is due to lack of time. But if they do some preparations and serve missi roti in the night, it would be relished by all members of the family.
– RAJ MEHTA
Follow us on Facebook, Twitter, Google+, LinkedIn and Instagram, YouTube to get more updates related to sachi shiksha Spiritual Magazine, articles.