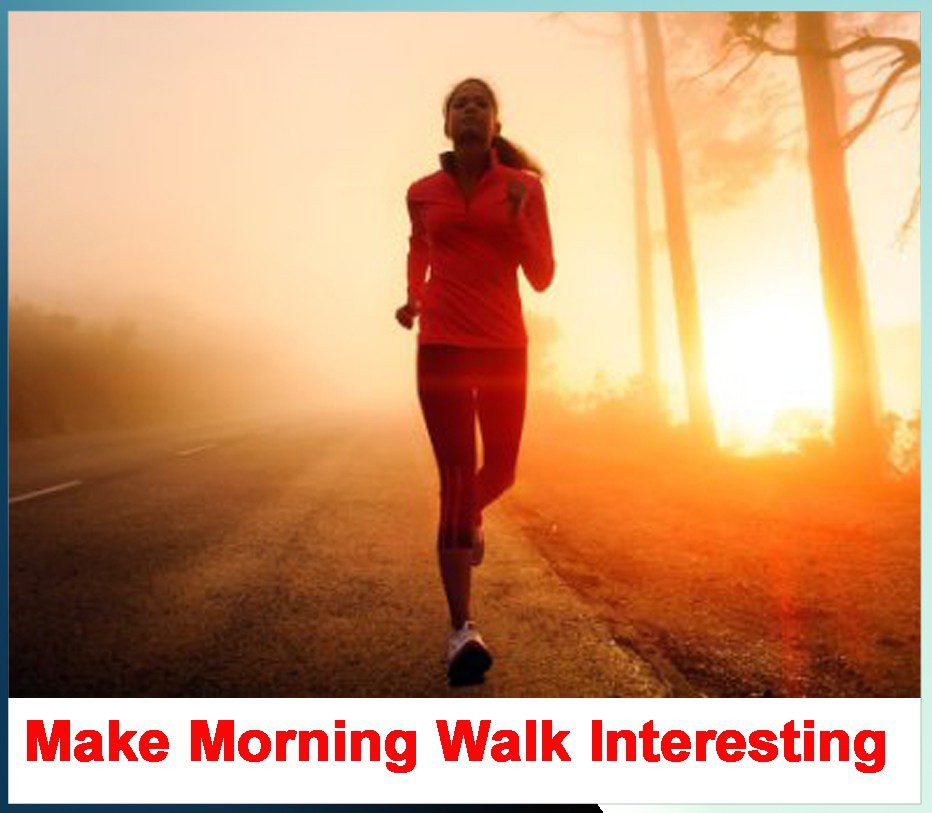 Make Morning Walk Interesting  Are you one of those who feel the morning walk is boring one and cannot be a regular morning walker. Morning walk is a best workout for the brain in addition to body. Having so many benefits, people feel it more and they do not or you can say cannot continue it for long.
Health experts reveal that there are several reasons behind this that morning walk does not become regular and all your schedules are affected. Let us come to know the reasons so that we can get rid of these problems
Also Read:
Go with Friends
If you do not want to go alone for a morning walk, take some friend with you. Going with friends will not only encourage you to maintain your walk regular, but also you will not repent for not managing time for friends out of your busy schedule. Health experts say that the main purpose of morning walk is to get rid of boredom and stress. So going with friend for a morning walk will solve your purpose.
Listen to Music Also
Doing workout only in one mood, will not be beneficial for the fitness.  In that condition, listening to music can be a best option.  While going on for walk you can take eye-pod or walkman with you.  Health experts say that while listening to music you do not feel tired and your walking speed also increases. But be careful, while using this option, you must see to it that you are walking in a park or ground and not on the road.  Safety is the 1st priority.
Keep Changing the Ways and Paths
If you walk on the same route daily, it can be a reason of getting bored. For walking and exercise, you should choose different roads and parks. With this you will have a new experience every time. On the other, hand if you want to do something new, go to a mall and do window shopping.
Take Pets With You
If you are not able to take a friend with you, then the company of the pets for a morning walk can be of great help. This option will not only give happiness to your pet, but also you will not feel bored.
Do Photography
While going on walk do not forget to take camera with you.  These days everyone has a camera in the pocket in the shape of mobile.  Whenever you see a beautiful scenery and natural beauty, click the camera and have a good collection of the natural beauty.  This will help you to maintain the route of morning walk and more to that you have a good collection of photographs.
Reward Yourself
You are doing morning walk to get fit and lose weight. For that aim a target. By fixing the target and time limit, you will be bound to make the morning walk as your daily routine. And if you remain fit, there will be no other award for you.
Do Converse Also
You need not be depressed of being alone while doing the morning walk. To get rid of this you can take your mobile also with you. Sometimes due to your busy schedule you may not be able to talk to your friends, you can talk to those friends. By this you will get a good opportunity to knit close relations with your friends.
You will not feel sad of not talking to your friends and asking about their well being due to shortage of time. But again the same advice that while you are talking on mobile with your friends see to it that you are in a safe place where there is not traffic. You should be in a park or a garden not on the roadside which will be dangerous for you.
You can meet with some accident or while talking you may not be able to know any drainage remained opened by negligence. Or you can be get stuck with a big stone and may get injury.
Go On Picnic
If you want to do something new to keep yourself fresh, you can go for a morning walk to natural places and hills also. You can take breakfast and for recreation you can take badminton or cricket kit. With this you will have outing and you will be able to make the family members and your friends in a group also.  This will be a fun and fitness programme.
Walking Gadgets
Different walking gadgets like heart monitor, speed monitor or pedometer should not be forgotten. You should take all these gazets with you.  This will give a purpose to your walk and how much distance you cover or how many steps you have taken, will be in your knowledge.
Be Associated with a New Group
There may be some other persons or groups in your society or colony who may be having daily routine of morning walk. If after so many efforts you are not able to have a companion for morning walk, joining such groups may be better option. With this you will be able to know new people and it will expand your social circle.  Meeting with new people will help you to get rid of stress and make you fresh the whole day.
Social Commitment
While going on morning walk, you must be passing through slumps and other persons who may be in need of help. This will give you the opportunity to do charity.  Associating with a group will help to form a small group to come forward to help the needy and poor.  You can help them by giving your unused clothes, shoes and other items.
You can think of running weekly classes of the poor children. Making the housewives aware of sanitation and helping the senior citizens to become literate are some of the social works that you can do while doing morning walks.
So now you must have understood the manifold benefits of morning walk. This makes hale and healthy body for you and refreshed brain and thus polishing your overall personality.
SUSHMA PATHAK