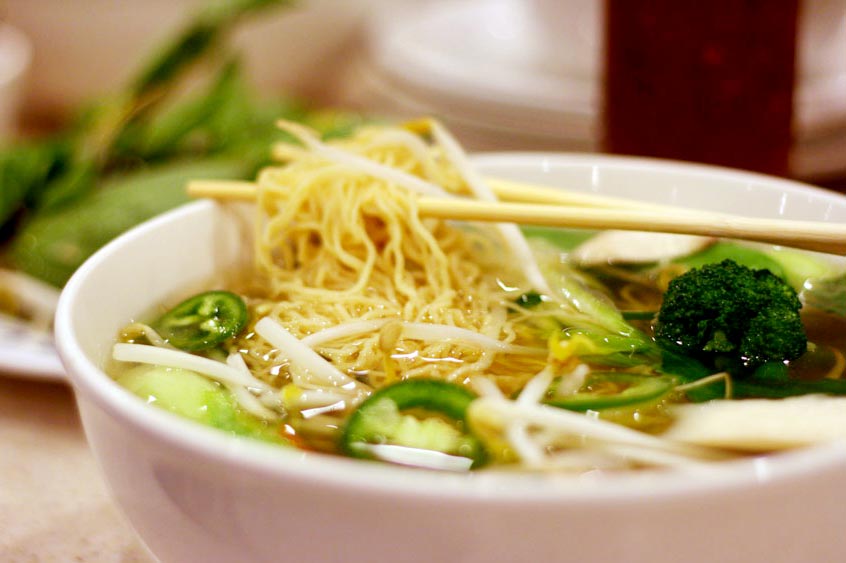 Soups are the best of the starters which Indians prefer the most .
Indians are considered to be the greatest foodies. Simple Dishes offering palatable culinary flavours enhance the delight of both the preparation and the consumption. Instant soups are in vogue since it is simple and fast to make.
With the growing trend of the working population, people are inclined to simple solutions. Keeping this thought in mind, most of the food industries are coming up with 'Ready to Eat' concept. Some soups are homemade while some others are massively produced on large industrial scale. There are wide varieties of flavours,
styles and types that are available in the market. Usually dehydrated, dried and canned; or even at times treated by freezing, commercial instant soups have gained assertive outcome from the masses. Yet, the best taste and hygiene can be assured from homemade preparations alone.
So, here is one of the simplified homemade preparations of vegetable noodle soup which involves little efforts and still offers a great taste.
Ingredients
Corn flour: – 2 tbsp
Water: – 4 glasses
Soya sauce: – 2 tbsp
White vinegar: – 1 tbsp
Ground black pepper: – ½ tsp
Small green chili (chopped) :- 2
Vegetable oil: – 2 tbsp
Onion (chopped):- 1
Garlic (chopped):- 4
Beans (chopped):- 1 cup
Cabbage (chopped):- 1 cup
Broccoli (chopped):- 1 cup
Carrot (chopped):- 1 cup
Capsicum (chopped):- ½ cup
Mushroom (chopped) :- ½ cup
Boiled noodles: – 1 cup
Salt: – 1 tbsp
Required Tools
A bowl
Spatula to mix the ingredients
A pan with a deep bottom
Serving bowls.
Method of Preparation
Mix cold water and corn flour in a bowl. Let this mixture cook on low heat. In order to avoid the formation of lumps, make sure this mixture is stirred continuously.
After that, post this, add black pepper, soya sauce, white vinegar and salt (as per the personalized tastes).
Add all the chopped vegetables to oil taken in a deep bottomed pan.
Add 1 tsp of water and let cook on a low flame for duration of 10mins. Cover the entire preparation with a lid and make sure it is stirred in between at regular intervals.
Mix all the vegetables that are cooked with the corn flour. Then add the noodles that were boiled before to the combination.
Let this mixture boil for few a minutes and then put off the flame.
To enhance the look of the preparation and make it appear even more mouth watering, garnish the preparation with some shredded cheese and serve it hot.