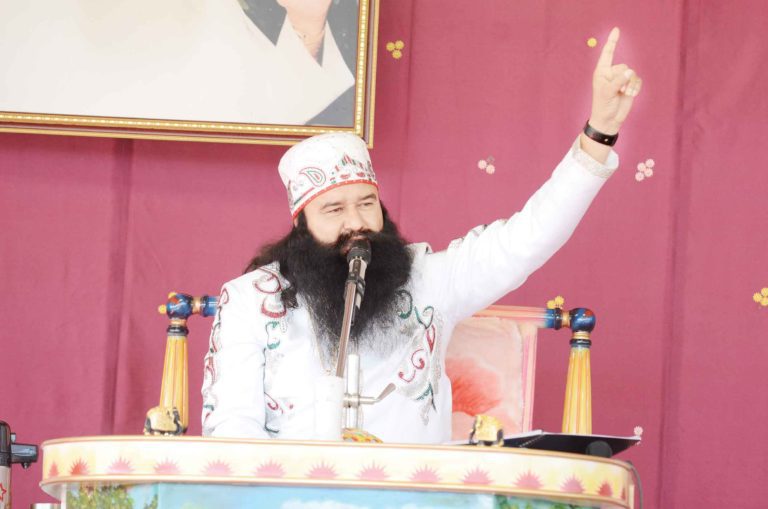 Spiritual Congregation (February 26, 2017) Shah Satnam Ji Dham, Dera Sacha Sauda, Sirsa
SACHI SHIKSHA Quit vices, Benevolence will Definitely Shower
Long live the dear devotees of God! At first We bow our head crores of times to all powerful, Almighty God. 'Maharahmokaram Divas' (Great Benevolence Day), falls on February 28 and the devotees are celebrating today.
Many many greetings to the devotees present on the occasion of the 'MahaRahmo-Karam Divas'! May God shower His blessings on everyone and they get happiness. And they get divine freshness, good health, I pray to God to give all this to the devotees. The blessings that Shah Satnam Ji grants are absolutely priceless. A Spiritual Guide comes to this world for doing well to others and gives their blessings to the people.
Such holy people never abuse anyone. They never have any ill-will against anyone. Such great people also never do any harm to others. Those who have faith and belief in them get His their blessings and only good things happen to them. But those who have no faith in them and those who do not listen to the saints/great men, get bad results in their lives according to their deeds.
For good deeds, come to the religious discourses and undertake humanitarian tasks which will do well not just to you, but also to others. Therefore it is My appeal to you all to celebrate MahaRahmo-Karam Divas of the Spiritual Guide by following the holy word, doing good to others, serving the society and discarding all your vices.
Blessings will definitely shower on you. The blessings will be not just for you, but also for your entire generations. But all this will depends on you that how much and how sincerely you follow the holy words. But because it is 'Kaliyug', you can present anything after making some changes.
It is not very difficult to make a mountain out of molehill or completely change the meaning of something. In such matters the aged are the same as the children. No one can trust others in such things.
No one can exactly tell how some words can be explained to mean something else. Because evil mind is the same in human beings and it also does not age. It is true that the evil mind always remains young. The human body can age, the soul can leave the person or the body or the physical form of the human being can get weakened.
Even as the human beings age, the evil mind remains young. In fact, the more the man ages, the younger the evil mind becomes. It directs the person to undertake all sorts of activities. But those people who become slaves of it, start undertaking evil works. They undertake evil works and in the process go further away from God Almighty.
Words cannot describe the grand manner in which the Maharahmokaram Divas of Shah Satnam Ji is celebrated. The Spiritual Guide granted blessings and made Me meet Allah, Waheguru, Ram, Satguru, Moula. We don't know how to thank Him. Everything falls short before His grace.
We also are not aware how to bow down to Him. Nothing is comparable with His blessings. Still I bow down to Him millions and billions of times. I salute My Spiritual Guide. He blessed crores of people and is still doing so. I act like a watchman & My job is to make people cautious. And that call for making people alert is also given through Me by Shah Satnam Ji. If I claim I have done something, it is just not possible.
Whatever is being done, whatever will be done will be by Him. One thing is true though. Evil has to be eradicated from society at all cost and make way for goodness. The path is very difficult, but we will have to walk together in such difficult times. We have to unite for this great task. It is the time to light the lamp.
The lamp has to be lighted for awakening people. Those people who have got their mind corrupted have no faith and religion of their own. Those people who indulge in sinful activities, harm others and kill the innocent people are damned to hell along with their families. But before that on the earth also they suffer a life of hell.
On the other hand those people who leave this world loving and worshipping God, are blessed. God Himself makes them sit in His lap and takes them to the Eternal Abode. They get a much higher status. I do feel sad when a person dies in an earlier age or his life ends through some wrong measure. It is bad to suffer the cruelty. But it is also equally bad to be cruel to others. Therefore, repeat God's word.
It will give you strength and show you the right path. Only then the evil doer will desist from committing evil deeds. Thus the wrong and illegal things in society can be removed. Otherwise the seed of evil is such that the evil persons do not have any contact with their parents, family and relatives. Their only mission in life is to speak evil, do evil and write evil. …Then it is the prayer to Shah Satnam Ji, Shah Mastan Ji the Spiritual Guide to grant the grace You are the Benevolent Benefactor.
You show the true path to Your children, so that they can clean the society by removing all evils and bad habits. Give them such strength and courage. And He does bless. This is the path of goodwill, love and affection. We have to march forward zestfully. Then people will recite God's word which has been granted to us by Shah Satnam Ji and Shah Mastan Ji.
The benevolence of Shah Satnam Ji can neither be explained by writing nor speaking The Spiritual Guide is simply incomparable. Can you ever compare the sun with anything? May be by looking through microscope or binoculars, you can spot planets which are just like our galaxy and the sun.
But if you look through the naked eyes, can you spot something as great as the earth, sun or the moon? It is true that you cannot compare the sun, the air or the universe. In that case how can you compare God? He was one, is one and will always remain one. God was realized by and in the form of Shah Satnam Ji or Shah Mastan Ji.
We cannot compare Them with anyone or anything. We cannot even write or speak about them to explain Their greatness. He had Himself said, ''We were, We are and We will remain forever.'' Those who understand it properly are the ones who get all the happiness. But those people who do not have firm faith in God; those people who are pretenders cannot achieve anything substantial in life.
Doing meditation is necessary in life. Be it small or big, or anybody, unless you do meditation, you will not be able to control your evil mind. Do meditation every day morning and evening for half an hour or 15 minutes, you will definitely realize divine visions. Whosoever you are, you cannot control your evil mind without recitation of God's word. Various distracting topics will churn your mind.
The one who manages to control one's mind and thoughts becomes the happiest person of the world. It is not at all easy to control your thoughts. Still if you cannot control your thoughts, at least control your bad habits and vices. In effect you should not indulge in bad and sinful activities. If you can manage to do this, then also it is not so bad and you can still consider yourself lucky.
It may be possible that your mind may think about some evil thing or sin, but if you don't act accordingly, it is too good. The mind will always get all sorts of thoughts. There are many people who have good thoughts. They will always think positively. On the other hand, there are many others who have bad thoughts passing through their minds.
Some people may have 70, 80 or 90 per cent of good thoughts passing through their minds and 10-20 0r 30 per cent of bad thoughts. On the other hand there are people who have only 10-20 or 30 per cent of good thoughts and the rest are bad. Therefore, thoughts can be of all types. They can be either good or bad.
The important thing is to note that you should not follow the bad thoughts. Give preference to the good feelings and thoughts. If you don't follow bad thoughts, you will not be accused of indulging in sins. You will be filled with joy and happiness. Service to humanity and meditation are the only way to surmount your evil thoughts.
Otherwise you will not be able to control the evil mind. It will run away like an uncontrolled horse. Perhaps to take control of this horse, Shah Satnam Ji taught us the value and importance of Method of Meditation. Now it depends upon you, whether you recite God's word or not. It is your choice whether you do devotion or not.
If you get involved in devotion, you will be able to control your evil mind with passage of time and you will get peace of mind and happiness. It is easy to say ''I am of the Spiritual Guide" but to say "I do follow my Spiritual Guide" is a very big issue.
When you were initiated into God's word, even if you do not accept the 'Satguru' as your own, He has already accepted you. He will keep you close to Him in both the worlds. If you want to enjoy life, if you want peace and happiness, you should start following the Guide in word & deed. Till you accept the sayings of the Spiritual Guide, you will not achieve peace and happiness.
Therefore, the Spiritual Guide always advises to extend service to humanity, but at the same time also repeat God's word. You belong to the Guru, but when you truly start believing in Him, you will realize how lucky you really are. Then you will also realize how you had been deprived of the love and the affection of Almighty God. You were spending your life without even remembering God. God filled so much intoxication, taste and happiness in your mind.
You will realize that you have wasted your life for nothing in doing harm to others and speaking ills of others, telling lies, feeling jealous of others. You will realize this only when you continuously do meditation. But you can definitely realize this when you start following the words of the Spiritual Guide cent percent.
It is the blessings of Shah Satnam Ji, Shah Mastana Ji the Benefactor. There may be many among you who were struggling with some or the other disease. There were so many who were fighting the drug related problems. Many of you had formed a habit of indulging in gambling. Many of you were eating non-vegetarian food or were getting involved in prostitution.
But then how was it that God showered His blessings on you and you became number one devotee in the eyes of God. It is not an ordinary thing in spirituality to make somebody rise above all expectations. The Benevolent Benefactor, the one who shows light to everyone made ordinary person rise in stature of spirituality & divine ecstasy.
Anybody who expressed faith and devotion in God was showered with His blessings. His happiness went on increasing day by day. In future also it will increase. I must also tell you that the more the 'Kaliyug' is increasing day by day, the mercy of God, His showering of blessings are also multi playing at a rapid speed. Blessings can fill the bag, if we salute the Spiritual Guide sincerely. Just think about it.
How easy it is. Just do a little of meditation, even if for namesake and that also will be accepted in the 'Eternal Abode'. Even if you do the prayer while walking, sitting or just like that, the prayer will be accepted by God. And once the prayer is accepted, God will also shower His blessings.
And if you sit in meditation with full concentration, the 10th door will also open for you. You will also be able to witness the divine form of God Almighty. Now it is in your hands what you do. It is your choice how you do it. Always avoid speaking ill against others or criticizing others. Never make fun of God Almighty. Never speak ill against God. What kind of people lives in the world today? It is true that it is 'Kaliyug' these days.
But the moment there is a fight with someone, they start abusing the others. But two days later they again become friends. Yet they do not feel ashamed of their earlier behavior. Instead love and bonding increases between the two. The one who listened to all their bickering wonders. They were at daggers drawn just yesterday and today they have become so friendly. This is 'Kaliyug' and the 'Kaliyugi people'.
As long as the other person agrees with your view, it is fine, but, otherwise they keep taping all the wrong deeds of eachother, so that when the time comes for a fight, they can spit venom at each other. This is absolutely wrong. Never abuse the other person. Never speak a foul language while referring to others. Take out all the evils from you.
Always find out the right time and opportunity to do some good and positive. Always indulge in good activities. Throw out your bad qualities by reciting God's word. Never feel jealous of others. This is not correct. The Spiritual Guide bestows blessing as per God's command. The blessing of God is capable of working in not just in one world, but in hundreds of worlds.
But you understand that you have not got the blessing at all whereas others have got it. Many people sit behind somebody thinking if the Spiritual Guide blesses him, He will also glance at me and shower me with His blessings.
Your theory is really wonderful. This is 100 per cent lie. The Spiritual Guide always seeks blessings for all the people from God. He prays that everyone lives happily, and get benevolence. He wishes blessing to the brim in every one's life. Many many blessings to all the devotees present here!