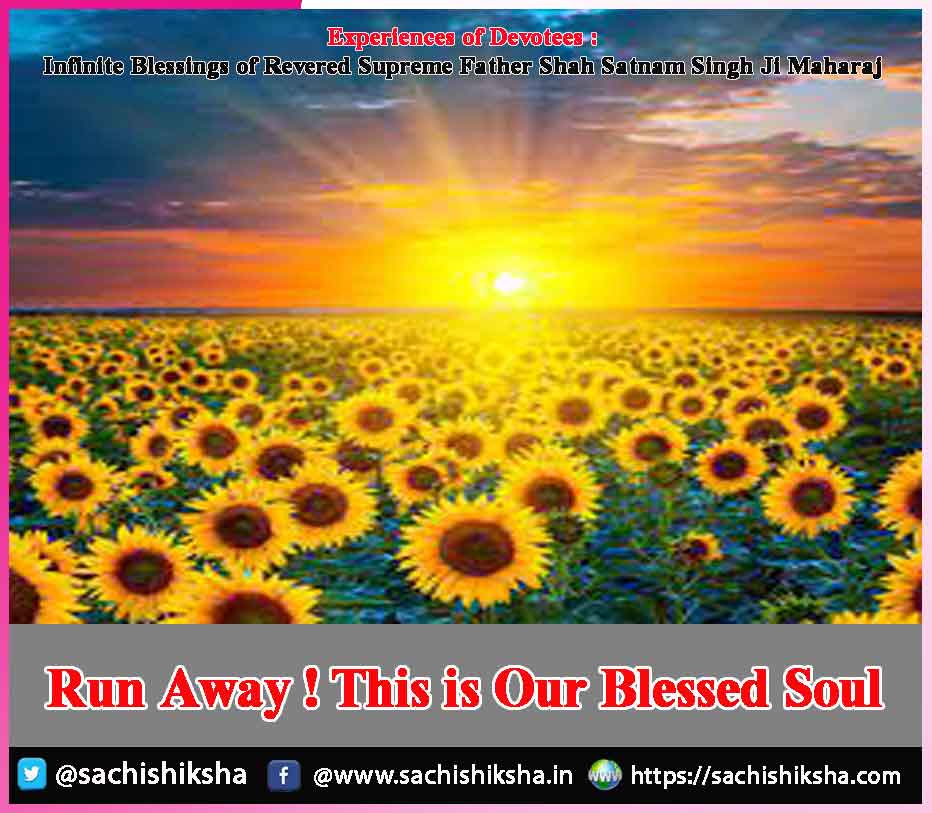 "Run Away ! This is Our Blessed Soul" Experiences of Devotees
Infinite Blessings of Revered Supreme Father Shah Satnam Singh Ji Maharaj
Devotee Rajendra Kumar Insan, son of Shri Mohan Lal Lajpat Nagar Fatehabad, District Fatehabad, describes the blessings of Revered Param Pita Shah Satnam Singh Ji Maharaj bestowed upon him:
I was religious minded from the beginning. In 1975, I had the vision of Revered Param Pita Shah Satnam Singh Ji Maharaj and attended the spiritual congregation. After listening to the holy discourses in the spiritual congregation, I understood that to comprehend spirituality it is necessary to have a Guru. On June 23, 1975, in village Dhangad, I was initiated into the God`s Words (Gurumantra) by the Revered Supreme Father and accepted Him as my Spiritual Guide.
I was working as a manager in Zee Ishpat (Steel) Company. On 18 February 2012, I was coming to my home in Fatehabad from Sonipat. Unfortunately I fell from the rear window of the bus, splitting my head. At that time I was taken to PGI Rohtak Medical Hospital. There I was given first aid and told that there is no provision of ventilator here. Therefore I should be taken to Delhi. Then I was admitted to Max Shalimar Bagh Hospital. My head was operated there. After the operation I went into coma. I remained in coma for twenty-four days.
 During this period, one night when I was unconscious, three Yamadutas (Messengers of Death) came to me. Among them there was a Yamaduta in the shape of a buffalo. He had a very scary appearance. He started saying that Dharamraj (Emperor of Righteousness) has sent us to take you away. Your time is up. At that very moment there was a very beautiful light, from which my Spiritual Master, the Revered Supreme Father appeared.
The Revered Param Pita Ji had a long stick in His hand. His Spiritual Majesty came and stood in front of me. The Supreme Father scolded those Yamdutas and said in a harsh voice, ''Run away. This is Our blessed soul.'' When they did not move from their place, the Supreme Father beat them with His stick. The three Yamdutas ran away screaming and crying. In this way the Supreme Father bestowed me by saving me from the messengers of death.
Due to that kind benevolence, I regained consciousness. I got a new life. After that I gradually became completely healthy. When I had the vision of my Spiritual guide Param Pita Shah Satnam Singh Ji Maharaj, I felt extremely happy. Actually I can`t repay the favors that my Spiritual Master has bestowed upon me.
Now I have this request at the holy feet of my Revered Present Spiritual Father Saint Dr. Gurmeet Ram Rahim Singh Ji Insan, the embodiment of my Revered Supreme Father, that please grant me the strength to serve humanity & recite the God`s Words. Please keep me loyal to Thy lotus feet unto my last breath.