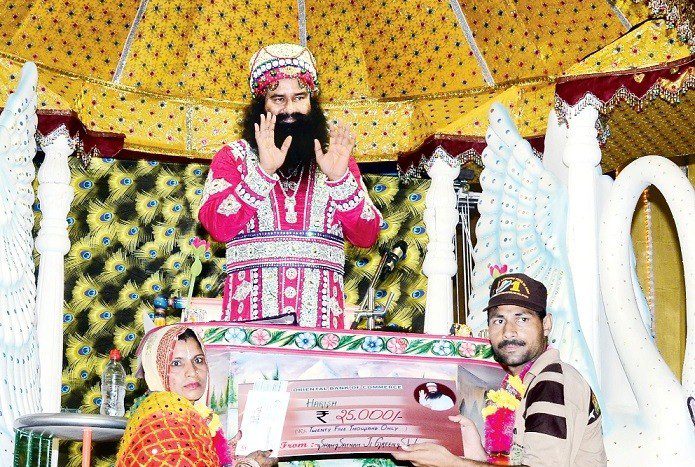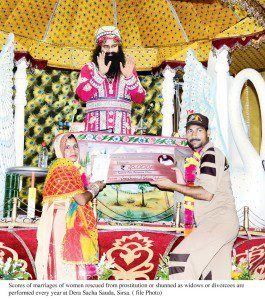 Social amalgamation for rape victims
It is a strange fact that most societies put the 'shame' of a sexual assault on the victim, a stigma that she carries for life.
Howsoever shocking it may sound, but the truth remains that India has an inglorious record of scores of suicides committed by rape victims.
There have also been several incidents where in the families of the rape victims have entered suicide pacts and killed themselves en masse.
It is a fear of social ostracism, the despondency of losing the family honor. Under such circumstances it is difficult to imagine that somebody can assuage rape victims and restore their self esteem.
In a way that no one had ever imagined, Saint Gurmeet Ram Rahim Singh Ji Insan of Dera Sacha Sauda, has taken another remarkable step of actually reaching out to the victims of rape and gang rape and their families, to end their isolation and the fog of social ostracism.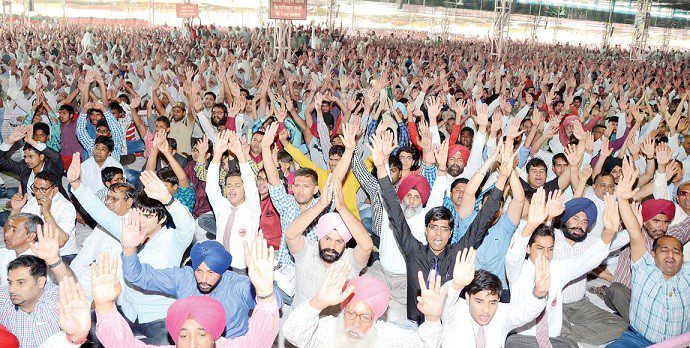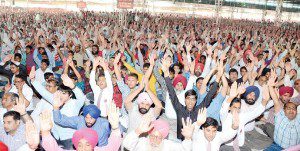 In India, a lot of social value is put on so called family honor. Particularly if a girl is a victim of some kind of sexual assault, the family feels that they have been shamed and the victim crumbles under that burden. Guruji reached out to all such victims in a big way last Sunday with an unbelievable gesture.
The previously existing program, in which 1500 young men have lined up to marry victims of forced prostitution, has now also been extended to help victims of rape or gang rape.
Addressing a spiritual congregation last Sunday, Guruji took this step towards helping the unfortunate women who became victims of brutality and suffered sexual assaults in the form of rape/gang rape. Under this initiative the volunteers of Dera Sacha Sauda, known as Devout Warriors (Bhagat Yodha) have come forward to marry the victims of rape and accept them as life partners, which will be done with mutual consent.
Last Sunday, during the spiritual congregation organised at the Shah Satnam Ji Dham, Saint Gurmeet Ram Rahim Singh Ji Insan appealed to the people to help the women who have been victimized by rapists. In response, the huge crowd raised their hands in unison to support his remarkable 106th program for society.
This was another chapter added to the 105 social welfare activities being done by the Dera. The devotees present in the congregation raised both their hands to show their support for the noble cause as women who have suffered sexual assaults are often left not just traumatized but also face social isolation and lose hope to get married and lead a normal family life.
Guruji asked the sea of devout to have sympathy and compassion for such women who suffered the savageness of other men and are subsequently dumped by society and marked as tarnished.
There are more than 1500 young unmarried men who have volunteered as Devout Warriors and have pledged to marry such women who have suffered rape or were in the clutches of prostitution. Guruji said that the Dera will approach parents of rape victims and will extend every possible help to them so that their daughter can lead a normal life and come out of the trauma she had been dragged into.
Notably, the inspiration provided by Saint Gurmeet Ram Rahim Singh Ji has seen the Dera make a home for abandoned girls, known as 'Shahi Betiyaan Basera' (home of the royal daughters), a home for widows known as Nai Subah (New Dawn),
a place for the girls who left prostitution and willingly came back to the social fold and named them Shubh Devis (Pious Goddess's). Also campaign is being held to empower girls physically by teaching them martial arts so that they can defend themselves, if ever attacked.
True Saints have marched unperturbed throughout the ages brushing aside baseless criticism and even violent opposition. All those, whom we worship today, were only persecuted for speaking the truth. But it is the fragrance of their thoughts and nobility of their deeds that has inscribed their names in history.
At Dera Sacha Sauda, Saint Gurmeet Ram Rahim Singh Ji Insan has initiated several such initiatives, that none in history had even imagined. The broad sweep of his humanitarian programs aims to wipe every tear. The sun of truth is dispelling the clouds of falsehood with its glory.
Follow us on Facebook, Twitter, Google+, LinkedIn and Instagram, YouTube to get more updates related to sachi shiksha Spiritual Magazine, articles.