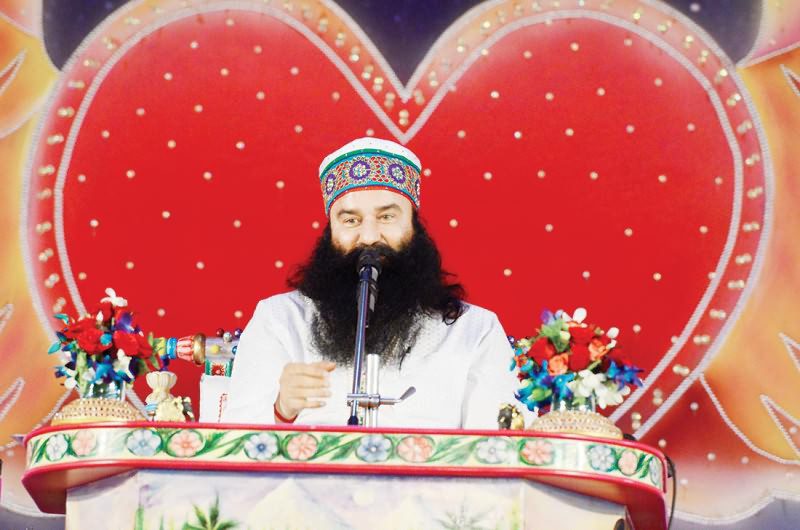 The Silver Jubilee of the Guruji's Succession concluded with a Spectacular Fanfare
The Day of Supreme Benevolence
18 October. 2015
What is the greatest kindness in the realm of spirituality? When the Guru bestows the sacred meditation to the disciple to help him attain salvation is undoubtedly the greatest! But there is one act that ranks even higher than this.
And that is, when a True Master anoints the next Master as His own embodiment and declares Him the next Satguru. This benevolence is undoubtedly supreme.
Why? Since the True Master gifts the next Messenger of God to the planet, to ease the Karmic loads of the dejected and misled people, and show them the path to inner peace, self confidence and salvation. On September 23, 1990, His Holiness Shah Satnam Ji Maharaj declared Saint Gurmeet Ram Rahim Singh Ji Insan as His likeness and successor. That day is now celebrated as the day of the Supreme Benevolence.
Though Guruji has never called himself anything beyond a humble fakir and a teacher of free meditation, but for those, whose life is transformed by His perpetual philanthropy, He is no less than a Messiah. From men marrying rescued prostitutes and adopting their children to women marrying handicapped youth,
from Guinness World records in blood donation and tree plantation drives to India's largest humanitarian assistance agency called the Shah Satnam Ji Green S Welfare Force Wing, from opposing female feticide and carrying out several gender specific programs to running India's largest eye donation programs by a single agency, the list of humanitarian activities being endeavored in au fait guidance of Revered Saint Gurmeet Ram Rahim Singh Ji Insan, counts to a whopping number 112, and still growing.
For those, whose life has been blessed by the virtue of humanitarian endeavors initiated by Guruji, this day is the biggest festival as it brought an ocean of magnanimity to them. That's why, we here at Dera Sacha Sauda celebrate it as the 'Supreme Benevolence Day'.
On 18th October, 2015, as Saint Gurmeet Ram Rahim Singh Ji Insan addressed the mammoth spiritual congregation at Shah Satnam Ji Dham in Sirsa and showered his bountiful blessings on the devotees gathered there.
The Satsang pandal, the entrance, the roads and the whole universe appeared to be painted in the colors of joy as everything was leisurely decorated with magnificent posters, colorful flags and dazzling electronic bulbs and illustrations. Devotees from all over the world gathered to witness this celebration of benevolence. The pious memories of those moments were brought alive when Guruji shared His experiences with the disciples.
Guruji also updated the devotees about the trail of records made by MSG-2 The Messenger. He informed the gathering that Hollywood bigwigs are called to write a script for His upcoming movie that might come with a name of 'Online Gurukul'. Talking about His next project, Guruji said, it would be based on Vedic concepts and shall be focused on the children and youth to walk on the path of righteousness and to fight against global terrorism. Some serials are also being planned.
Showering his blessings on the devotees, Guruji added, a media-person in Mumbai had asked Him, whether He feels averted from his spiritual course and followers who come to seek His blessings; in response to this question He asked the gathering aren't they getting more time from Him. Millions who were present there raised their hands in a notion to affirm this fact. With the beginning of the MSG's movie series, the spirituality has escalated manifold and will keep on elevating. With Periscope and Twitter, it has become possible to be with everyone of you every time, I stay in your hands, in your pockets via your mobile phones and you all live in my heart, he added.
On this auspicious occasion, Guruji blessed 17,560 seekers with the GuruMantra. Seekers not only from India, but from all over the world came to attend this spiritual congregation. Impressed from the ideology Rim and Russel from Cameroon (Central Africa), also learned method of meditation and expressed their wish to contribute in the humanitarian programmes being organized by Dera Sacha Sauda. They also watched MSG-2, and overjoyed with the excellence of the movie they said that it must be released in more languages, so the social message intertwined in the movie may reach every corner of the world. Ajay Kapoor from T-Series also attended the event, complete with his family and learnt method of meditation from Guruji.
Even untamed creatures admire the True Master:
While Guruji was addressing the congregation, a peacock came out of nowhere, sat right in the front of Guruji and started to show his affection for Guruji. Showering love on this lucky creature, Guruji also offered him some Prashad in His hands. Those who were present there also went emotional seeing this scene of selfless love. Unconcerned with the busy schedule of Guruji, the peacock kept sitting there even after he finished that Prashad. When Guruji, asked him to move, he flew away, it seemed he understood Guruji's language of affection
Follow us on Facebook, Twitter, Google+, LinkedIn and Instagram, YouTube to get more updates related to sachi shiksha Spiritual Magazine, articles.