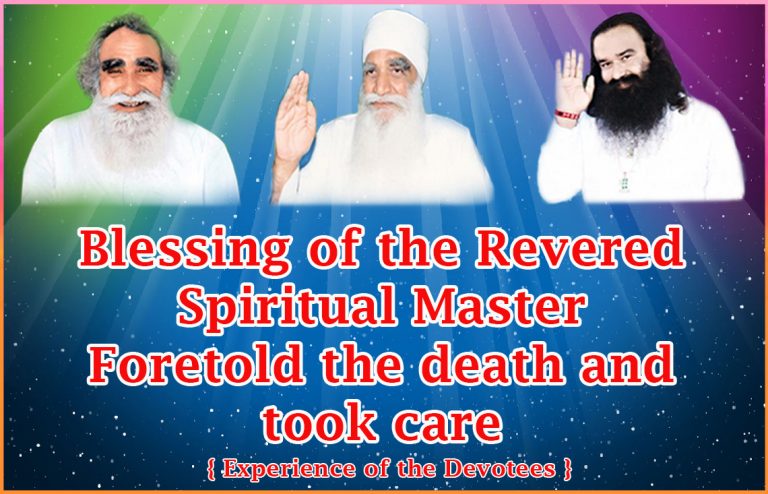 Blessing of the Revered Spiritual Master Foretold the death and took care
Experience of the Devotees
Krishna Devi wife of Late Shri Mukund lal Insan, street no. 2, locality Indra Pura, Fatehabad narrates the extreme grace of Param Pita Shah Satnam Ji Maharaj as follows:
She tells us that her husband Shri Mukund Lal Insan was connected to Dera Sacha Sauda since his childhood. He had got initiated into God's Words by Revered Spiritual Master Param Pita Shah Satnam Singh Ji Maharaj. He was a permanent volunteer and used to do service selflessly and had great devotion for his Spiritual Guide.
On the night of 16th of December 2010, my husband, in an instance of his dreams in half awake condition, had a glimpse of Revered Param Pita Shah Satnam Singh Ji Mahara. He saw His Holiness Mastana Ji Maharaj, too, with Revered Param Pita Ji. His Holiness came and stood before my husband. Afterwards, Revered Pita Ji took my husband to the Sirsa Railway Station. His Holiness opined that 'Mukund lal, We will not ask you to sit in the train because your ticket has not been issued. Your ticket will be issued in a month's time, then We will make you sit in the train'. By seeing this view, he trembled a lot. He was sweating as if someone had poured a bucket of water on him.
It was about 2.00 or 2.30 am in the night. In the morning, he told us about it completely as he had seen in his dream. Exactly after one month i.e. on 15th of January 2010, after drinking tea in the morning, my husband told me that he has to go today. But I did not believe him that how that was possible. I thought that he must be joking. I chuckled and said that I shall accompany you. But he was truly very serious, he said that you have to live on my pension.(it is worth describing that Mukund Lal Insan had retired from a government job and was a pensioner). That day he had started working since morning.
When the banks opened at 10.00 am, he withdrew some money from the bank and cleared the dues of people from wherever he had taken the money. Afterwards, he brought the ration material etc. for daily use. Afterwards he met the workers and officers of the concerned departments to get a driving license for his son and applied for a licence. In that department, he had good relations with one worker, the same worker said that Mukund Lal, we will issue you a licence, too.
In reply to that he said that his licence had been issued. Today, I have to go in the evening. Then, he went to fetch milk from the dairy in the evening. While returning home, he started dithering tremendously from within. He sat on the ground unconsciously. He was holding the milk container in his hand. From there, somebody dropped him home, in a rickshaw. After reaching home, he asked all of us to move back and give space.
Revered spiritual Master Param Pita Shah Satnam Ji Maharaj has come, all of you, please give way. The vehicle of Revered Guru Ji is parked outside, in which I have to go, and after saying that he breathed his last.
We took him to the hospital immediately thinking that he might have got an attack of fit. But he had merged with the Spiritual Master for good. The doctor also told us that it has been half an hour that he died and has left for the eternal Abode. Revered Spiritual Master Param Pita Shah Satnam Ji, the Benefactor and God Himself had taken full care of His disciple. The Spiritual Master had told him that his ticket will be issued after one month and then We will make you sit in the vehicle and after one month when the time came then Revered Father took him along with Himself in the vehicle.
Blessed is the Spiritual Master, who takes care of His disciples every moment, in both the worlds. O God! The manner in which You have attached ourselves with You, this is our wish that till we breathe our last, keep us tied to Your sacred feet and Dera Sacha Sauda, for good.
Follow us on Facebook, Twitter, Google+, LinkedIn and Instagram, YouTube to get more updates related to sachi shiksha Spiritual Magazine, articles.