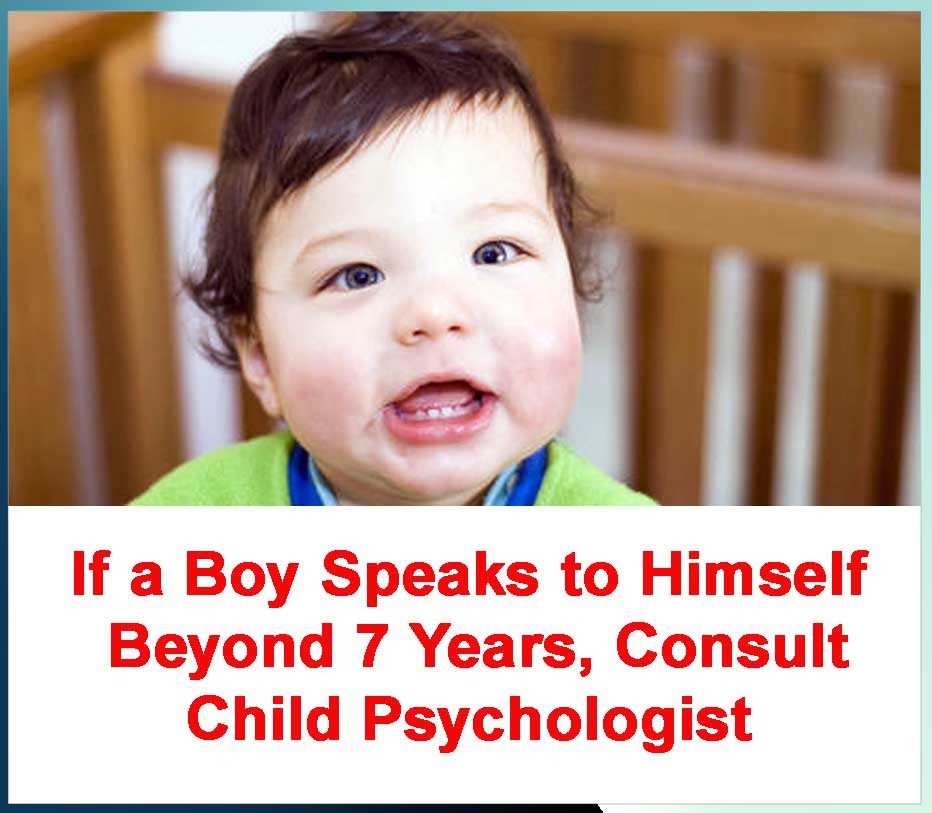 If a Boy Speaks to Himself Beyond 7 Years, Consult Child Psychologist
By the age of two, a kid starts speaking very much and also learns and understands things.
By this time, he is adjusted to his surroundings. He adopts so many things which he sees or listens. He understands the instructions of the parents and he repeats the same with the dolls and teddy bears.
He gives directions to these toys and if they do not obey, he pours out the anger on them and scolds them and also sometimes beats lightly. He wears clothes to them, wear shoes to them because he sees his parents doing all this.  These activities of the kid are ordinary.
 According to the psychologists if a child between the age of 3 to 7 years does this, his parents need not worry. Take this as ordinary activity because upto this age kids play within themselves. They talk with imaginary characters because they have the full effect of home and the school.
After enquiring from the psychologist, it came to light that all children do not do this. Only a few children do this. The kids who start speaking early and if their parents are busy, they start speaking to themselves. If we see that the kids who speak to themselves they are able to sort out their problem themselves.
They also develop the capacity to face situations themselves without the help of others.
They are mostly shy by nature.
The parents who are busy or they always fight with each other, their children have the tendency of talking to themselves and living in imaginary world is more as compared to other children having congenial domestic atmosphere.
According to the psychologists, the development of these children is well. With the imaginary power they explain or exhibit their sleeping emotions. Talking with himself becomes an abnormal sign if they continue with it after the age of 7. Even they continue repeating this habit and remain in the imaginary world. In this situation, give more love and affection to the child. Spend more time with him.
Play such games with him that he enjoys them.
If you have to make him understand something, do it with positive approach.  Do not fill negativity in them.  Do not make them afraid, fill encouragement in them. Making the children more fearful becomes hindrance in their development.
If after 7 years, the child remains in imaginary world most of the time, consult a psychologist.  Observe these types of children that how much time in a day he remains in imaginary world. Give this information to the doctor so that his development could be made in a right way.
NEETU GUPTA
Follow us on Facebook, Twitter, Google+, LinkedIn and Instagram, YouTube to get more updates related to sachi shiksha Spiritual Magazine, articles.