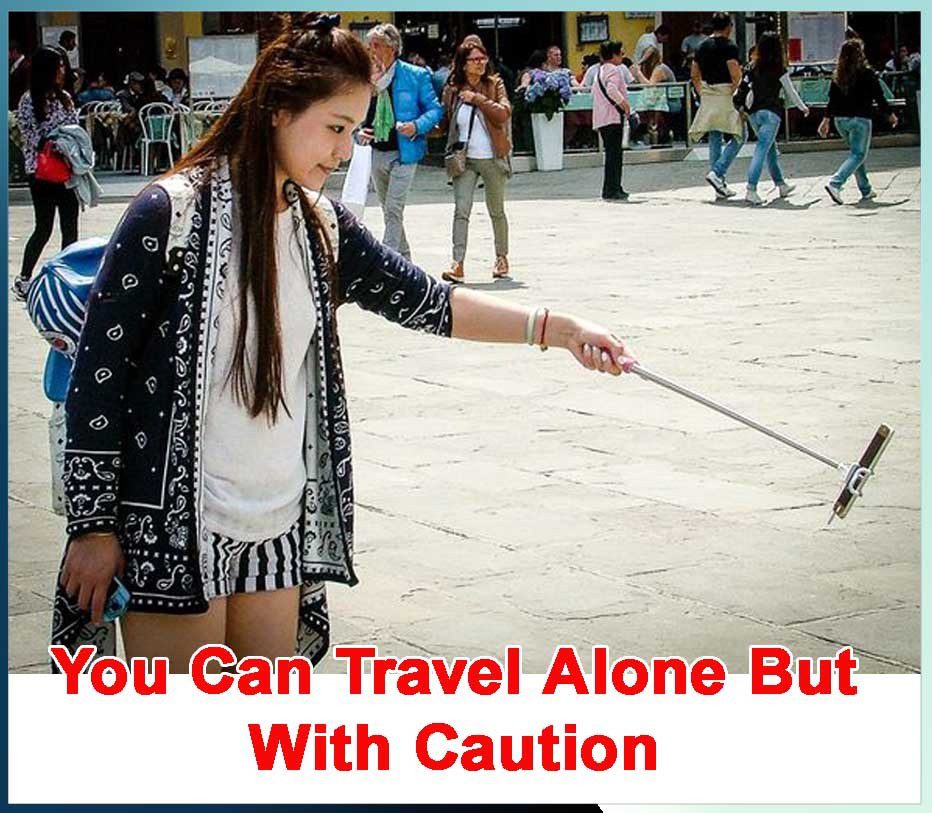 You Can Travel Alone But With Caution
Travel Guidelines
About 67% women like to travel alone twice a year. Nearly 74% women consider themselves as solo traveler. This research has come by women travel survey done on 100 women.
For some women travelling alone is like a bad dream. But for the past time this notion has broken down. Women have started travelling alone.
At the same time women are sharing their travel experience and some information regarding travel on line. Going out for work, or for sightseeing, reason may be different but ladies are travelling alone. Where distant journeys are thrill but sometimes it becomes the reason of fear. Travelling alone, women have to take so many safety measures.
This is also true there is no other better way to make friends, new group, identifying new places than travelling. You may come across good or bad persons, but this type of journey gives us so many experiences. These experiences teach you a new lesson of life. So if you are planning for travelling, start packing.
But before planning to go on travel alone, keep this in mind.
First of all, plan where are you going? Take information about that place, people living there and the traditions prevailing there. It becomes more important if you are going out of the country abroad.
Make a small diary. Note down all the details regarding your ticket,
ID Card, and other proofs. Note your residential number and mobile nos.  Also note down some numbers which you have collected for this purpose.
Keep ample cash with you so that you can deal with any unexpected problem arises. Though try that half the amount you put in the account and take ATM with you.
Keep copy of your Visa, ID Card and Passport at home also and one extra photocopy you should keep with you also.
Make the air-hostess or other staff, if you are having some problem before hand so that arrangements could be made accordingly.
Medicines for headache, infection, allergy, cold and fever with you. In addition to this keep first aid kit with you.
If you are pregnant keep ample water and eatables with you. Reach before time to railway station or other place so that you have not to rush for this.  Always travel with the advice of the doctor, if you are pregnant. Avoid travelling in 1st three months and in the last stage or risk pregnancy. If at all travel is necessary keep your prescription and suggested medicines with you. Yes do not sit long during the journey.
Put your identity slip on the luggage and suitcase.
If going abroad, take full information from the Embassy regarding that country. Try to get information about any Indian there.
It is better to stay in any Gurudwara, which can be the safest place for an Indian.
Before talking to any unknown, try to study him with your common sense.
During the journey lock your luggage.
Do not leave the luggage to others for a long time.
If you are using public transport, try to be with ladies group.
If travelling by road, keep all belongings with you properly so that you have not to get down. Water bottle, some eatables, with necessary medicines should be with you.  See to it that no part of your body should be out of the window.
Do not discuss your family problems with anyone.
Try not to share your mobile number with the unknown. If necessary give the details after thorough inspection means try to see his id card etc or any other related paper of his identity.
If you are travelling by train, make sure either the windows are properly closed. If that is not possible due to climatic conditions, put you purse safely with you.  You can keep the feet towards the window and your head with your belongings should be with you.
If travelling alone by train, try to get the upper birth which can be the safest. Before sleeping finish all your daily activities so that you have not to get up again and again for wash room etc.
Even if you are unmarried, wear wedding ring or try to put any option of married lady like putting bindi, rings in the feet. If possible you can wear artificial mangalsutra also. This is a very easy way from getting so called marriage proposals.
You should be alert about your body language. See to it there should not be any misunderstanding due to your actions.
Try to click and shoot the beautiful sceneries and note down in brief about the places you visit. This information of yours can be very useful for others.
Try to share it on face book or other media.
These days women are sharing their travel experiences on Web.
Some of the websites are:
http://www.womentravel.info/
SHUBH YAATRA. (PLEASANT JOURNEY)
Follow us on Facebook, Twitter, Google+, LinkedIn and Instagram, YouTube to get more updates related to sachi shiksha Spiritual Magazine, articles.