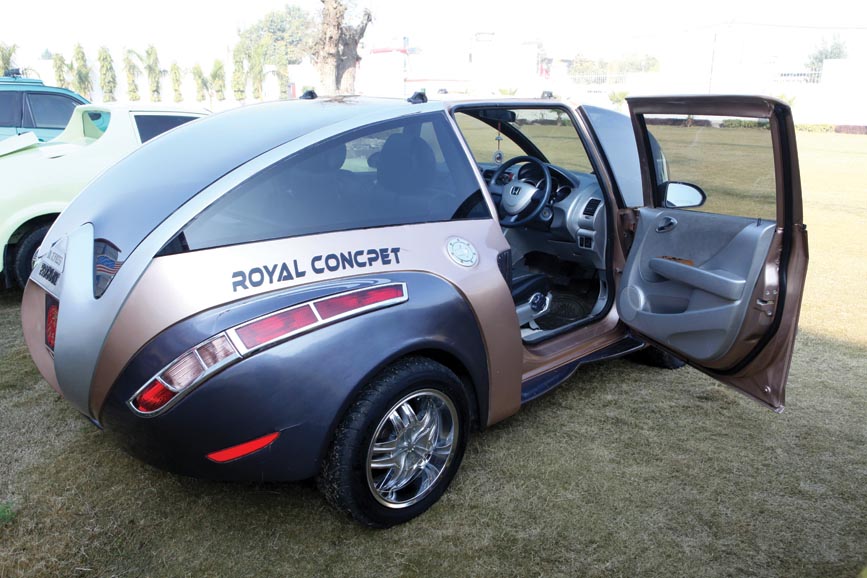 Cars from Heaven
I love cars.
I really do. And even though I grew up in the age when leading automobile companies made unbelievable advances in technology and designs, that doesn't mean I could ever forget my fascination for my dream car 'Batmobile' driven by my superhero Batman.
When I was 22 years old and had my first car, a Maruti 800, I could barely afford any modifications. Modifying a car is expensive, and working a minimum wage job would mean that I had to save up some extra bucks for months before I could afford stylish alloy wheels or an exhaust system. I turned to cheap exterior modifications as a way to enhance the look of my ride, some stickers being at the forefront.
A sticker on each rear quarter-window and a front windshield banner did just the magic for me. You know the saying that stickers add extra power turning my car into a supercar? You know a sticker cannot turn a car 4×4, but when I got behind the wheel, for me it felt like that.
The excitement and anticipation of seeing what's new and innovative in automobile industry is more than enough to get the senses going. Unlike the doom and gloom during my childhood years, this year has brought me a great vibe and upbeat feel to my love for tmodified cars when I got a glimpse of the most amazing engineering innovations of the century.
Just imagine a mangled heap of scrap being hauled into a workshop on four wheels. Fresh from an accident, that mass of metal once used to be a giltzy sedan. Sold off for the value of scrap, it lands in the SMG Automobiles garage for a facelift.
If Cleopatra's face could launch a thousand ships, the end product of this car could launch a car factory. This sounds weird and unbelievable but it is something that happens at a dusty garage in Sirsa with clock work regularity. And it is the brainchild of His Holiness Saint Gurmeet Ram Rahim Singh Ji Insan, who is all set to rock the world of automobile with a cyclonic gusto.
There are many bespoke designers but most choose to work with fiber glass for it is easy to make fiberglass dies. Saint Gurmeet Ram Rahim Singh Ji Insan loves to craft amazing cars from ramshackle vehicles. If one looks at the garage where these vehicles are crafted one would be taken aback by the sparseness and simplicity.
By looking at the end product one can never imagine its humble origins. Monu, a realtor who has got one of the Guruji's creations spoke to ST, "My BMW and Audi vehicles are not as much of head turners as this car designed by Guruji is. Wherever I go, it is the real traffic-stopper."
Some experts say, "New and exciting technologies such as 3D printers, rapid prototyping, and ever-evolving CAD machines mean improved designs and quicker production times. But the way the cars are modified in a little time in SMG Automobiles, it seems that Guruji imports these cars from skies."
Hey, back to the future !
This evolutionary vehicle was created out of a battered Honda City. The base was not shortened and this was carved into a two-door body. The new body shell is made in simple hand-pressed steel and glass that was moulded based on dies provided by Guruji's team. The interiors are done in compelling tones while the rear is as impressive as the front.
10:10,
Yes that's what the anchor like shape dropping on the bonnet says. The clock chimes a smiling 10:10. The colors are magnificent. And note the dual tone interior which matches the exteriors. The colored rim are an extra treat. The so called suicide doors are extending their arms regally. The rear looks different but, hey, this is a Reva! To cut a long story short there were a lot of electrical extras that needed to be hidden behind the beautiful curves.
This Agrojetter
is an extensive modification of the Karizma bike platform. The body is made in fiber while the front tyres and suspension belong to the humble Alto. The steering is fashioned from a horizontally foreshortened version of a small car, while the boot space is in the front. The fuel tank sits just behind the seat.
While Guruji envisaged this for horticultural work as 'Agrojetter' , rural healthcare experts have opined that this might be used as the last mile healthcare cum vaccination delivery system that they were looking for. Guruji has already initiated work on a low cost onboard refrigerator that might include waste heat recovery and a solar roof. This can easily be converted into a two-seater. In comparison to the ATV, it retains a lot of its fuel efficiency because it is a mobike at heart.
Cutie Pie
Who would have thought of a car for kids ? No adult dare fit into this. This is indeed a 'King of the little hearts'.
Wow that's a blast !
With gullwing doors, a shortened base and snazzy styling, this one combines elements of a rugged sports car with a blood of roadster. Its looks do kill and we are dropping down dead for the lady in red is simply bewitching. What use to be a simple Santro is a ravishing Cleopatra's face of a car now.
If she was a …. oops, if I were a car, I would be chasing her all the time.
This was a sedan that is now back from the dead. This vehicle was a total loss whose chassis was shortened and it was made into a convertible with a motorised retractable roof. Now, it is a beaut with no scars from the past.
Oh my God ! What is this, what this is?
Can you even imagine the parent vehicle. This piece of art is fashioned from the ugly Gypsy that can make your eyes hurt with its look. While Gypsy is a back-breaking vehicle that specializes in a rough ride, this one is modified for comfort.
The looks are so awesome and stunning that when Guruji drove past where the film Barfi was being shot, the onlookers including the cast and crew had their mouths agape. This jaw dropper will be a smashing hit if it goes into production.
DC designs watch out!
The Car God cometh!
Follow us on Facebook, Twitter, Google+, LinkedIn and Instagram, YouTube to get more updates related to sachi shiksha Spiritual Magazine, articles.