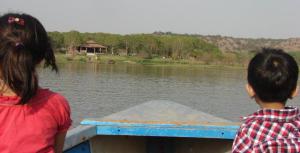 All You Want to Know About Damdama Lake, Before Your Tour!
Overview:
One of the largest natural lakes in the Haryana state of India, Damdama Lake is situated in the lap of Aravali Hills and wraps an area of nearly 3000 acres.
It is located on the Gurgaon-Alwar Road, near about 20 KM away from Gurgaon. Illustrating scenic beauty above comparison, this place has come forward as one of the most loved vacation leisure and picnic spots in the vicinity.
Most of the visitors reviewed and also is much spoken of. People those who have had fun here, recommended this place of adventure as an imperative sojourn in the list.
Enjoyable Activities at Dadama Lake
With the backdrop filled with widespread beautifying ranges, visitors of Damdama Lake enjoy mesmerizing view while boating in row boats, motor boats and paddle boats. People keen on adventure and loving to live a life filled with it, can spend hours of delightful time in the laps of the Aravali Hill; many options being available for trekking and other such similar adventure sports. On top of it, the other attractions present here include, parasailing, cycling, and kayaking.
Apart from this, the adventure sports activity of hot air ballooning famous in the hill stations alone is brought in here at the service of the visitors only in Damdama Laka. People with silent and calm attributes also find this place worth visiting as they can enjoy calm and serene nature walks and rowing.
An Ideal Time for the Visit
You can pay a visit to Damdama Lake anytime from the month of October and till the end of the March as these are the best and the ideal days. Apart from these months late monsoons and summers are also equally zealous and delightful.
During this period of time, nearly 20 species or even more of the local as well as the migratory birds find their shelter in the bounty natural surrounds of Damdama Laka. These migratory birds can easily be spotted during the season of winters; November to March. Even few of the birds include famous species like kingfishers, water fowl, cranes and cormorants. Terns are also seen widely.
Best Accomodation
Since, it is a weekend destination; several resorts are queued up in the vicinity of the Damdama Laka and also the alongside. Choose from many options like Botanix Nature Resort, Waterbank Island Resorts, Sans Eco Adventure Resorts and the list is endless.
Even a trip for a day and packages for overnight stay are available for both corporate groups and families. There are several features available in the resorts itself for the tourist attraction. Various amenities like conference hall, camping site, motel wing, bar, hovercraft and lawns are provided by the resort managements.
Follow us on Facebook, Twitter, Google+, LinkedIn and Instagram, YouTube to get more updates related to sachi shiksha Spiritual Magazine, articles.