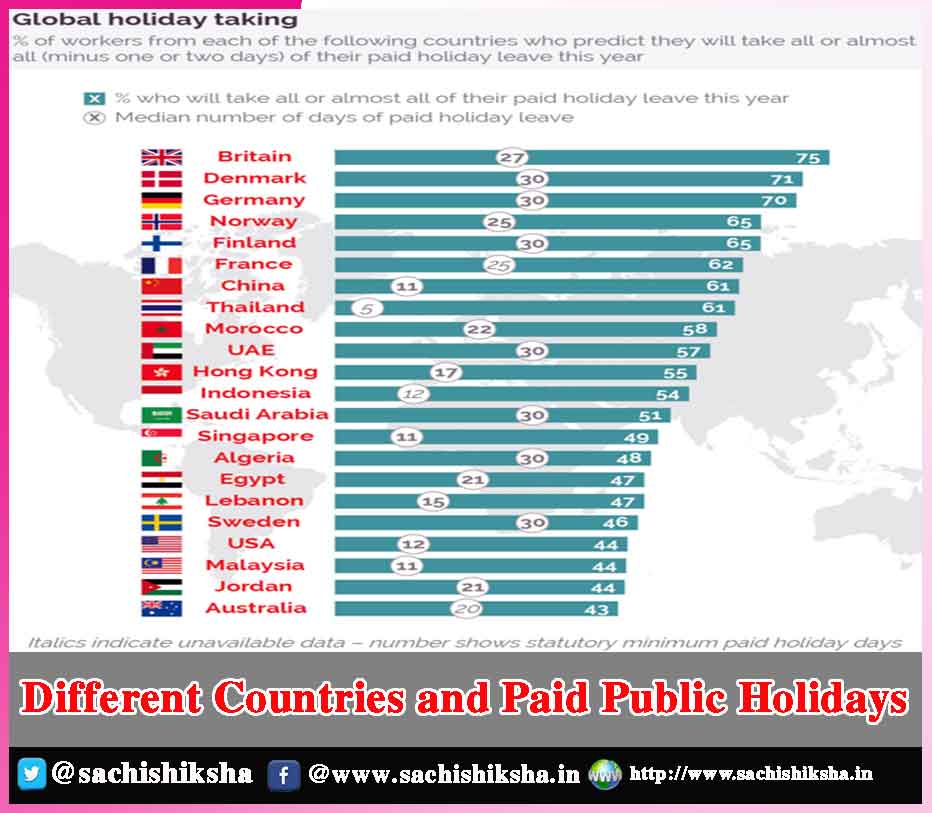 Different Countries and Paid Public Holidays
Introduction: There is no individual on the planet who doesn't want to go on vacation. Although vacations differ from country to country depending upon the economic growth and work civilization. Each country has its own HR policies, including the allocation of paid holidays and time off.
It is critical to take time away from the office for holidays. This not only allows us to splurge time with our families and friends, but it also allows us to step back and rewire, returning to our jobs refueled & renewed.
Also Read :-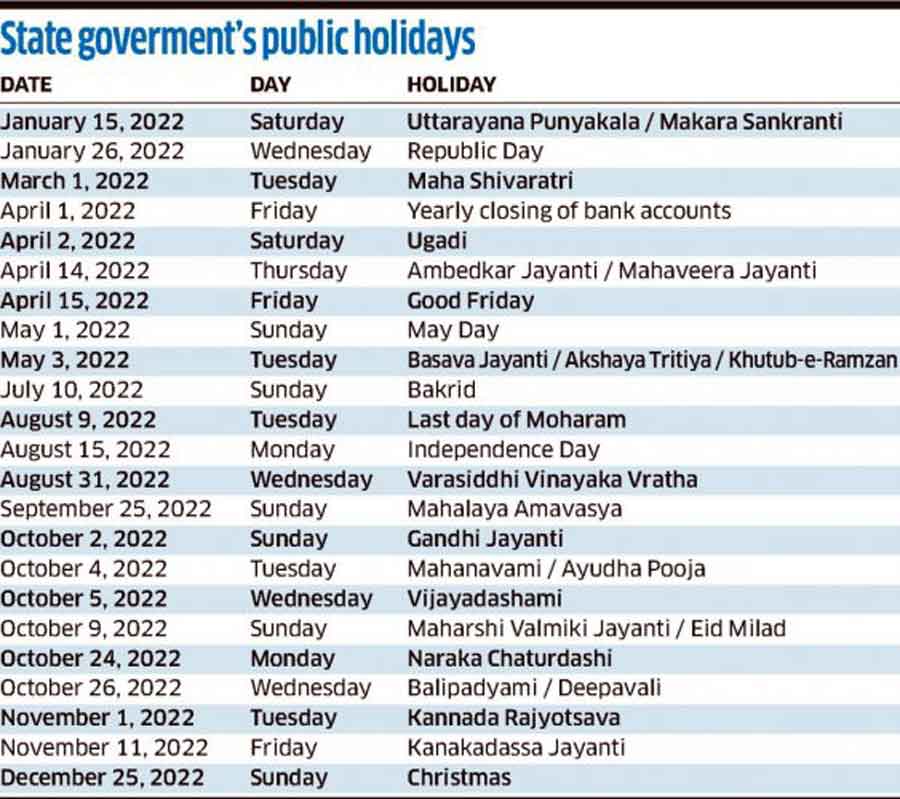 Public holidays are normally paid in most regions of the world and are not counted as part of the annual vacation. Public holidays are occasions off through work with remuneration and if they are paid then it's an added perks to an employee.
They are not mandated by the law. Paid public leaves are generally a part of a larger remuneration package. The Fair Labor Standards Act (FLSA) does not require employers to compensate employees for time off, such as vacation trips or holidays. Paid holidays, getaways, and sick leave are set by the company (or negotiated by an employee of a company, such as a federation).
Countries Having Maximum & Minimum Public Holidays:
According to statistics from Mercer's Worldwide Benefit and Employment Guidelines, professionals in Colombia and India have the most public holidays (18 each), while Mexicans have the fewest (seven). Mercer's study defined benefit plan policies, statutory regulations, and employment terms in each of the company's 64 countries of operation.
According to Ed Hannibal, global leader of Mercer's Mobility Exercise in Chicago, public holidays vary widely from country to country and sometimes even year to year. Countries frequently hold biennial or one-time holidays for particular cultural or religious occurrences, but some leave the final decision to local governments.
Public Holidays in Canada: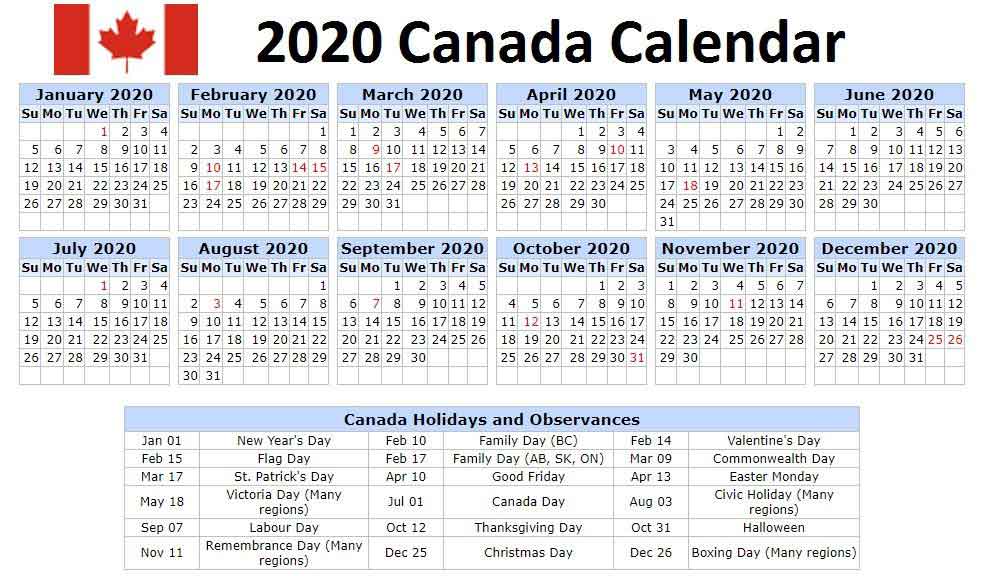 Canada has the most public holidays (11) in North America, though this varies by province. The United States has ten federal public paid holidays; even so, corporate employers are not required to give their employees the day off.
It is entirely up to the employer whether to provide paid federal holidays as an added perk of work experience. "The United States is the only advanced economy in the world that does not guarantee its workers paid vacation days & paid holidays," said John Schmitt, senior economist at the Center for Economic and Policy Research in Washington.
Legal protection to Public Paid Holidays in Europe: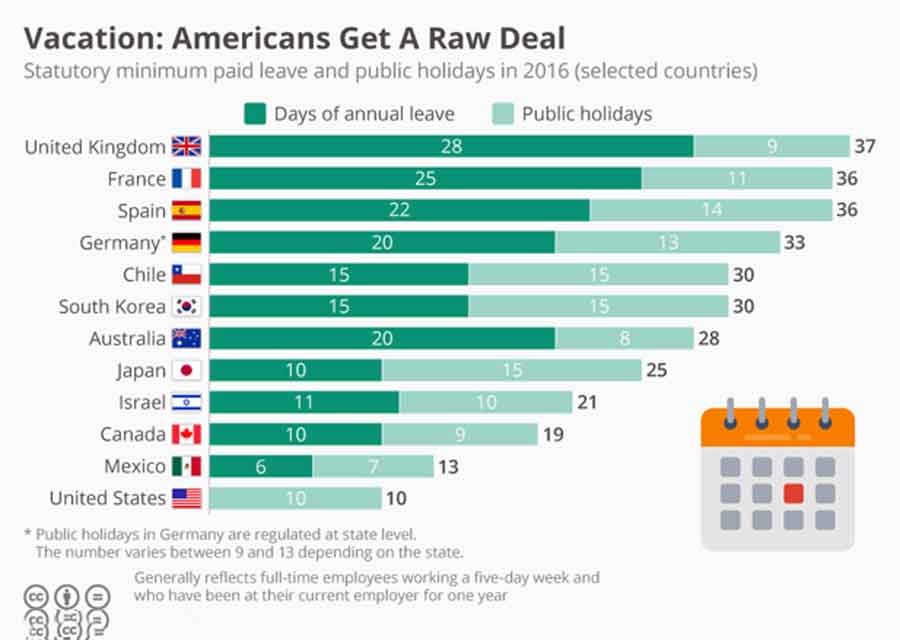 According to Schmitt's data, European countries maintain legal protections to at least 20 days of paid vacation per year,  as well as public holidays, with some nations requiring 25 and even 30 or more days; Australia and New Zealand require companies to bestow at least 20 vacation days per year; and Canada and Japan require at least 10 paid days off.
As per Schmitt many U.S. employees are conferred paid days off on the 10 national holidays, but the dispersion of wage workers is inequitable. It is said that hardly half of the low income workers have been given the paid holiday or paid vacation benefit especially in comparison to 90% high end workers.
Australia, Spain & Germany:
It's not exactly a surprise that 3 European countries ranked first in terms of generosity paid time off. Austria was ranked first for providing employees with 25 days of compensated annual leave and 13 public holidays, for a total of 38 days of paid time off.
France and Spain came next with 36 days all, being followed by South Korea with 31 total days. Germany has 30 days of annual leave (including paid time off and public holidays), the United Kingdom has 28, and Japan has 26.
Moldova & Mongolia:
Although other than U.S, there are nations with the minimum public paid holidays are also there like; Moldova, Mongolia which have no identified legal provisions for pay on Public holidays.
The 2020 study is a little date, but it provides our working hypothesis on how paid time off in the United States compares to other developed economies, ranging from Australia and Austria to Chile and Canada.