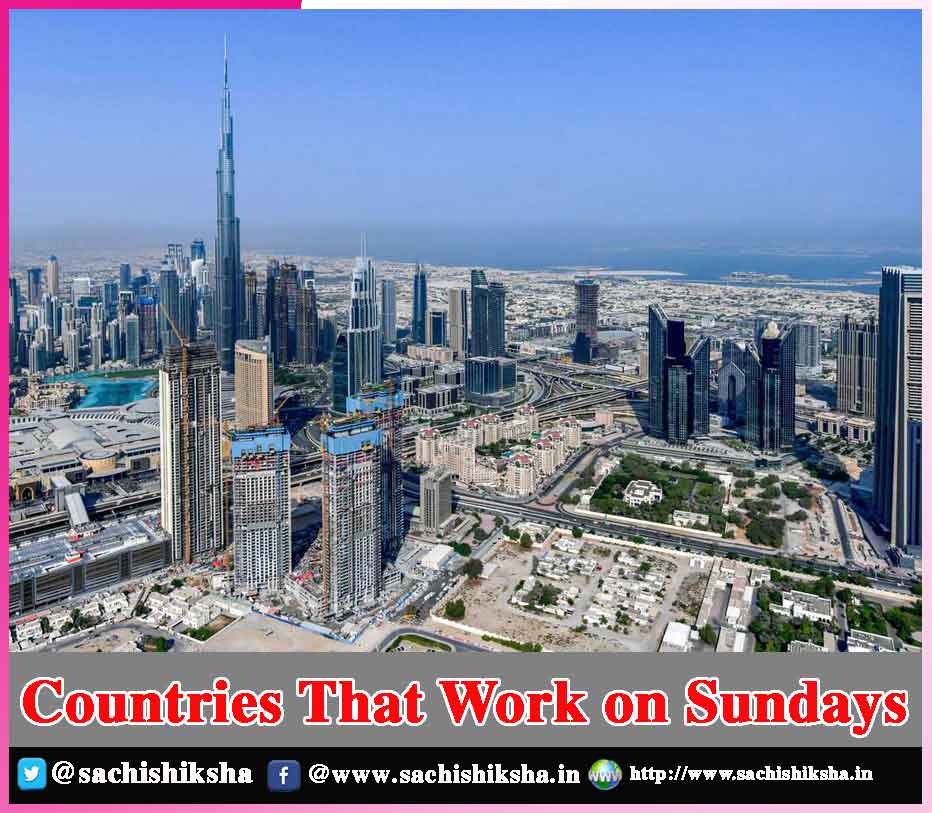 Countries That  Work on Sundays
Sunday! Isn't it a word that we would long to hear after a week'stiresome work? Around the globe, for some, a week lasts for six days, while for some others, it's just 4.5 days! However, after toiling a whole week, anyone would look for a weekend to sit back and relax. A weekend may vary from country to country, often depending upon social, economic and cultural factors.
For most people of the world, especially for those from the West, Sunday is considered as a weekend or week off. The reason behind this dates back to centuries ago. On7thMarch,321, Emperor Constantine who was the first Roman ruler to embrace Christianity, has declared Sunday a public holiday so that people could attend churches.
Also Read :-
In India, at present, we have our weekend on Saturdays and Sundays,

majorly influenced by the Western culture. But when the Britishers came to India, there was no holiday on Sundays – no holidays in fact. The mill workers of India had to work all the seven days of the week, while the British had to go to church on Sundays. It was "Narayan Meghaji Lokhande", who campaigned for Sunday to be declared as holiday.
He started the first labour association in India – 'Bombay Mill Hands Association'. After struggling for seven years, the BritishGovernment declared Sunday as a holiday for Indian workers on 10th June,1890.Having a weekend doesn't mean over-working on weekdays. As per the Factories Act, 1948 (India), every adult (a person who has completed 18 years of age) cannot work for more than 48 hours in a week and not more than 9 hours in a day.
It is notable that most of the American and European nations
(predominant part of the world) have their weekend on Saturdays and Sundays. While most countries of the world work on Monday to Friday work week format, there are countries that do not. We are not sailing on the same boat! The religious beliefs are said to play a key role in deciding the weekend across the world.
There are countries with Islamic culture, where Friday is considered as a day of worship. Suchcountrieshave their work week from Sunday-Thursday and weekends on Friday and Saturday. This includes countries like Bahrain, Bangladesh, Iran, Kuwait and so on.
Israel, being a country that follows Jewish calendar,
has its work week from Sunday to Thursday with average work hours of 42 hours per week. Malaysia, on the other hand, has subjective weekend with respect to their states. In Malaysia, the religious day is Friday, but the business weekend is Saturday and Sunday.
For the states of Johor, Kedah, Kelantan, and Terengganu, the weekend is Friday and Saturday, though many private businesses in Johor observe the Saturday-Sunday weekend instead.The other part of Malaysia including the capital Kuala Lumpur, the weekend is observed on Saturday and Sunday with a long mid-day break on Fridays for prayers for the Muslims amongst them. Yes, the people from these countries work on Sundays!
While most of the Middle East countries work through Sundays to Thursdays,
The UAE has brought in an innovative change. The UAE has not only shifted its weekend to Saturday-Sundayto better align its economy with global markets, but also slashed its working week to four and a half days. The UAE is the first nation in the world to introduce a national working week shorter than the global five-day week. The weekend will start at noon on Fridays, the day of prayer in Muslim countries. This change has been made as an effort to enhance the work-life balance and the social well-being of the people, while aiming at economic competitiveness.
This new format has now become an eye-opener for many nations worldwide. There is a lot of research going around to establish the relationship between the number of working hours and productivity. There is a paradigm shift from the idea of associating longer work hours with greater productivity to greater fatigue, which eventually could marginalize productivity. On that front, UK is set to implement a trial run of four day work week for its employees. The six-month long program will see firms allowing staff to work 32 hours per week while leaving their compensation and benefits unchanged.As many as 30 British companies have agreed to sign up and allow its employees to work according to these guidelines. Sounds like a dream, right? The nations with longest working week like Iran, Nepal, Philippines might take a cue from this unprecedented change.
Henry Ford popularized the 40-hour work week in 1926,
after he discovered through his research that working more yielded only a small increase in productivity that lasted a short period of time. Now, we are in 2022! Of course, we should be ready to welcome some meaningful change. All an employee needs is appropriate work-free days to compensate his/her hard-working weekdays. The work-life balance is obviously an important element of consideration to enhance the quality of both work and life. Weekends can be on even Friday-Saturdays too. It is not mandatory to be Monday blues always. It could be Sunday blues as well!