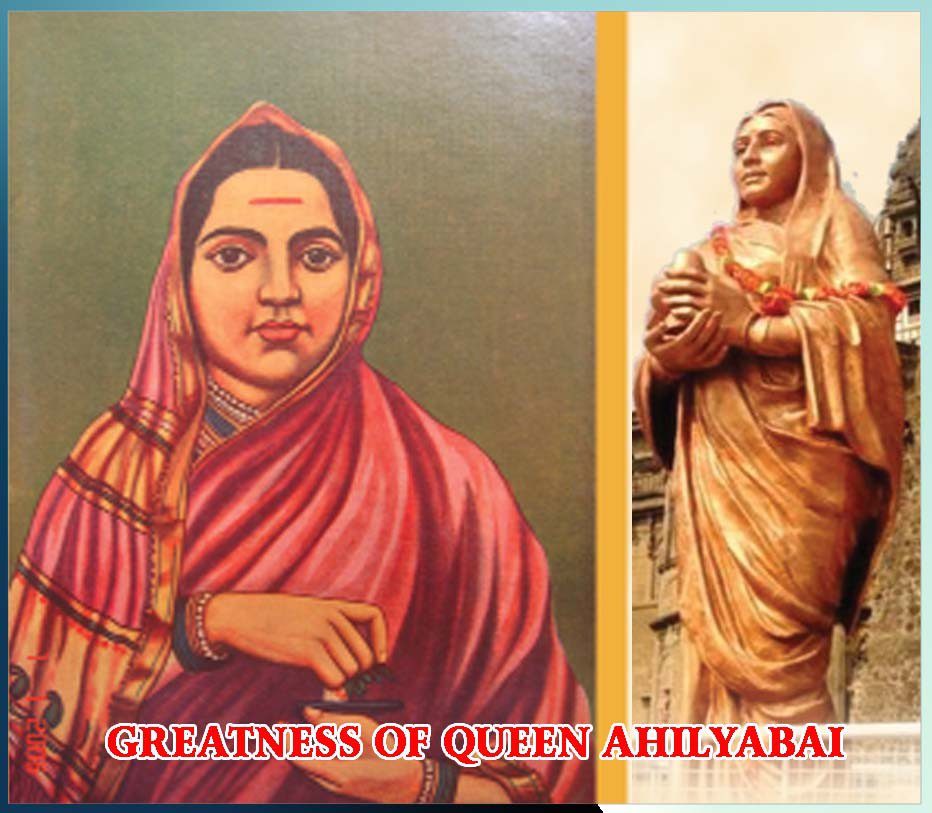 Greatness of Queen Ahilyabai
When the ladies were not allowed to go to school, their right was only to take care of home and the children, then also they added name and fame to India.
Maharani Laxmi Bai, Jijabai, Durgawati, Queen of Kanuur Chenappa (Karnataka) , Jhalkari Bai, Tarabi Rai – Surtan and with these was 'Ahilya Bai Holkar'.
Ahilya Bai was born in1724 in Chaudigaun in the family of Mankoji Sinde in Aurangabad (Maharashtra). Her father was economically weak, small piece of land, two BAIL and one hal, they used to earn their livelihood in this only.
He never used to forget the worship. And that was the thing with Ahilya Bai. She also used to like worshipping God.
Also Read:
SUBEDAR Malhar Rao Holkar used to go to Pune.
At that time he saw Ahilyabai. Malhar Rao Holkar was very intelligent, energetic and DAKSH. His son was of arrogant nature, then only he decided that Ahilya will be his daughter in law.
In the year 1735, Khande Rao was married to Ahilya. Ahilya persuaded Khanderao to learn the war policies. After becoming able, father sent him to Kumbher where he was to recover the tax.
The Jat Community of Kumbher opposed to this and this opposition was converted in war. In this battle Khanderao died. After the death of her husband she wanted to become sati, but the father in law's promise did not allow her to do so.
In 1766, Malhar Rao died. At the age of 30, in 1767, Ahilya took the reign of the state. She took an oath to make every person of her state to be happy and prosperous. Her excellence, simplicity, and Pietism will be remembered for centuries to come.
The Tehsildar of Chandwal always used to torture one Bohra.
Being very harassed, one day he came to the court of Ahilyabai and told the story. On hearing his problem, through one letter Ahilya Bai warned the Tehsildar saying that this type of behavior with the public is not right. She further added that he should have to change is behavior and work culture. She also warned that if in future such type of complaint comes, it would not be good for him. You have recovered the undue money by torturing the people of Shegaon District.
She said you are warned that if such type of incident is repeated, this will be treated as ASHAMY.
In Sironj there was a rich businessman, Khem Das, he was childless. After his death there was no one except his wife as HERIDENT.
Taking advantage of her helplessness, the officers threatened the widow and gave in writing since there is no one to inherit, the Government can take all his assets. She told that she will adopt a child. To adopt a child, at that time that officer demanded 3 lakhs as bribe. Out of pressure, that lady agreed to pay the bribe, but her relatives did not allow to happen this.
They advised her to go to Maheshwar and tell all this to Maharani Ahilya Bai. That lady went to Maheshwar and told the queen that she is a helpless widow.
My husband has passed away and I want to adopt son of my sister, but an officer in Sironj is coming in the way and creating hindrances and demanding Rs. 3 lakhs as bribe and in the event of not paying the money, will take all the assets in Government's control. Ahilya Bai became very angry. That officer was dismissed and the lady was allowed to adopt a son.
Ahilyabai honored the personalities of Art and Literature and gave them prizes. The Art of Maheshwar (Madhya Pradesh) is the blessings of Rani Ahilya Bai.
The Historians of 19th and 20th Centuries have revealed that no untoward incident happened in the period of Ahilya Bai. English Lady Miss Jaanabelly has expressed her emotions in a very beautiful words " She ruled peacefully for 30 years and in her time the glory of the kingdom went on increasing." SABHY AND ASABHY, Old and Young, everyone used to praise her openly.
Acharya Vinobha Bhave used to say, "In the whole Indian History, I consider Ahilyabai as one and only". American Historian Swet Garden, told that not only a single big battle was fought during her time, whereas the surrounding states were not secured.
At the age of 70 years on 13th August, 1795 in the fort of Maheshwar on the banks of Narmada, with AVICHIN and ATAL VISHWAS, she went to place unknown leaving behind thousands of men and women.
-G.K. Kanekar (HIFI)
Follow us on Facebook, Twitter, Google+, LinkedIn and Instagram, YouTube to get more updates related to sachi shiksha Spiritual Magazine, articles.