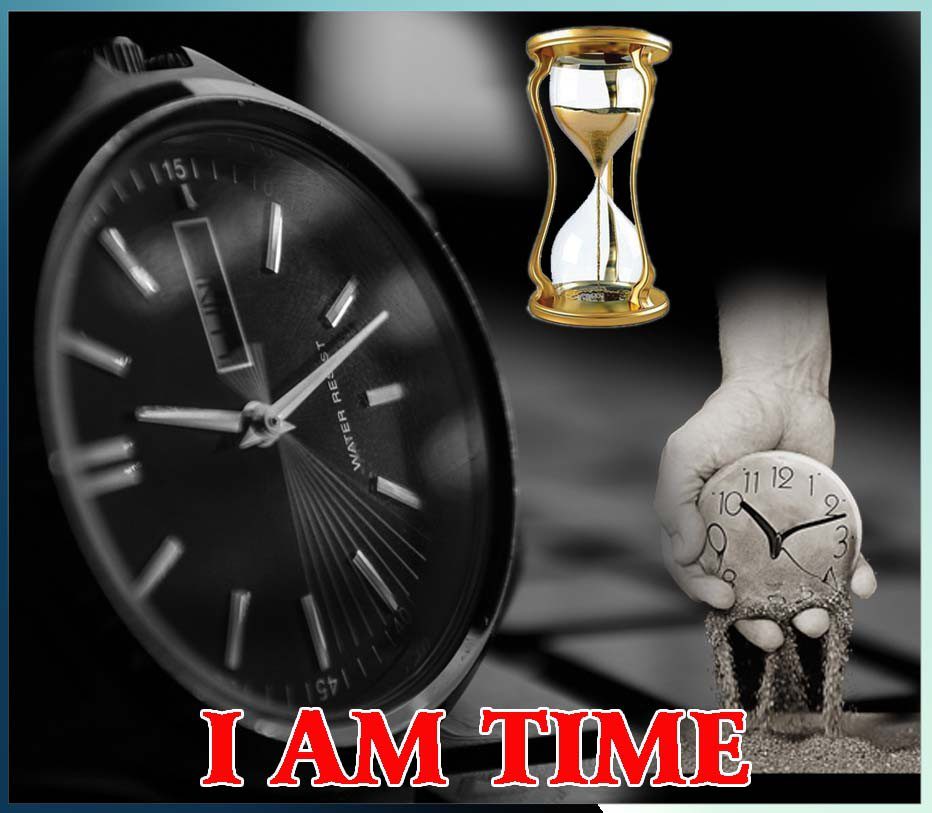 In English I am called Time.
In this physical, polluted and stressed atmosphere, there is a severe recession for me as well. Sanjay Bhaiya has no time to take his old sick father to doctor for consultation.
If told an extra work to maid servant Kamla Bai, she will reply that 'No time now Ma'am' and will go away.
Rachnaji has no time to ask his brother about his well being. Yuvraj has come back home at 2 am after a club party and slept after taking pills, thus he has no Time for the Pranayam (exercise).
The middle daughter is always so busy and mad in chatting with friends on mobile that she does not even have two minutes to hear the father who is having severe headache and the mother crying with knee pain.
Chetan is so mad in running after the girls on bike that he does not remember that he has to take his sister to temple. Dolly ma'am has to go to Kitty party, so she cannot remain at home till the kids return from school.
Mr. Shekhar is always busy in office so that he is promoted to Chief Engineer and that is why he did not spare time with the kids for past one week.
In spite of having full family of son, daughter in law and grandchildren, old lady is requesting with folded hands that get her spectacles repaired. Understand it, truth is always bitter.
But in the childhood we have studied that time is a doctor, it is medicine, it is a soother, it is precious, the past never comes back. Did you forget? I am Time and I am always moving.
Gandhi, Teresa, Nehru, Teacher, Student, Priest, Maid servant, Labourer, Clerk or CMD; nature gives equally 24 hours to all and will continue it. In this temporary world, in everyone's life my Time is limited.
I am available to everyone. It is up to you that you make use of me or misuse me. On me (ON TIME) many books are being written. Books written on me are being purchased like a 'hot cake' but who has the time to read these books.
These books are spoiled in the almirahs. Students make the time table and read every subject.
Do not misuse me on TV, Game and Mobile. Concentrate on studies, complete full course and prepare notes. Mine early morning is best for your studies. Give full care to me at the time of examination. If write only what is called, you may never find shortage of Time.
Check the answers yourself once. Keep my control in your hands. Take simple and pure food, keep the health intact, invest me in good works, read good books, do something innovative, learn good habits, I am available to you for one year only.
If you waste me, you will be pulled back. If you concentrate on character, health and studies, I will return good, sweet and tasty fruits in less Time. Housewives, you are awfully busy in serving the whole family, let me allow to think and do about you.
For yourself and for your health, understand my value. Keep yourself fully involved in music and literature for half an hour. Keep yourself healthy, take balanced diet. To you also I am available 24 hours.
To keep yourself hale and healthy, try to spare one hour for me out of your busy schedule. Working women, sailing on two boats of home and school, you must be getting tired physically. You must not be able to catch hold of me.
The shortage of mine is tremendously felt by you. Why you remain so stressed? You have to do so many works in parallel, even then you are abused in the school, and also have tears in the house, you pressurize your heart and mind, also do injustice to your body, and your kids grow in the crèches. Your own kids miss you.
I am very precious for you. As you prepare budget of your salary, make budget of mine also.
In addition to caring of others, spare sometime for yourself too, if you care yourself physically and mentally, then only you will be able to do justice at both the fronts. Think of yourself also and necessarily do something for yourself.
O Powerful man:
Had you taken the wife and kids to the fair? Have you checked the school copies of the kids? How many friends you know in the saved list of mobile of your teenager son and daughter? On the birthday of your wife, do you give 24 hours of mine as a gift? Does the whole family dine together? Even if very busy, give one hour daily to your family. Go for a morning walk. I keep on moving.
You cannot tie me, but as you balance diet, balance me too. Respected Senior Citizens: Your problem is different. You do not know how to use me.
You consider that why 24 hours, even 12 hours are more than enough. In the evening of your life, do some social service, do teaching to small children. Read good books, if have interest, do writing, give training of Yoga and Pranayam. Let your son and daughter-in-law and daughter and son-in-law have some relief, share some of their responsibilities.
If possible become tutor of your small grandchildren. The tasks you could not do during the domestic and business life, do them now, and then see you will not be bored with me. You will understand my importance. You will accept me.
Dear Readers, I am not available as loan on credit cards. I am also not available on discount during sales, I am also not available on exchange offers, I am also not available on buy one get one free basis. Prepare budget of mine according to the priorities and your need.
Do not make your life as curfew but also do not waste me. Keep yourself busy, but remember do not be mismanaged.
If you make good use of mine for leading a balanced life by thinking and understanding, at the end of life you will say that whatever time you have got you have not wasted anything but you will say that you have received much. Accept myself. I was always with you, I am and will always remain with you.
-Dilip Bhatia
Follow us on Facebook, Twitter, Google+, LinkedIn and Instagram, YouTube to get more updates related to sachi shiksha Spiritual Magazine, articles.