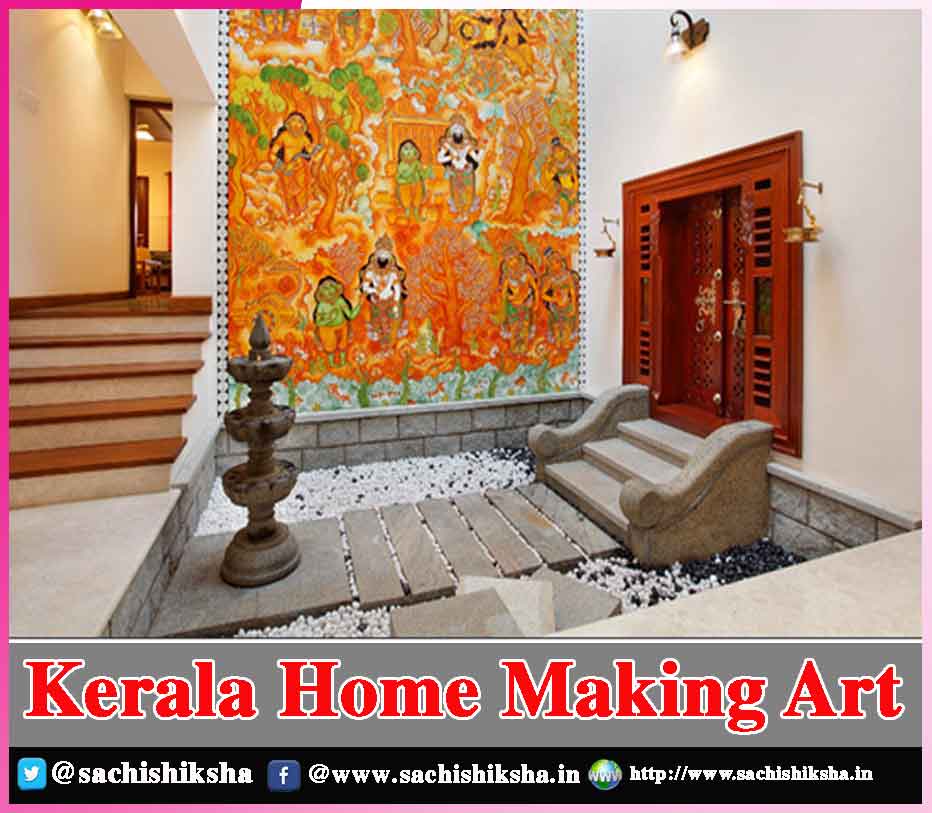 Kerala Home Making Art
Traditional Kerala-style houses have an appeal of their own. They are designed on the architectural principles of the Thatchu Shastra (the science of carpentry) and Vaastu Shastra. Traditional houses of Kerala are still relevant. People have preserved their homes and the concepts of vernacular architectural designs.
The land surrounding the houses has ample growth of fruits, vegetables and coconut trees. Houses are constructed as per Vaastu Shastra, which suggests the east and north direction for the entry of a house. Besides aesthetics and comfort, the houses are planned to deal with climatic conditions. Kerala's traditional houses are built to withstand heavy rain and heat.
The traditional architecture of Kerala is known for its use of natural materials and comfortable, well-ventilated interiors. Cattle shed, granary, kitchen, dining hall, bathrooms, bedrooms, pooja room, and a well or pond are part of a well-designed traditional house called Nalukettu.
Also Read:
Nalukettu
The traditional architectural style of the houses in Kerala is called Nalukettu. Nalu means four and kettu means blocks. A nalukettu refers to a rectangular structure where four blocks are linked by an open courtyard. It is largely single-storeyed and made with wood. They can be two-storeyed or three-storeyed and have lateriteandclay mixture walls.
The blocks denote directions – vadakkini (northern block), padinjattini (western block), kizhakkini (eastern block) and thekkini (southern block). Kizhakkini is the puja room, thekkini is for keeping wealth and family rooms, padinjattini is for storage (grains in old days), and vadakkini is for the kitchen. The outer verandas along the four sides of the nalukettu are enclosed differently. The west and east verandas are kept open while the north and south verandas are enclosed or semi-enclosed.
Features
Traditional style houses in Kerala were usually constructed facing the east or north as per the principles of Vastu Shastra. Trees were also planted on each side of the house. Sloping roofs, porches, verandas and parapet-style seating were all features of the traditional Kerala house. The traditional Kerala house design ensured ample light and cross-ventilation.
Material Used in Construction
The traditional houses in Kerala are usually designed with clay, timber wood, palm leaves, and locally-sourced stone and wood, and are in harmony with nature. Laterite is the local building block that Keralites use for construction. Timber has also been an important construction material in Kerala. Usually, teak wood, mahogany, sandalwood, and the wood from the jackfruit tree is used for house constructions.
Distinct, Sloping Roofs
The most noticeable feature of the traditional houses in Kerala are the red and brown sloping roofs. As Kerala receives heavy monsoon, homes are designed with sloped roofs covered in terracotta tiles that help in water drainage and keep the interiors cool during humid weather. Gabled windows at the top of a nalukettu ensure cross-ventilation and allow entry of light into the attic.
Entrance
A padippura is a peculiar feature on top of a nalukettu gate that comprises an elaborate temple-like gopuram. This arched entrance begins with the fencing of the house and has an impressively designed door with a tiled roof.
Courtyards
Courtyards are an integral feature of every Kerala house with most family functions taking place in this part of the house. The courtyard is called the nadumuttom and is the prime centre of a Kerala house. It is usually square and is located in the exact centre of the house. As per Vaastu Shastra, it is a column-free space.
Traditional houses in Kerala had two verandahs – internal and external verandah. The external verandah helped to reduce direct exposure to sunlight. The internal verandah allows light to enter the house via a courtyard. Also, it was used for drying rice and as recreational and open space for children to play. A tulsi plant was placed in the centre of the courtyard of Kerala style house and was worshipped.
Pillars
The roof frame in traditional Kerala houses is structurally supported on the pillars on walls erected on a plinth raised from the ground for protection against dampness and insects in the Kerala monsoon. The pillars in the house instead of walls, were a common factor in Kerala's old house interior design. The pillars were placed on the sitting area on the front porch of traditional Kerala houses.
Charupadi (veranda seating)
Traditional houses in Kerala have charupadi, a built-in wooden seat in an extended porch or balcony, called the poomukhom, facing the entrance. This veranda allows one to relax and enjoy the views around the home, the breeze, and the rain. Traditionally, these were made for the family and visitors to sit and socialise.
Ambal Kulam (pond)
Designs of traditional houses in Kerala ensured that homeowners were never away from nature. As per Vaastu, water bodies balance the energies of the house. According to Kerala architecture, every traditional house has a pond situated at the end of the chuttu veranda, an open passage. Traditionally, this pond was built with rubble and was used for bathing. The pond also helped the family to unwind and relax in the evening.
Interior Designs
Traditional houses in Kerala are known for their sturdy wooden furniture and intricate wooden carvings. Even today, traditional handicrafts of Kerala like wooden seating with fewer cushions, oversized chairs, four-poster beds, and recliners made of wood in the dark polish, are popular all over the world.
Traditional metalwork of Kerala like hanging bells, brass lamps (nilavilakku), and idols of Lord Ganesha, Goddess Lakshmi, Nandi bull, and elephant also decorate the interiors. Ornamental brass locks called manichitrathazhu adorn the double-door entrance.
Wooden Furniture
In the traditional homes of Kerala, wooden furniture was widely used. Kerala is well known for its elaborately designed wooden furniture, which showcases its rich cultural heritage. The uniqueness of Kerala's wooden furniture lies in its intricate craftsmanship. Kerala woods, such as teakwood and rosewood, are known for their strength, durability, comfort and aesthetics.
Modern houses in Kerala have incorporated many features of the traditional Kerala homes, especially open architecture and spacious floor plans, and nalukettu style of architecture like the sloping roof, a small veranda supported by tall pillars, and a mini courtyard in the middle.
Advantages
There are many advantages of traditional Kerala architecture. Natural and local materials are used that improve durability and encourage a higher level of detail and craftsmanship. These are also more cost-effective. Local materials such as laterite stone, wood, clay, bamboo and granite etc are easily accessible and sustainable.
Traditional Kerala houses use granite slabs below the ground to avoid dampness. For maximum natural light and air passage, courtyards, walls and internal partitions are designed to induce continuous air movement and cross-ventilation.