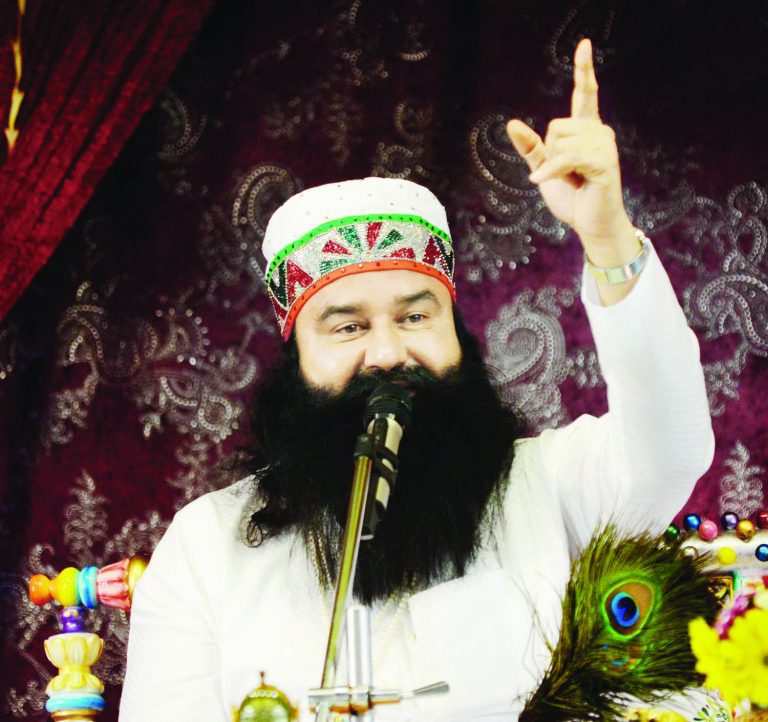 The Love of the Spiritual Guide is Superlative
Spiritual Discourse (28th February), The Great Benevolence Day
Revered Param Pita Shah Satnam Ji Dham, Dera Sacha Sauda, Sirsa
God's adorned and lovely spiritual followers! As all of you are aware, today is the day for which this decoration has been done. Shah Mastana and Shah Satnam became one and They have not only decorated the outer-self but also the inner-self of one and all.
It is that day on which Sai Ji granted His form to Shah Satnam JI, the Benefactor by making Him sit beside Him. Then many-many congratulations to one and all on this Great Benevolence Day. Many-many greetings. May God fill coffers of one and all! May God grant happiness ! May God enrich you with grace and benevolence!
On this day, Sai Mastana Ji made Param Pita Shah Satnam Ji, the Benefactor, His own form and then Shah Satnam Ji, the Benefactor, stated thus, "We were ,We are and Only We will remain". Spiritualism, is very deep.
Obtaining a high grade in spiritualism is like that of winning a gold medal in both the worlds. The spiritualism is so deep that the deeper you go, the more you will know the depth and the more the man realizes the divine pleasure. If you go into some other depth then you will feel the suffocation.
You will feel the danger for life! How will I go out of this depth ! That is ,we suffer from a lot of fears. But, the more we descend into spiritualism , the more we ascend spiritually , then forget the fears, we feel as if we are flying ! We feel the state of absolute divine pleasure ! We get such happiness as cannot be explained by writing and speaking.
Such is the decorum of the Spiritual Guide and the disciple :
Today's' day teaches us the decorum of the Spiritual Guide and the disciple. Today, we talk about Him who became the Disciple and that Disciple become one with the Spiritual Guide or vice versa. When Shah Mastana Ji had to instal Shah Satnam Ji on the Royal Seat then Sai Ji stated these words,"O brother, leave everything behind and come to Dera Sacha Sauda.
Render Humanitarian service! Then His Holiness came to Dera and started doing service. The landlord of Jalalana Sahib, its not wrong if We call Him the head of the village!. He was making bricks with the person who used to work as a servant in His fields!.
The whole village was watching! And they were making bricks!. Thus, they made those bricks. They got the Dera constructed. Shah Mastana Ji made Him to leave the mundane world and called Him Dera . Mastana Ji Maharaj ordered ,"O demolish, destroy Your house ".It is easy to say but difficult to do it as nobody can demolish even a shop, if he has to. However, His Holiness started demolishing the house.
Then somebody trained that see His house has been destroyed. This has been done! That has been done! You know that it is not possible to ask somebody to keep his mouth shut .
But the house was destroyed and His Holiness came to Sirsa with all His belongings. His Holiness ji had a motorcycle even at that time. Whatever belongings He had, He came to Dera with all that. Sai Ji was very happy and said, "O brother, all Your belongings have reached , now You look after it, too". Now one more difficulty over another.
There was storm and rain. His Holiness was looking after His own belongings as per orders of His Spiritual Guide. Then Sai Ji said," O brother, these are Your belonging and You take care of it". Now, Shah Satnam Ji the Benefactor-became happy.
He called people and distributed all His belongings. When Sai Ji came out in the morning, there was nothing. He said ,"Brother, where did all the belongings go? Has it all been stolen? Then His Holiness said," Sai Ji, You only had said that it was My belonging and I should take care of it. Then I took care of it"! Beparwah Ji said" What have You taken care of"? Then He said,"I distributed! I was kept away from Your glimpse! Who will take care of it for the whole day. I have come here for Your glimpses". Sai Ji said,"Bravo ! well done!"
Now ,think a bit, there are small kids, there is no house to live in. The father who used to love His children He did not take even a moment and got the house demolished at the first command of the Spiritual Guide.
What do you think, do the Spiritual Masters not have hearts inside? Do not have emotions?
Hey.. Nobody has the emotions inside like the ones they have! But all the emotions are reserved for their Spiritual Master. Then those yearning children, without a house, but nobody cared for them! Then came this day and Sai Ji made Shah Satnam Ji the Benefactor and installed , on the Royal throne of Dera Sacha Sauda.
And gave Him the power of both the worlds…..and Beparwah Shah Mastana Ji Maharaj, merged with Shah Satnam Ji the Benefactor and God-Himself Both of them merged with each other and thus became one.
At that time many people created a lot of hullabaloo. Some selfish people projected themselves as the spiritual guide of Dera, thereby misguiding people. But truth can't be eclipsed by evil forces. The Spiritual Entity illuminated by God-Himself can't be shaken. Thus, finally Shah Satnam Ji Maharaj starting emancipating the people.
The count of spiritual followers reached from hundreds to thousands to lacs. His sacrifice and devotion is unique. It can't equated. His Holiness did all the works on His own. They even cooked the food themselves such is the relationship between the Spiritual Guide and the Disciple.
There used to be a time when people would spend their whole life in pleasing the Spiritual Guide. One of them is Bulley Shah. Bulley Shah used to love his Spiritual Master immensely. It is said that on some issue ,his Spiritual Master got offended with him. And he was ordered to leave and not take a glimpse. He went away from there. Once shades were being erected. The volunteers were fixing the stakes, nails and pegs.
It is said that there was a small hole in the wall, at the extreme bottom side .They thought why not fix the stake at that place ,the rope will be fastened easily. And the moment they tried to fix the stake, a few drops of blood came out.
They ran towards Sai Ji and said that Sai Ji, please see! There was an animal….! We do not know what happened…! We made a mistake! We were fixing the stake for the shade! But the drops of blood were seen. The Spiritual Guide of Bulley Shah started saying, "No brother, no animals! It could be my Bulla…"! And in reality ,it was Bulley Shah! From the small hole, he was having a glimpse of his Spiritual Guide.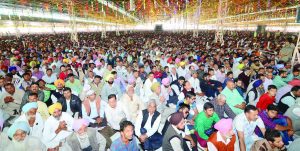 S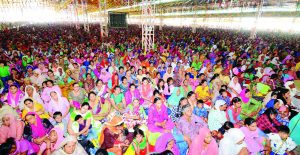 ome time passed. The devotees used to sing psalm and dance. Some people after getting ready, were going to meet, 'Inayat Shah' the Spiritual Guide of Bulley Shah. Bulley Shah enquired as to where were all of them going? They replied they were going to perform dance (Mujra) in front of their Spiritual Master.
Bulley Shah requested those ladies to include him, too. I would not let your name go down. They replied in the affirmative. But you have got beard and moustache, how will you do! Bulley Shah told them not to be worried!… well he was from the upper caste and the Spiritual Guide was from a very low caste.
At that time, people would believe a lot in caste and creed. But he got himself clean shaven and wore clothes of a lower class female and started dancing. The Mujra (Dance) was being performed in the court of Inayat Shah. While the Spiritual Guide was sitting and the disciple gets a chance to please Him, what else! He danced in a veil with bells fastened in his feet. The instruments seemed tired! The voice got stop! But his feet did not stop.
He kept on dancing. Sai Inayat Shah said, wow! wow! The dance was done by others, too, but the way this dancer danced, We got the impression that the dance was being done in the court of Allah! It is not happening here! Sai Inayat Shah got down and got nearer and enquired who he was, who danced so well.
That girl folded her hands and while wearing the clothes of a lower class female, she said ," Sai I am your Bulla!" And Sai Ji hugged him and said "no, you are just not my Bulla but Bulley Shah! He was blessed such a high spiritual status that he is remembered with respect even today. His sermons are read with devotion. So, such is the bond between the Spiritual Guide and the disciple.
Follow us on Facebook, Twitter, Google+, LinkedIn and Instagram, YouTube to get more updates related to sachi shiksha Spiritual Magazine, articles.