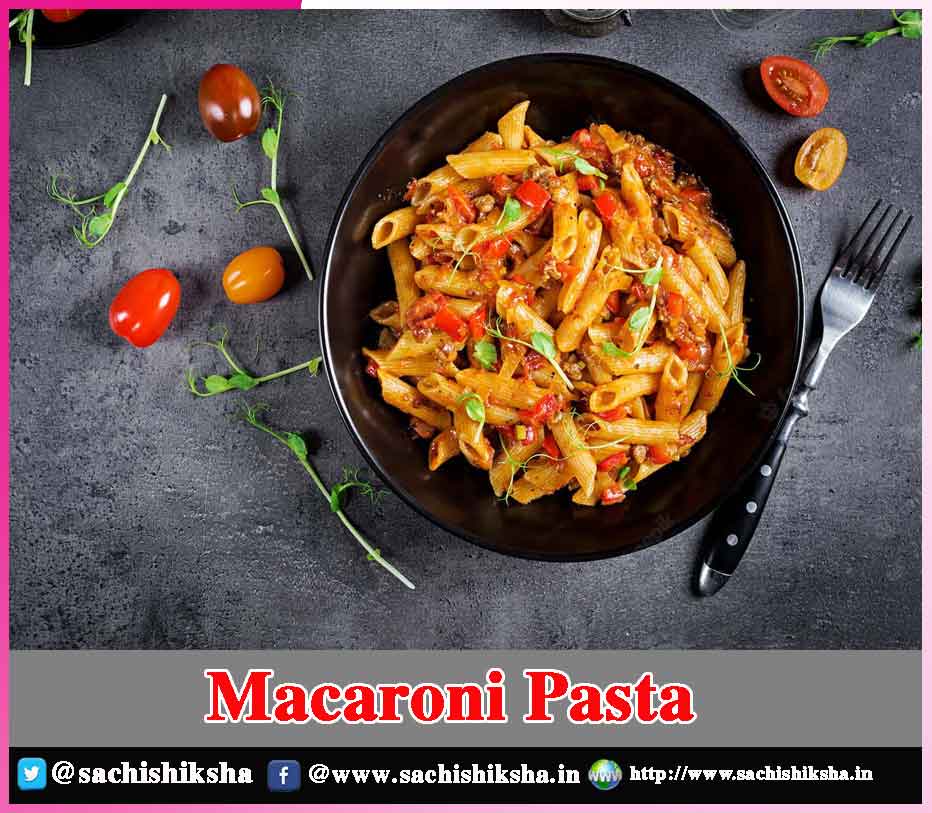 Macaroni Pasta Ingredients:
Pasta – 1 cup,
Capsicum – 1,
Yellow capsicum – 1,
Tomato – 2. Carrot – 1,
Oil – 2 tbsp,
Green chili – 1,
Finely chopped ginger – 1/2 tsp,
Grated black pepper – 1/2 tsp,
Chilli flakes – 1/2 tsp,
Salt – 3/4 tsp,
 Tomato sauce – 4 tbsp
Cream -1/4 cup &  coriander leaves
Also Read:
Macaroni Pasta Method: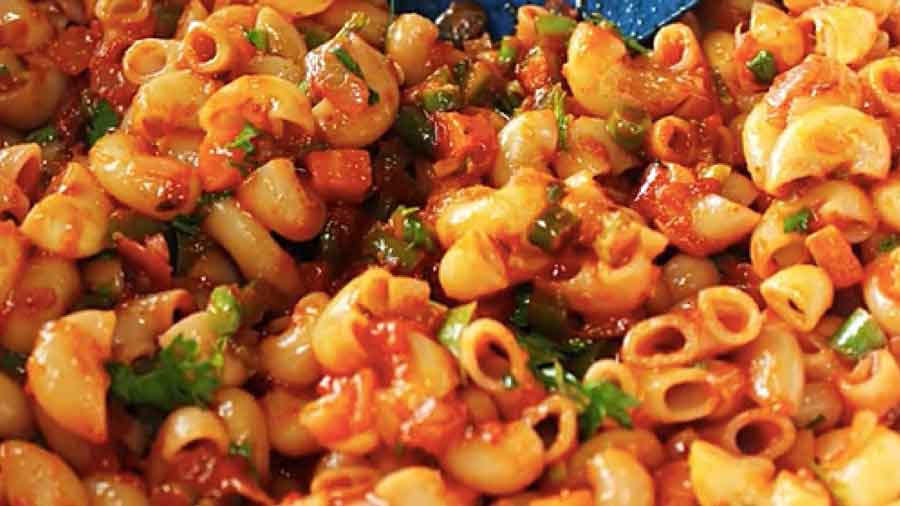 First of all, put 2.5 cups of water, half a teaspoon of salt and 1 teaspoon of oil in a vessel. Now cover it & put it on high flame and let it boil. When it starts boiling, put 1 cup pasta in it and cook it on a medium flame for 9-10 minutes while stirring occasionally.
When the time is up, turn off the flame and filter them immediately and keep them on another bowl in a sieve. Stir them once and let them cool slightly.
Peel off the carrots, wash them thoroughly and dry them. Similarly, wash green capsicum, yellow capsicum and tomato and then dry them. Now cut them as you want, remember to remove the seeds and center of capsicum and tomato.
After cutting the vegetables, put 2 tbsp oil in the pan and heat it. Put 1 finely chopped green chili seed removed in hot oil & add another half teaspoon grated ginger. Fry them lightly and add chopped carrots, green capsicum and yellow capsicum to it.
Fry them on high flame while stirring continuously for 1 minute. Then add chopped tomatoes to it and stir continuously and fry for half a minute. After this, add half a teaspoon crushed black pepper, half a teaspoon chili flakes, salt as per taste and 4 tablespoons tomato sauce. Mix them well.
Then add boiled Macaroni to it and mix it lightly. Then add 1/4 cup cream and mix it well. When mixed well, add some green coriander and mix it. In this way Indian Macaroni Veg Pasta will be ready. Serve it and enjoy its taste.