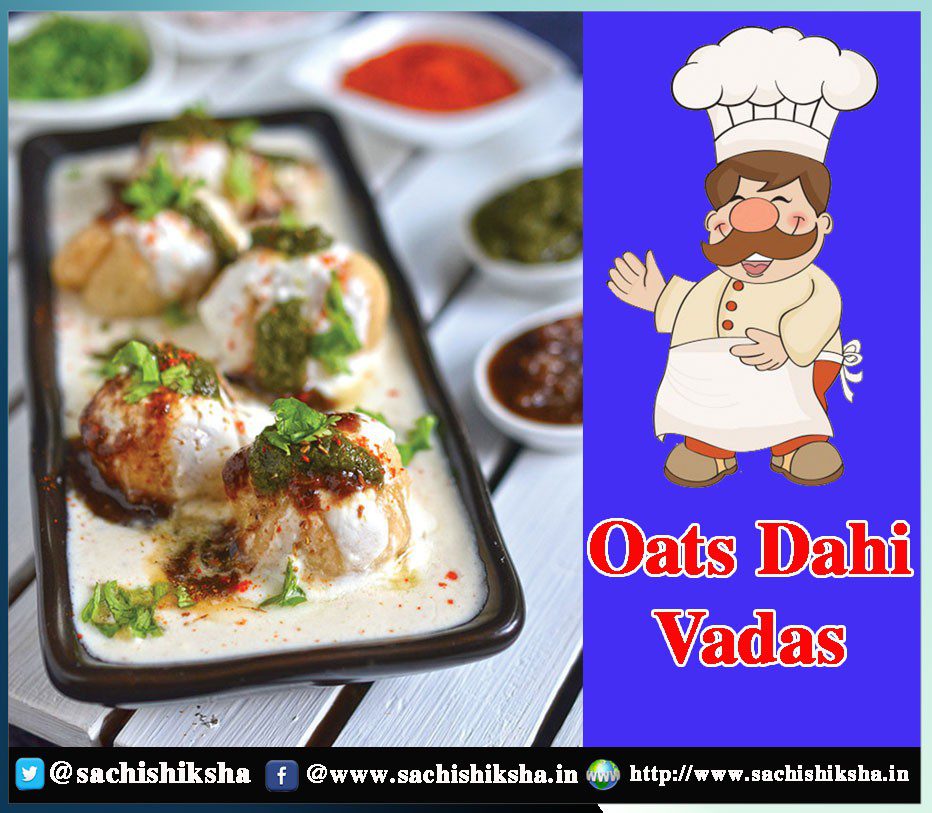 Oats Dahi Vadas
Ingredients:-
150 grams of oats powder,
50 grams of urad dal(split black lentils),
50 grams of moong dal,
(split green gram),
200 grams fresh curd,
one pinch of baking powder,
1 table spoon cashew chopped,
1 table spoon raisins,
salt flavor,
Chat masala,
1 table Spoon red chilli powder,
1 table spoon cucumber cumin powder.
Method:-
First wash and clean the lentils and keep them both for three to five hours separately. Take out the water and grind both the pulses. Take the pulse of powdered paddy in a big utensil. Pour the oats powder, baking powder, salt and stir well. The more variants of the curd, the more curd beams will become soft. Mix cashew pieces and raisins in curd curry paste. Now prepare all the pulses and prepare the dough.
Take water in a large utensil. Put all the vadas in it and keep it for 20 minutes. After 20 minutes, pressing a vada with the palm, remove excess water and put it in another large utensil. In the same way remove the water by pressing all the vadas. Put the curd in a bowl and spoon it well.
Add salt and sugar to it. Put this curd over the vadas. Sprinkle Chaat Masala, Cumin Powder and Red Chili Powder. Take, your delicious dahi vadas are ready. Serve them in a bowl.
Follow us on Facebook, Twitter, Google+, LinkedIn and Instagram, YouTube to get more updates related to sachi shiksha Spiritual Magazine, articles.