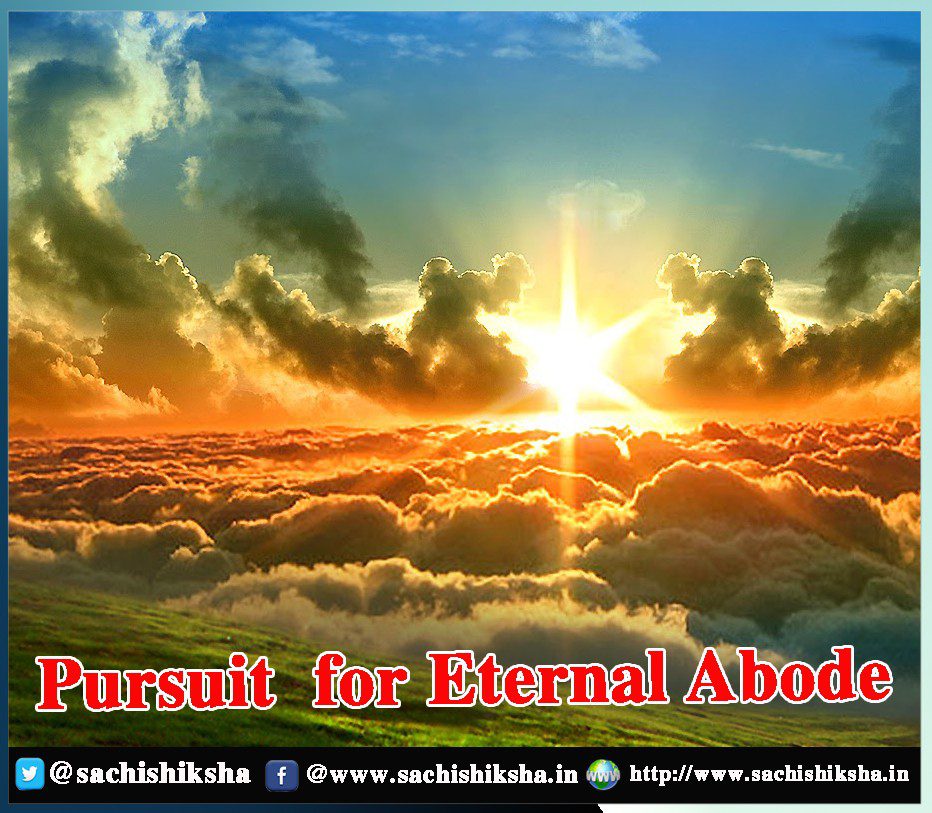 Pursuit for Eternal Abode The pleasure of paradise are hidden and far beyond human perception. The people, in general, believe that eternal abode is considered as residence of soul and is blessed by the Divine Lord and the believers only will get this honor of paradise. They can reside in the neighborhood of angels enjoying the supreme benevolence. Pursuit for Eternal Abode
Bliss of Eternal Home
The word 'eternal' stands for ceaseless, everlasting, immortal, perennial, perpetual, and deathless, as the one that neither has a beginning nor the end. The 'abode' means the permanent residence in the form home or paradise. The eternal subject only relates to the supreme Divine Power (God) that projects towards heavenly destination; permanent 'Avtar' or Divine abode; holy, humble, supreme and celestial abode. In Hindi, it suggests about Swargvaas, Nirwana and Snatana Dharma Banwaas.
The paradise has actual spiritual sky, with spiritual planets, which are more spacious and greater in number than the planets in material sky.
The residents blessed to stay there are full of eight qualities of wealth, strength, knowledge, beauty, fame, happiness, contentment and renunciation.
The spiritual knowledge acquired during life time cannot be taken away. It will continue to persist even after death.
The celestial abode is transdental place, once achieved, the soul never returns to the material world. He or she attains supreme perfection, living engaged in devotional service in the eternal abode; attain the perfection of human life.
The atheists and less intelligent do not have information of the creator and His eternal abode in the spiritual world. It is far beyond the range of their visibility.
The God has in store to reward His faithful followers. The sinners will be supported within hellfire, whereas, the believers are granted their entire control containing all that they desire.
The palace of paradise has gardens with flow of rivers, houses of red rubies with decorated carpets, dining tables, delicious dishes etc. The believers get strength to derive pleasures from all these bounties.
The dresses and ornaments in the form of silky green robes, adorned with pearls and bracelets of gold.
The food and drinks in the Divine throne is whiter than milk, sweeter than honey, softer than butter and grass with fragrance of saffron.
No body has directly observed the conditions and atmosphere of heaven or hell. It seems to be a thought of imagination.
Life on earth is regarded as temporary journey from earth to heaven with departure from earth. The soul migrates from mortal world to its eternal abode.
Aspects of Heaven and Hell
Heaven is holy, clean, beautiful and perfect place considered as dwelling of God and His angels but also provide blessing for prophets and eminent devotees. It is without tears and pains. God wishes to dwell with you and wipe away all your sufferings. Heaven refers to endless planets, stars and galaxies in the sky area much above earth.
Heaven is considered as, 'Vaikantha, Brahmlok, Devlok and Swarglok' by Hindus and Jannah in Quraan. It is a gift blessed through God when the devotees have lived with true faith. It bestows great calmness, contentment, joy, health, peace and delight. The believers are granted their kingdom that comes entirely in their control, containing all that they desire. According to certain religions, heavenly beings can descend to earth or incarnate and can ascent to heaven after life. As per versions of Willium Shakespeare, heaven is treasury of everlasting life. Salvation cannot be earned, but is a gift from the grace of God; you have been saved through real faith.
Hell corresponds to atheists, committed to sins during life. It is considered as fiery, painful and harsh, providing sufferings to guilty. It is subjected as punishment to the wicked and unrighteous after death. Hell is ruled by devils. It is underground place of torments, misery, agony and wretchedness. According to Chanakey, the poisons are due to excessive necessities in the form of hunger, ego, greed, laziness, injustice, anger, increased wealth and desires, and worst habits. The sinners come short of the glory of God. People involved in wrong actions always fear of untimely death and departure to hell.
Supreme Life on Earth
How do we feel our life on earth, that of heaven or hell? Actually, we should feel our journey like the noble qualities of heaven and should never develop bad expectations of hell.
Every person has to spend life on earth right from birth to death. Life span of a person is limited. Each day brings us close to death. It can be natural due to old age or accidental. The sense of imagination regarding the ultimate possibility of period expected after death is unseen. But the life on earth has no sorrows that Divine cannot heal.
Human race is sublime, supreme and distinguished creation of God. Every success on earth is heavenly bliss.
People consider that their activities depend on the fortunes and they can never carry anything after death. But they gain pleasure, fame and venerable notoriety due to their wisdom, skill, contentment and devoted assistance to the society.
Brave and practical concept is to 'do'. Think yourself to be unique that you can do something special which others cannot. Thus identify and implement your noble qualities and capacities.
Life is our time blessing, do not waste it. Use the secrets to create your life much like a distinct movie, since you are the script writer, actor and director.
Let us remember that Almighty Lord is within us. Let us surrender our life to God and rejoice His blessings on this earth. Let us never forget that He walks with us and guides us at every step. We will continue to meet Him here and there.
Disappointment, despair and pessimistic outlook disturb self-confidence. Negative thinking leads to weakness in mind and physical strength.
Acquire Eminent Qualities for Better Destiny
   You are master of own fortune and creator of your future.
The person having good health and refined qualities live for a longer period. The objectives be noble for positive benefits, the perceptions be positive, mood be pleasant and selfish desires be least. Never feel old, tired and exhausted. Always try to work with exertion of vigor, purity of thoughts and actions, continue with situations of endeavor and efforts.
Every person should realize broad essential themes, with noble purpose and objectives of life (like profession, job, agriculture, great care to family and society, dedication to nation and acquire prominence for education and religion).
Develop team spirit. Convey regards and thanks to the persons who motivate and guide you. It is not good to promote any links with people of evil and negative thinking.
Acquire virtuous qualities of honesty, humility, charity, contentment, tolerance, kindness, justice, universal brotherhood, strong determination and respect of all religions. Never give up until you succeed. Study additional books on general knowledge and literature to raise moral values. But do not misuse internet.
Discard bad habits of anger, hatred, lust, greed, anxiety, bribery, ego, gambling, commercial speculation, intoxicants, violence etc. Always avoid unfair means, oppression and hypocrisy. Do not stick to age old techniques but try to adopt innovative concepts for achieving better results.
People with innovative work and strong winning spirit take the defeat as a challenge.
Time is precious and you can imagine for rebirth. Yesterday is like a cancelled cheque, tomorrow as a promissory note but today is like ready cash, use it with full profit. Live this moment, live it fully now in the present time. Life is sometimes very busy, sometimes full of anxieties and agitations but death is calm, cool, silent and peaceful. Only the fear of death is painful which has to be baseless.
For the child of God, death is not the end but merely a door into a higher and more exalted life of intimated contact with God. Death is like a dark valley opening out into the eternity of delight with God. Therefore, God should be considered as the ultimate Divine entity to fulfill all desires. The Great Lord is the sole doer. He has created the universe and uploads it. It is up to Him that we have to merge and enhance our destiny. The winning spirit gains respectable status.
Life on Earth is Great Bliss
Human life is special zest, enjoyment, excitement and enthusiasm.  Being born on earth is the most honored privilege. Make your life sublime on earth. Do not think of expected living on heaven or hell. Heaven and hell are both on earth awarded by the Divine lord as per your good and bad actions. To believe as human being, gives us a chance to extremely beautiful and pleasing sect of magic that are not possible in heaven. We have to follow specific and marvelous purpose to life in order to make it meaningful to achieve the utmost excellence.
Soul is celestial, Divine and immortal entity. As per certain religious concepts transmigration of soul to any other race depends upon the generosity and subtle action during life span. Therefore, resolve to be strong and courageous.
Try to carry firm belief in Divine Power. No body has lived for ever nor can anyone live for ever now, but can achieve everlasting status through excellent thoughts and actions.
Make attempts to achieve truthful life with optimistic attitude which help to gain Divine bliss and attain eternity.
Get involved in meditation because it provides sufficient strength to mind and soul. One should plan and act with strong determination to accomplish the task.
Adopt noble qualities of self reliance, admirable tasks, appreciable team spirit and overall spiritual elevation.
We must continue our sincere efforts to achieve benevolence of God so as to understand the real meaning and purpose of life. We must try to remain involved in prayers and meditation with commitment, patience and humility. Get engrossed in limitless grace of divinity so as to cherish eternal bliss.
Follow us on Facebook, Twitter, LinkedIn and Instagram, YouTube to get more updates related to Sachi Shiksha – The Famous Spiritual Magazine in India.
Dr. Triloki Nath Chugh Insan,
Retd.—H. E. S. GOVT. NATIONAL COLLEGE, SIRSA (Haryana, INDIA)