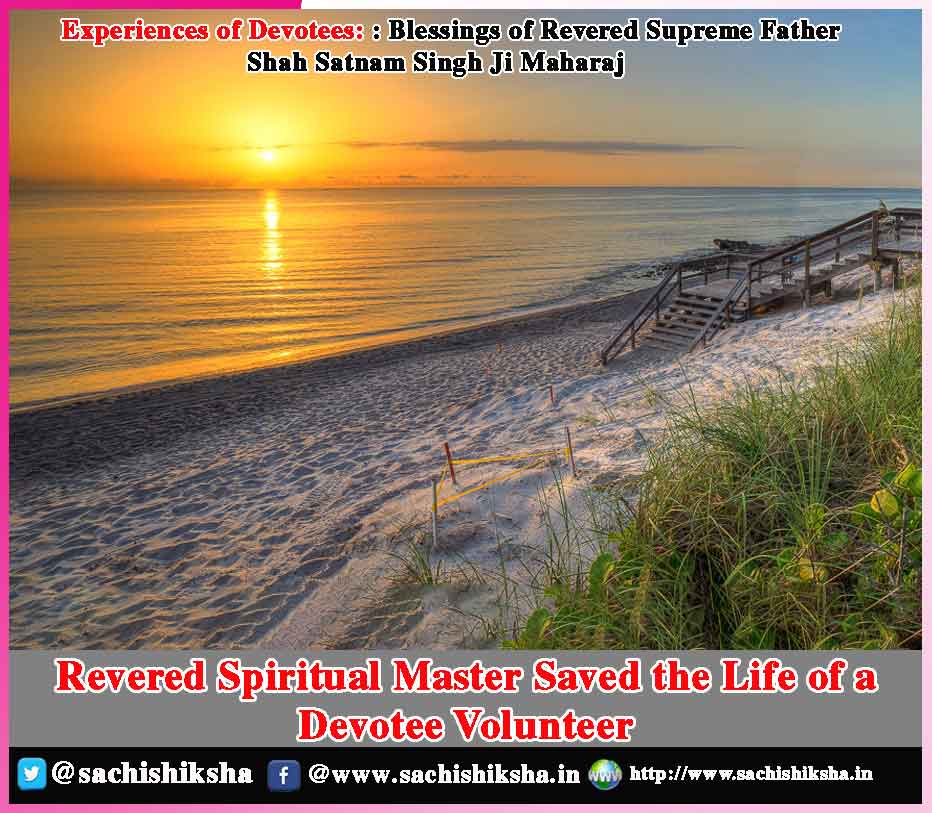 Experiences of Devotees:
Blessings of Revered Supreme Father Shah Satnam Singh Ji Maharaj
Revered Spiritual Master Saved the Life of a Devotee Volunteer
Devotee volunteer Khushjeet Insan daughter of late (Sachkhandvasi ) Sardar Chanan Singh resident of village Shah Satnam Ji Pura district Sirsa  writes that we cannot describe the immense glory of  the Supreme Master, Supreme Father, Shah Satnam Singh Ji Maharaj. Nor can we repay the favors done by the Revered Supreme Father. I am here describing a miracle.
It is a matter of 1976 that all three of us Manjeet, Kamaljeet and Khushjeetwere staying in a room of Dera Sacha Sauda Shah Mastana Ji Dham& extending humanitarian service. Mother Lachmi also used to  live with us. One day I got very high fever (Malaria) with shivering. I took two quilts on myself and lay down.
To give me warmth, Mata Lachmi put a fire in the pot and kept it under my cot. In those days,washing of walls was going on in the spiritual abode, so Manjeet and Kamaljeet had already gone to  do this service. Mata Lachmi went to prepare community meal in the community kitchen.
Due to high fever, I was not aware of myself. Suddenly one side of the quilt fell on the fire in the pot and the quilt caught fire. The whole roomfilled with smoke.God Himself Spiritual Master always accompanies everybody.Revered Supreme Father Shah Satnam Singh Ji Maharaj graced me with a direct vision and stated, 'Khusheet Beta, Khushjeet.' Hearing the sweet voice of the Supreme Father, I immediately got up as to why the Supreme Father is calling me. Then I saw that the room was burning with fire, there was only smoke& smoke. Nothing was visible because of the smoke and darkness.
With the grace of my Spiritual Master, I poured two pitchers of water lying there on the fire. In this way, the fire was extinguished. From that burning fire, the Revered Spiritual Master saved me by His extreme grace. I came out of my room and looked here and there to see where the Spiritual Master is standing& calling me. But the Revered Spiritual Master was not visible anywhere. His Holiness saved me from the burning fire by giving a hint from inside.
 As it is written:
" Tera Satguru sacha mitar, Ithe uthe nale;

 Dukh musibat jithe pendi, Satguru Aap smbhale hain."

"Your Spiritual Master is an Infallible Friend everywhere,

Whenever a trouble occurs, He Himself does take utmost care."
 Revered Present Spiritual MasterSaint Dr. Gurmeet Ram Rahim Singh Ji Insan is the replica of the Revered Supreme Father. Therefore,this is the only prayer at the holy feet of my Adorable Spiritual Master Dr MSG to bless me sothat I can maintain my devotion to the Spiritual Master unto my last breath.