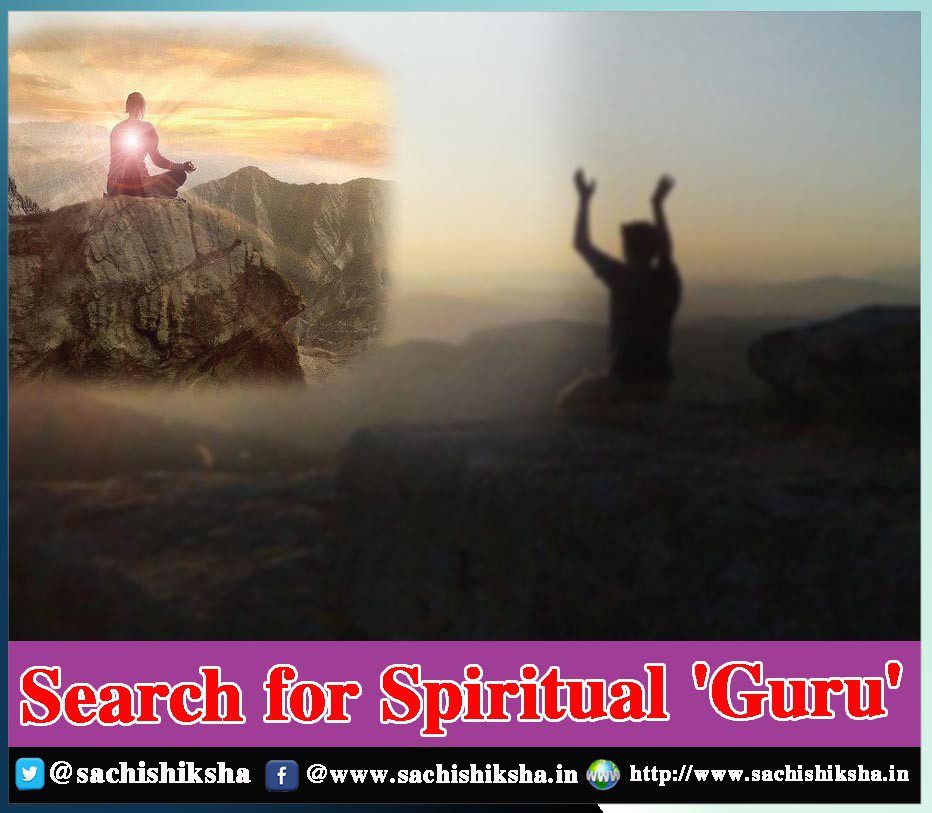 Search for Spiritual 'Guru' Millions forms of life, dwelling on earth and many more planets of the universe are the wonderful, well planned miraculous creations of Almighty Lord. Human species is the most intelligent, sublime, superb and lovable race among all.
Right from the time of its appearance, the human generation has been engrossed with an urge to trace its real origin and search for the final abode after departure from this world. Search for Spiritual 'Guru'
Many thinkers, philosophers, prophets and ascetics have appeared in various countries; with diverse languages and religions, who have tried to reveal the ultimate truth but most of them have not been successful to fully clarify the secret of the sacred ultimate divine destination. The spiritual guides are the true messengers of God.
These popular guides are the true saints or enlightened individuals. Never the less, certain other persons refer them as Tolems, Guardian Angels or Nature Spirits, paragon, sage, seer, hermit, anchorite, deity, axiomatic and enshrine. In India, they are respected as Mahatama or Satguru.
They incarnate from their supernatural astral abode and appear on earth. They seem to remain in the universe as other human beings but their thinking, style of working, approach to prayer etc. are altogether different. Our religious literatures convey that visualization of God can be possible through the guidance and blessings of spiritual master.
The Divine Bliss
The divine alone is eternal, constant and changeless. All else is subject to change, transient, decay and destruction. The course of life can become easy if one can surrender oneself totally to Divine and follow the divine guidance with faith.
The benevolence of God is the way to achieve human excellence in totality and also to attain sublime state of supernatural peace. Meditation helps us in knowing the depth of our mind because it gets calm and cool.
During meditation the shut up energy of mind is released giving comfort and freshness to mind and body. It enables man to lead purposeful and happy life.
Noble Characteristics of Spiritual Guru
Saint is a person of exceptional holiness, virtue and holiness. He is an inner living urge who will come to you to do your needful.
How to find such 'Guru' and where from?
The spiritual guide possesses many unique, excellent and distinguished qualities :
Saints incarnate as true messengers of Almighty Lord for the well being of humanity.
Perfect saint is one with God. His personal qualities are unique. He believes in honesty, contentment, tolerance, amity, forgiveness, charity etc.
He acts as true guide, mentor and philosopher. His actions become ideals for masses.
He guides the devotees to perform regular meditation for spiritual emancipation and achieve Divine blessings.
He believes that God is within each individual. Everyone must perform self appraisal and realize oneness of God irrespective of religions.
Saints may belong to any sect, country or language but establish clear, pious, non-controversial, decent, universal identity in the society.
Possess firm faith and reverence in God because He is the eternal truth.
They preach to remain aloof from wicked thoughts and actions.
Never accept any gift, alms, offerings or donations.
Discourage hypocrisy, superstitions, ostentations, cheating, bribery, nepotism etc. Avoid hatred or envy against any one.
Depend upon the earnings of self toil so as to live with honor and dignity. The wealth gained through deceit brings degradation in moral values and character.
Motivate people to extend help to poor, patients, destitute and needy.
Promote universal brotherhood and never curse anyone.
Conveys to neither adopt special dress code nor discourage against any right type of dress.
Do not demand or accept any offerings during initiation to God words.
Avoid vices of anger, lust, greed, egoism, attachment which tend to promote mental pollution. Do not allow mind to overpower soul.
Never discriminates masses on the basis of caste, creed, color, language and province.
Saint always forgives the ill doings and prays even for the persons who sometimes develop ill feelings for him.
His sermons are straight forward (without smears of falsehood) since he is fearless.
Saints never display miracles for allurements and appeasement.
Never gets involved in dirty politics. n True saints possess full regulation on their desires.
They visit various places to guide for motivation of souls and deep involvement in noble cause.
He pleads that visualization of spiritual master is possible during human generation.
The language used during spiritual discourse is simple, steak and inspiring. He explains matters related to divine instances. His sermons are based upon superb ideology, experiences and blessings.
Conveys that our soul is a minute, subtle and refined component of Supreme Divine Super-soul.
Relieve the people from materialistic desires, tensions and sufferings.
Guide the followers to attain salvation through concentration on God words.
It is very difficult to decide upon the eloquent characteristics of true saint. A wise person should always follow the righteous principles of life decorated with basic values of sincerity, justice and humanity with the kind benevolence of Spiritual guide.
According to blissful quote of Shri guru Nanak Dev Ji,' Poora hove guru, poori hove jukat; khilendiyan pilendiyan gharr bethe hove mukat'. The version suggests that when you're spiritual guide is truthful, your faith in him becomes complete and you achieve emancipation.
The Soul Power
The soul is celestial, invisible, immortal, share of supernatural power in human beings and other organisms. It has the stable, endless and eternal energy. Soul cannot be spoiled or damaged through materialistic objects or situations. It adapts to virtuous trends of truth and morality but remains away from illusions, hypocrisy, distress, deceit, pretence and ostentations.
Soul is blessed with Divine virtue and truth. It becomes capable to cherish the inner radiance and continuous sweet melody (vibratory sound) which has been blessed as perpetual resonance, eternal sound or pleasing music (Anhad-naad or Bange-elaahi).
It tries to remains affirmed with spiritual guide as it always motivates to attend religious congregations. The spiritual elevation can be achieved through regular meditation on God words which is blessed by spiritual guide.
Thus the devotees attain virtuous knowledge about origin, objectives, destiny of life and attempts for seeking salvation.
The Spiritual Discourse
The practice of religion generally includes commemoration of Divine actions under the direction of spiritual guide through sermons, initiation, meditation, sacrifices, public or social services and other aspects of human culture.
The instances, examples and narrations preached during discourse are very delightful, lucid, forceful and straight forward, touching the day-to-day problems (may be personal, collective, material, social or spiritual). The path of salvation and spiritual emancipation can only be achieved in the form of human race.
The password, key word or the method of meditation which is the ultimate goal of salvation lies with the guide. Only he can guide and inspire our soul (Atma) to merge with the eternal source of matter, plasma and energy (Parmatma or God).
Attempts for Search
Everyone should understand that there is no specific age for search of true guide to achieve final objectives of life. The righteous situations help the general masses to adopt spiritual guide.
To decide upon
the People listen to sermons through radio, T.V., U-tube or Face book; parents, elderly relatives, neighbor or friends can help; the descriptions of renowned saints in religious literatures; people visit religious places like temples, mosques, gurudwara, churches and many other places of worship to seek guidance through prayers and religious congregations with the assistance of priests and prophets; certain persons decide to spend many days or years with religious advisers.
In the real sense, when a person stays at a safe, clear and silent place, offers prayer, concentrates on Third eye with meditation and tries for visualization of Divine Master, may become capable to decide upon true spiritual guide.
Those who love and live for true 'Guru', become successful to find him and Divine God from within. Develop full faith and confidence for complete life because fortunate persons become capable to approach the spiritual guide.
We should always find appropriate words and expressions to convey our regards and reverence. His grace and kindness are par-excellence.
-Dr. TRILOKI NATH CHUGH INSAN, Co-ordinator, Shah Satnam Ji Educational Institutions, Dera Sacha Sauda, SIRSA (Haryana)
Follow us on Facebook, Twitter, LinkedIn and Instagram, YouTube to get more updates related to Sachi Shiksha – The Famous Spiritual Magazine in India.