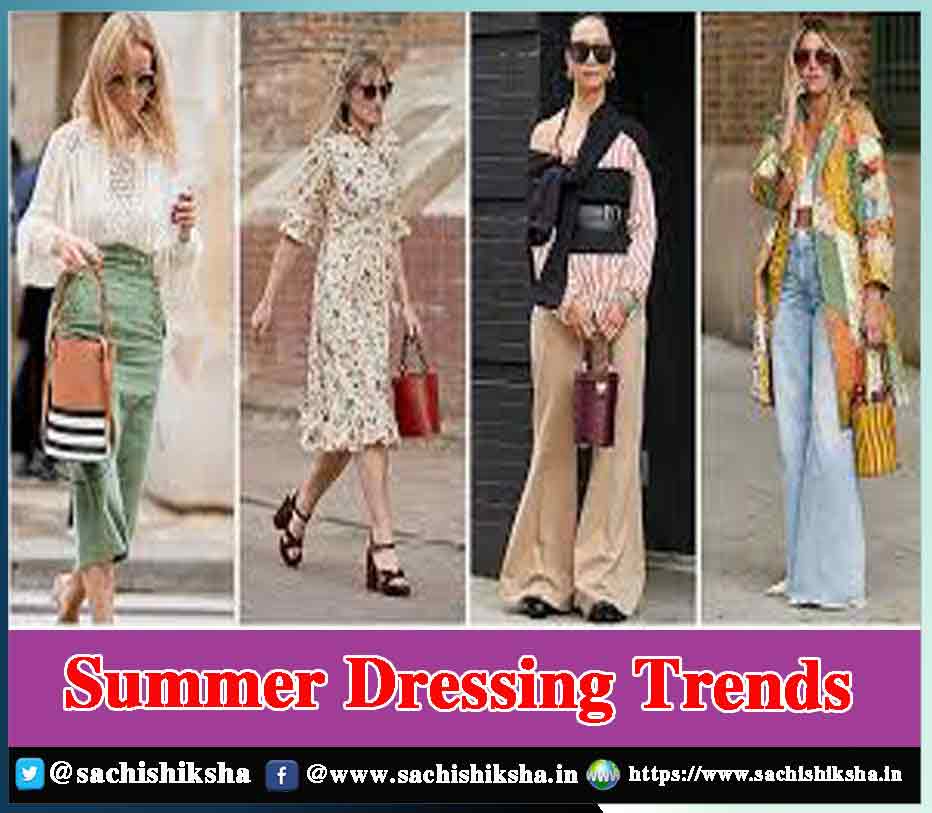 Summer Dressing Trends   We all love and adore summer out-fits.
It has a different fan-base for all the girls and boys. If you have not updated your wardrobe yet, it's time to replace all of our heavy and dull clothes with some light and bright outfits. Summer comes up with light colours and white is the key colour like every time.
This summer we have a lot of option in outfits and as well as in accessories, and we would love to style ourselves with some different and creative ideas to rock the season.
We will be see more of sports bra with sporty knee length skin fit shorts, black face masks, head scarfs, celestial accents, bold gold necklaces, crop tops with colourful nike sneakers and so many others. Swingy shape dresses and short skirt are comfortable to wear in summer, and the golden and silver colours also gained importance this year.
Some outfits have a jeweled neckline, so it avoids the need to wear neck chains or chokers. Cool neutrals, navy blue, grey can also make their place in our summer clothing collection. We have a long list of different outfits this year which is going to make our Instagram feeds more fashionable and cooler than ever.
Let's have a look at the upcoming trendy fits for summer 2021: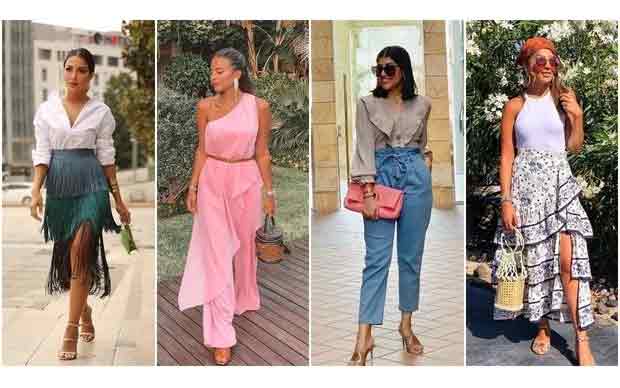 Crop Cops and Skirts
Teen girls these days prefer to wear a short skirt with a crop top a lot. We can pair mini-skirts not only with crop tops but baggy T-shirts, sweatshirts, hoodies etc. that is more of a trend now. If we talk about crop tops it also has many bottom fits to pair with like, skin fit sports shorts, high waist denim jean, high waist denim shorts.
We can style crop tops and high waist shorts with a boyfriend coat to give it a different look. A crop top with a pleated miniskirt will still be in the limelight. Denim skirts are again in the trend. Baggy T-shirts tucked in with a denim skirt never goes out of  trend.
Mini Frocks and Mini Jumpsuits
Girls didn't get a chance to wear mini frocks and mini jumpsuits and both the things got out of the trend, but recently we have seen teens pairing frocks and jumpsuits with denim jacket and shrugs, and that looks adorable and fashionable.
They pair these two with lace-up ballet flats, gladiator flats, sneakers and bright leather boots. There so many different options in mini frocks like flared frocks, body-con dress, butterfly sleeves, frock etc. and in mini jumpsuits, there are flared jumpsuits, denim jumpsuit, culottes, cape jumpsuit etc.
Accessories
If we talk about accessories, it has a separate fan-base and crazes in youth these days. Not only girls, boys too wear accessories in this generation. They wear chunky necklace, beach beads, mauve mix seed bead necklace, chokers, funky rings, black earrings and so many more to count on.
Pearls are going strong these days and so many fashion influencers have been using pearl jewelry to style their outfits. Layered necklaces also have been in trend for a quite long time and have been used by many bloggers to complete their look with pretty neckwear. Teens as well as adults adore trendy neck wears.
Side Bangs and Handbags
Bags and purses are our basic need if we are leaving home or hanging out. We style bags also with our outfits to complete the look and they turn out pretty well. We have verities in bags as well that are sling bangs, fanny bags, belt bags etc. Some of us don't know about these bags, these are of small fabric pouch worn like a belt around the waist by use of a strap. About handbags, there are so many fashionable bags for women like hobo bag, tote bag, satchel bag etc. Handbags are mostly carried by women and side bags are mostly carried by teens.
Foot-wears
In foot-wears, we have so many verities to wear and to pair with our outfits. Some girls prefer flats while others go with heels. Each one of us has different and unique choices. Some summer trendy comfortable foot-wears are low wedge sandals, strappy clogs, low heeled lace-up [gives big impact], kitten heels, white sneakers, floral print slippers, low wedge sandals, quilted leather-y textures.
Tennis shoes have been a trend for a pretty long and they are still in trend. Girls and boys find tennis shoes very comfy and stylish to wear and they style them with almost every outfit. Sneakers, sports shoes, flats etc. have replaced heels a bit. We all find these foot-wears comfortable to wear compared to heels.
Hopefully, the article must be helpful to you. This may change our dressing sense about summer trend outfits, accessories, bags and foot-wears. Now we can surely update our wardrobes and can replace our boring winter outfits with short and cute summer outfits and now we also have better and different ideas and tips to style our summer fits.