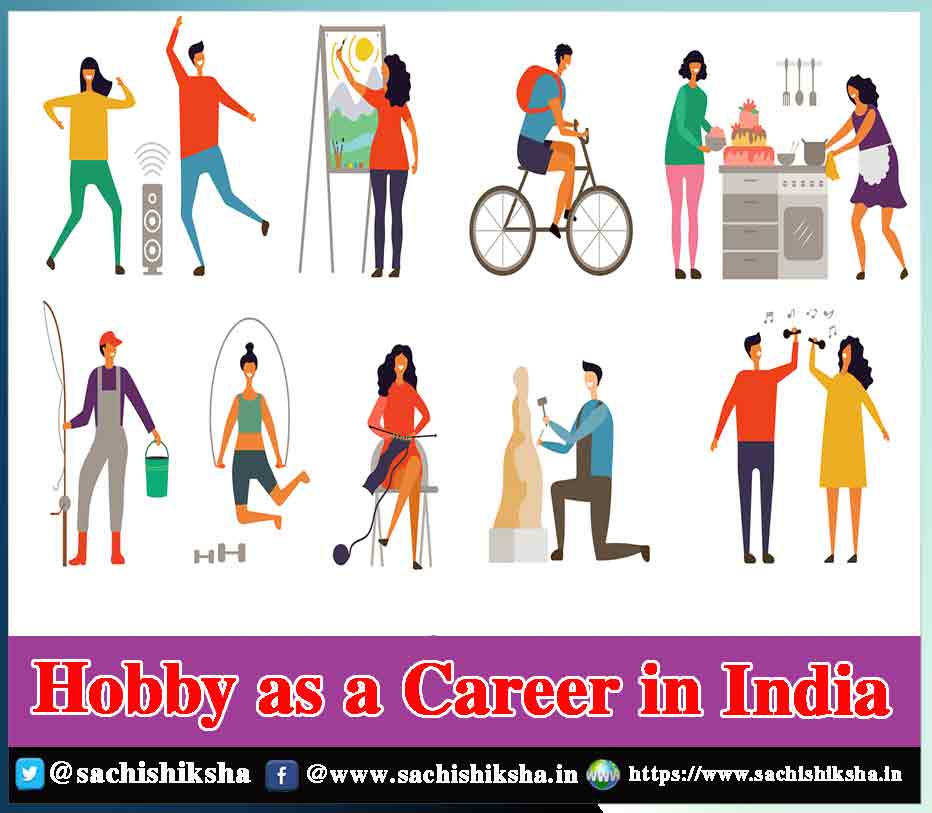 Hobby As A Career In India: Tips For Turning Your Hobby Into A Career
The best deal in our life could be living with one or more than one unique ability that gives us a feeling of fulfillment, pleasure and satisfaction deep inside us.
It is a great path on which a person can enjoy leisure time most productively.
Such work has a different place in our lives and we want to keep it doing till our last breath. People call it, with different names – hobby, dream, desire, wish etc.
Most of the time, we are the first ones who reward ourselves rather than others when we finish such a work. The level of satisfaction on our accomplishment is more precious, memorable than any other thing like money, valuable ornaments, luxury, you name it.
For decades, we had listened to many names whose work got acknowledged as a gesture. They got rewarded by society, prestigious institutions, government bodies with medals, prize money, appreciation letters etc. Their work was different or unique, and exceptional talent was required to perform it.
You Might Be Interested In: How to Reduce Exam Stress?
It could be singing, painting, social work, writing, photography, sports and many other areas. Becoming Guinness World Record holder, Grammy Awards, Nobel prize, felicitated by Padma Shri, Padma Bhushan, Khel Ratna Award, Arjun Award, could be a dream to many individuals.
In a broader sense, such awards and felicitations are icons of achieving excellence in one`s hobby. In the Indian context, we know many big names from different fields who are still treated legendary figures in the country and across the globe. These legends have earned rewards, handsome income, a fantastic lifestyle, promote the big brands and also help society in cash and kind. It will be attained if one is consistent and take it seriously.
That time has gone when parents and children used to focus on doing their best only in academics to get a good job or set up a venture of their own. Nowadays, the scenario has changed 360 degrees. Parents want their child to carry a hobby, achieve something good in it and stick to it along with academics.
Educational institutions and government have added the syllabus with a curriculum where a child can pursue his/ her hobby year after year and excel in it. Life of hobby can only be big when connected with passion and spirit of never to give up. In the present situation, if a hobby is chosen as a career, it gives more money, name, fame and rewarded life as compared to any professional or entrepreneurship.
Youth of India is doing outstanding work in several fields like – sports, social work, acting, agriculture, music, and their efforts to pursue hobby somehow have become their lucrative carrier option. Nowadays, popular digital platforms like Facebook, Instagram, WhatsApp, Meesho, Knorish and YouTube are utilized to share your work and idea with the rest of the world and create opportunity.
Another thing to be taken into consideration when converting a hobby into a profession is –
Financial Benefits
Most important thing to understand is that your deal must be profitable and sustainable so that you can meet your expenses and make money smoothly working for you.
Benefiting Customers
Work should tend to bring new things to customer, viewer, audience so that their interest level keeps an intact relationship with you. They must feel benefited for what they have paid.
Welcome Critics
Although you have taken enough care and accuracy while sharing your work, sometimes people have their opinion, knowledge and observations about your work who may pass negative remarks, criticize you, few bad words. But remember listing them carefully is the only way to improve yourself and your work. Give a chance to their opinions by implementing them into your work. The gist is that people love watching magical & surprising things.
Meeting Goals within the Time Limit
Our desired goals can be achieved with proper planning, required action, understanding the demand of the market standards, your efforts required and the resources need to put in it. These are the key aspects to be taken into consideration. Finishing things timely and gaining respectable paid off gives you enough satisfaction, you feel rewarded.
Update Yourself
To remain on the ground with admirable existence, one has to keep his/ her skill sharpen and come up with better ideas & new approaches. Nobody accepts repetitions for a long time. Change is required, it is the only thing that makes your work enjoyable for yourself and others.
Living with hobbies will never be easy, but once when you decide and start moving things, change happens. It takes a dare to walk to reach the dream destination of a career because you do not see the crowd on the path and your work gets acknowledged by the world just because you positioned yourself in the rare gems' category. 
It's worth working on your hobby and make it a profession, proving your skills and keeping yourself separate from the crowd for the rest of your life.
A hobby is nothing but an inner discovery.