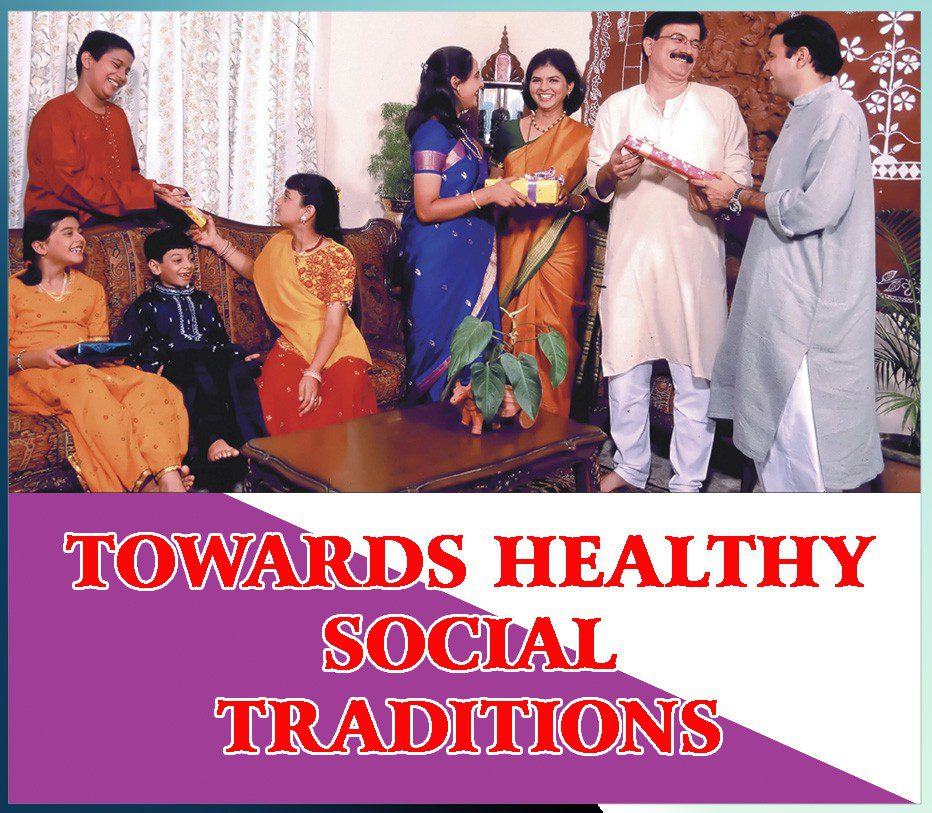 Towards healthy Social Traditions
It is observed that ladies get more opportunities of becoming guest or welcoming the guests. Actual in our Holy Religious Books guests are called God "Atithi Devo Bhav". But it is our bad luck that today on the point of hospitality, the ladies going ahead of self control and breaking this healthy tradition of hospitality.
When going as a guest:
When you are going as a guest, give consideration to the mental status and personality of the Host. Do not try to prove yourself better in comparison to the person doing hospitality with his words, language, pronunciation, and laughing at his way of conversation.
If you are taking kids with you, teach them the discipline from home itself so that they do not touch the things here and there. By touching his things they may get spoiled or it can break also by falling. Ask the kids to sit at one place. In that case they will be before your eyes. If the kids are very small, never let them sit on his sofa or lie on the bed. Ask them to have a mat or durries on the floor and then lay your kid there.
If you have gone there for two or three hours, it is better not to cross the limit. Your etiquettes are reflected through your behavior. Going in the kitchen, drawing room and bedroom and asking so many related question does not prove you practical. If he/she insists himself/herself to see some thing, limit your conversation to that particular topic.
Do not make the issue of elders. If there are kids, talk to them also. Talk to them regarding their studies and schools. If they show any of their art, praise them and encourage them.
If you go as a guest to any one's house, do not open the box of your problems. All are having some or the other problems. So creating headache of your problems is dangerous not only for you, but for the other person as well. Your diseases and financial problems are not at all relevant everywhere.
WHENEVER SOMEONE COMING AS A GUEST:
It is necessary that you become a very good host. Never behave with the guests, how you do not want to be behaved. Sometimes the other person who is coming as a guest can be more powerful than you, and can put you in difficulty when you become his or her guest.
If you have some irritation or jealousy, keep it under control. Moreover doctors and psychologists also consider these habits as dangerous for the health. You try to understand your guests and try to accept.
Whenever someone comes do not open the complaint box. Praise your relatives and neighbors to the extent possible because clashes are possible everywhere.
Someone doesn't have sofa or the other doesn't have gold storage. These are certainly not your topics of interest.
Do not interfere so much in the household matters of the guest. Do not try to create distance between the members of the family.
Remember that everyone today is smart enough to think about his/her profit and loss. Your idea does not create much difference.
If the guest start complaining about his problems, try to talk about solutions and coordination.
R.SURYA KUMARI
Follow us on Facebook, Twitter, Google+, LinkedIn and Instagram, YouTube to get more updates related to sachi shiksha Spiritual Magazine, articles.