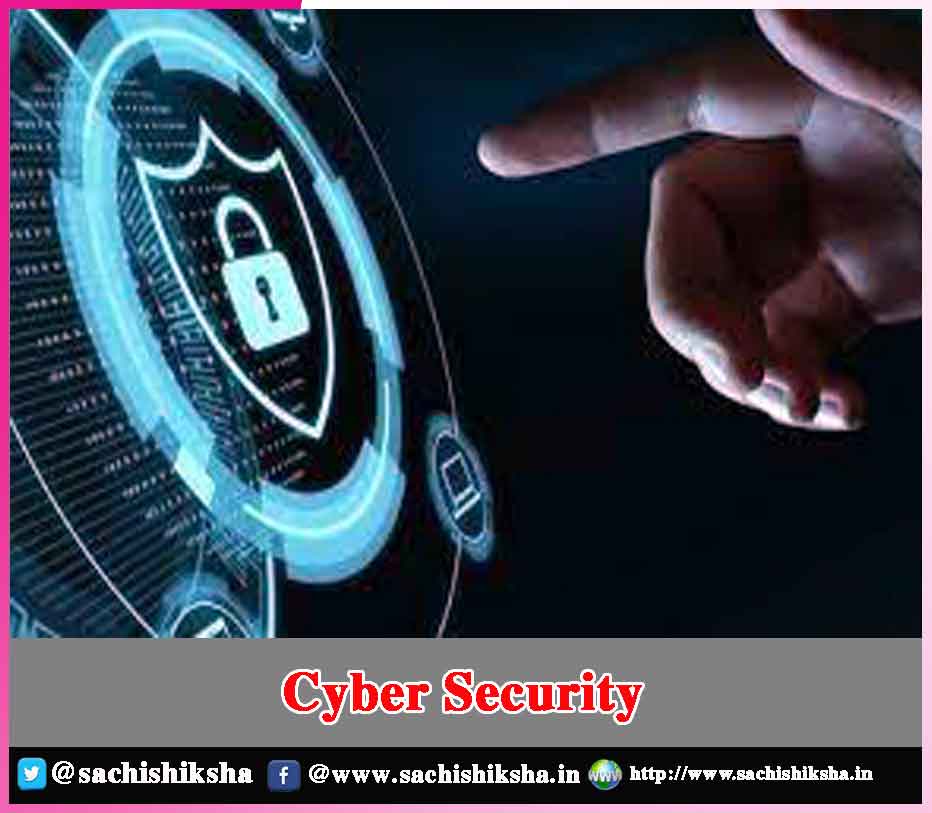 Cybersecurity
After the digital revolution and the penetration of Information technology in almost every sector of society, cybersecurity has become very relevant today. Due to the growth of "smart" devices, including smartphones, televisions, and the various devices that constitute the "Internet of things", this field is becoming increasingly significant due to the increased dependency on the Internet, wireless network standards such as Bluetooth and Wi-Fi and other computer systems.
Cybersecurity or computer security is the protection of computer systems and networks from information theft , disclosure or damage to their software, hardware or important electronic data, as well as from the disruption or of the services they provide. The connection between internet ecosystems forms cyberspace.
With the rapid development of information technology, it is critical to provide a safe and secure cyberspace. As per the NITI Aayog report, the threats to cyberspace have increased dramatically over the last 10 years. Many countries target the cyberspace of other countries to derive information for their benefit. This information is highly sensitive to the attacked country as it may contain critical details and crucial information.
Also Read:
The following are the entities that need cybersecurity-
For Individuals:
Photos, videos and other personal information shared by an individual on social networking sites can be inappropriately used by others, leading to serious and even life-threatening incidents. Hacking of social media accounts is very common. Cyberbullying is experienced by everyone out of 4 individuals. Hence, this concern should be addressed.
For Government:
A local, state or central government maintains a huge amount of confidential data related to the country (geographical, military, space information, atomic Power, defence, strategic assets etc.) and citizens. Unauthorised access to the data can pose a big threat to the national security of the government. It damages the sovereignty of the country and its very fundamental fabric of security of the nation
For Business Organisations:
Companies have a lot of data and information on their systems. A cyber attack may lead to loss of competitive information such as patents or original work, loss of employees/customers private data resulting in complete loss of public trust on the integrity of the organisation. Zomato faced a huge customer data loss in 2016.
The cyber attacks lead to the exposure of
Sensitive information, Personal information and Business information. There are many methods which cyber attackers use-
Virus – It is a malware that self-replicates and spreads by inserting copies of itself into other documents or codes. These corrupt and damage the existing executable codes and files.
Malicious Codes – It is a security threat where any code brings harmful effects to the software, breach the security of the system, or bring damage to the system.
Worm and Trojan – This is again a malware, which in disguise of a regular software, does damage to the hard drive,  corrupts allocation systems
Denial of Service attacks:
A Denial- of-Service (DoS) attack is an attack meant to shut down a machine or network, making it inaccessible so that the machines stop functioning and the users are not able to work and access them.
Identity Theft and Phishing – It is a cyber attack involving fraudulent emails disguised as authorised entities in order to incentivise people to trust the link and reveal their information (personal and professional.)
The government of India is taking many initiatives to enhance cybersecurity. There are a few laws to protect cyberspace in India. These laws are-
IT act, 2000- This is also called Indian Cyber Act. This act ensures security and protects online privacy.
Critical Information Infrastructure- According to Section 70(1) of the Information Technology Act, CII is defined as a "computer resource, the incapacitation or destruction of which, shall have debilitating impact on national security, economy, public health or safety"
National Cyber Security Strategy 2020 entails to secure cyberspace in India.
Cyber Surakshit Bharat Initiative MeitY in collaboration with National e-Governance Division (NeGD) came up with this initiative in 2018 to build a cyber-resilient IT set up. Its aim is to spread information about cyberattacks and building capacity for safety measures to prevent such attacks.
Cyber Security – Cyber Swachhta Kendra
It is the Botnet Cleaning and Malware Analysis Centre under the Indian Computer Emergency Response Team (CERT-In) under the Ministry of Electronics and Information Technology (MeitY). Its aim is to promote awareness among Indian citizens to secure their data in computers, mobile phones, and other electronic devices.
International cooperation:
Looking forward to becoming a secure cyber ecosystem, India has joined hands with several developed countries like the United States, Singapore, Japan, etc. These agreements will help India to challenge even more sophisticated cyber threats. The aim of Cybersecurity must be to create a secure cyber ecosystem, creating mechanisms to address and build capacity responses to the same through national systems and processes, Secure e-governance by implementing global best practices, and wider use of Public Key Infrastructure.
Cutting edge research and development must be the aim of the government to bolster Cybersecurity. Proliferation of Internet of Things (IoT) and lack of proper security infrastructure in some devices is a big challenge to cybersecurity. Cyberspace is prone to transnational organised crimes and terrorist attacks.  Banking and Telecom are the most attacked sectors but other sectors like Business, Manufacturing, Healthcare, and Retail have also faced a significant number of cyber attacks.
The Personal Data Protection Bill was recently withdrawn by the government and it is a matter of grave concern, as India, one of the largest internet markets, is facing delays in strengthening its cyberspace. However, it is good to be optimistic and wait for the bill to be introduced again with the proposed amendments.
Using the knowledge gained from actual attacks that have already taken place in the past like the 'Wannacry' is very important to build an effective and pragmatic approach to cybersecurity and avoid cyberattacks. The need of the hour for Indian government is to develop core skills in cyber security, data integrity and data security fields while also setting stringent cyber security standards to protect banks and financial institutions